Only three weeks remain in this grueling season, twenty-three down three to go.  It is happening up to be a two-horse race as we come down the stretch.  This is a position that FFB is very familiar with, it's like 2019 all over again.  Instead of Backdoor Splitters, it's Milo The Cat putting the heat on FFB.  Both teams are putting that top-notch League Competitive Index to use.  I have mentioned both leagues in past updates, but as a refresher, Cougs is a league of past overall top 12 finishers and NOTLZ is a $100 league and always one of our most competitive.  I love when the top leagues are represented at the top of the standings.  I always feel like those that win these leagues should be rewarded because they are grueling.  It'll be fun watching this two-team battle in the final few weeks.  Most years, this is what we see, two teams separating themselves from the back and battling right to the end.  I shouldn't root for anyone, but if FFB finishes second overall twice, that would be pretty brutal.  More on who had a great week, the remainder of the top 10, and an update on the 'Perts League below in the week that was week 23:
Each week we'll peek in at our resident 'perts to see who is laying claim to best "expert" RCLer in the land.  We'll take notes, check the standings and generally stalk them.  The heading is also hyperlink, so feel free to follow along as we go.
Speaking of dramatic two-team finishes, Laura pulled within one point of Son this weekend.  They sit at 101-100 and Laura is rolling.  I've been so focused on adding stolen bases, she might even catch me in HR/RBI after I built what I thought was a big enough lead.  No lead is safe!  Laura picked up 2.5 points this week while Son dropped four (the most in the league this week).  Son is only 17 IP away from his cap and then we'll have a standing target for Wins, strikeouts, and saves for us to all chase down.  Laura probably won't need our help, but I know I'm scraping for every last point I can get.
Cram It had the best week of anyone in the league this week, gaining 7.5 points and moving up one spot into eighth place.  Way to finish a crappy season strong Cram!  I see it, and I respect it.
Each week we'll also take a look at the top ten overall standings in our other Razzball sponsored league, the RazzSlam.  This is our NFBC Best Ball league with managers from all across the industry, from content providers to fans and readers just like you.
We have just one week to go in the RazzSlam finals and a new leader in the clubhouse.  Joseph Asher's, Gunk Squad, posted 677 points this past week to squeak by Nicholas Mariano who only had 603.  Asher takes a 4 point lead into the final week.  It's going to be a nail-biter!  Coolwhip fell a spot this week and unless there's a huge final week, it doesn't look good for our hometown hero.  Still, great work making the finals Whip!
TOP 10
For those too lazy to check the MASTER STANDINGS, I present to you, the current top 10
Now that we have our RBI issue ironed out, we have real standings to stare at and it's no surprise that FFB is leading the way.  As I mentioned in the lede, Mil The Cat is hot on the babies' heels!
Milo jumped over Orlando Calrissians and Dunphys Joint Venture who fall to third and fourth thanks to adding four league points.
The Stl Squat Cobblers were dinged for RBIs last week and find themselves comfortably in the top ten this week followed by Bad River and Team cubbiebluez who each fall one spot.
Son tumbled four spots this week, down to eighth while Athletically Unathletic and myself each moved up one place to round out the top ten overall.
WEEKLY LEADERS
The best of the best from the week that was.
R – 78 – Disgustipated (RCL 2021 (#27))
HR –28 – Disgustipated (RCL 2021 (#27)) & Retro Vertigo (ECFBL)
RBIs – 75 – Backdoor Knucklers (Cougs R Us)
SB – 14 – Lucky Bucky (RCL 2021 (#14))
AVG – .333 – Team coachdalmore (RCL 2021 (#34))
K – 104 – Prague Defenestrators (Cougs R Us) & Team chronosaurus (RCL 2021 (#14))
W – 9 – Prague Defenestrators (Cougs R Us), Tbd (RCL 2021 (#23)) & EES84 (RCL 2021 (#7))
SV –  13 – Team Bartilotta (RCL 2021 (#22))
ERA (Min. 40 IP) – 0.77 – WanderVision (RCL 2021 (#26)) (in 47 IP)
WHIP (Min. 40 IP) – 0.617 – WanderVision (RCL 2021 (#26))
There must have been something in the water this week.  Arms getting tired maybe, minor league call-ups perhaps?  Whatever the reason, the offense was flowing this week.  Disgustipated had a week for the ages and didn't just beat the previous weekly Runs record, they obliterated it by 12 runs!  They then went out and tied the weekly HR record with 28 along with Evil Evies.  We now have a four-way tie for the weekly HR mark.  The Knucklers tied B_Don for the weekly RBI record as well.  To top things off, Team Bartilotta topped VinWin's Saves record by one save.  It wasn't all doom and gloom for Vin though.
TEAM OF THE WEEK
Our weekly shout out to the team that killed it the previous week.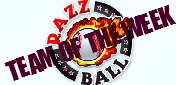 Team: Vin Garr
League: RCL 2021 (#1)
Stats:   AVG: .265, R: 59, HR: 18, RBI: 57, SB: 7
IP: 91.1, ERA: 2.17, WHIP: 1.007, K: 87, W: 8, SV: 4
Summary: If you popped into the comments last week, you saw Vin chatting about how, despite all his RBIs, his pitching was so bad everywhere his teams were low in the standings.  Well, apparently at least one of those teams took that to heart and pitched a beauty of a week.  There was the typical high-scoring offense with a little bit of everything sprinkled in, but to throw 91 IP and come out with a near sub 2 ERA and near sub 1 WHIP, that's impressive stuff.  On offense, it was Francisco Lindor leading the way and trying to make up for sinking Vin for the first five months of the season, while Eric Lauer led the way on the pitching side of things.  Just how Vin drew it up!
Want to be Matt's Twitter pal?  That's kinda creepy, but you can follow him here: @MattTruss