Only three weeks remain in this grueling season, twenty-three down three to go.  It remains a two horse race as we come down the stretch. It's a new horse leading the pack this week though as Backdoor Splitters were able to gain two points in the ultra-competitive ECFBL and FFB lost one point in RCL #57. That was enough to give the Splitters a 1.8 point lead in RCL Points.  This is really going to come down to the wire for these two. Can FFB get back to 118 or more? Can the Splitters hold on to the 115 mark? This is typically how the Master Standings shake out with two teams really separating themselves. Last year was the aberration when we had eight different leaders in the final 10 weeks.  This year it's all about these two and who holds on the final week. More on who had a great week, the remainder of the top 10 and an update on the 'Perts League below in the week that was, week 23:
Each week we'll peek in at our resident 'perts to see who is laying claim to best "expert" RCLer in the land.  We'll take notes, check the standings and generally stalk them.  The heading is also hyperlink, so feel free to follow along as we go.

Grey is still leading the pack, but a nice little week from your humble RCL Update host has me hot on Grey's heels.  I was able to gain six points this week, the most in the league and took second place all to myself. I now sit just two points behind Grey with three weeks to go.  I like where I'm at and I see a couple places I can gain a point or two, but it's going to be a photo finish!
Kerry gained the second most points this week (5) and tied with B-Don for the biggest gain in the standings, each gaining two places.  B_Don gained two spots while losing two points, a rare feat. The biggest loser this week was Malamoney who lost 7.5 points. Tehol lost the most places this week, finally returning to his home, last place.
TOP 10
For those too lazy to check the MASTER STANDINGS, I present to you, the current top 10
As mentioned, Backdoor Splitters took what could be a commanding lead in the final few weeks with Faat Fuckin Babies looking on in second.
UpNorth and Prague Defenestrators remain in third and fourth respectively.
Acuna Moncada jumps up two places to fifth and kumamoto expungers remains in sixth.
BEZOBRAZIE 1 moves up three places this week to seventh while Squat Cobblers 2 takes a bit of a tumble, down three places to eighth.
I find myself back in the top ten this week after a one week hiatus and Team mcafeeeee rounds things out, falling two spots to tenth.
WEEKLY LEADERS
The best of the best from the week that was.
R – 63 – Two Birds (RCL 2019 (#64))
HR –24 – 8th Wonders (RCL 2019 (#65)) & Green Monster Mashers (RCL 2019 (#59))
RBIs – 69 – Hot Corner (RCL 2019 (#62))
SB – 15 – Bag Stealin Wheelin Dealn Son Of A Gunz (RCL 2019 (#3))
AVG – .377 – Team Shaman103 (RCL 2019 (#43))
K – 147 – Team DFresh (RCL 2019 (#2))
W – 10 – Team DFresh (RCL 2019 (#2)) & Fightin Phillies (RCL 2019 (#51))
SV –  13 – Team Shlomo (RCL 2019 (#37))
ERA (Min. 40 IP) – 0.64 – Challengers (RCL 2019 (#22)) (in 42 IP)
WHIP (Min. 40 IP) – 0.615 – Team Zorro (RCL 2019 (#21)) (in 52 IP)
DFresh stepped up and smashed the strikeout record this week.  DFresh went for 125 IP in what I can only guess is a desperate attempt to make up ground in IP.  Well, they did and they did it with style, breaking records along the way!
Team Shlomo also got their name in the record books this week, tying the saves mark with 13.
TEAM OF THE WEEK
Our weekly shout out to the team that killed it the previous week.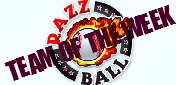 Team: Team DFresh
League: RCL 2019 (#2)
Stats:   AVG: .208, R: 33, HR: 17, RBI: 43, SB: 2
IP: 125, ERA: 1.73, WHIP: 0.888, K: 147, W: 10, SV: 9
Summary: So ends our streak of well balanced teams winning TOW honors.  When I run the numbers and see a large gap at the top followed by a large number of innings pitched, I usually have to hold my nose.  I looked at the 125 IP when I saw the numbers and did an eye roll, but then I saw those ratios and my eyes popped! A Sub 2 ERA and sub 1 WHIP in that amount of innings is fairly insane in this hitting climate.  I then looked at the hitting numbers and aside from a terrible batting average, they aren't all bad either. I appreciate that DFresh included a hefty amount of saves in the weekly total as well. Overall, I approve.  DFresh got hero like pitching performances from Jack Flaherty and Gerrit Cole this week, both of who led many teams to solid pitching weeks. On the hitting side Scott Kingery hit 3 bombs and stole bases while hitting a buck forty three.  Way to fill up the stat sheet Kingery. Yordan Alvarez was the real beast on offense though. DFresh gained 3.5 league points and 5.1 RCL points with the big week and now sits in 30th overall. Nice work DFresh!
Want to be Matt's Twitter pal?  That's kinda creepy, but you can follow him here: @MattTruss