For the first time in twenty weeks, there is a team leading the Razzball Commenter Leagues Master Standings that doesn't start with "MattTruss".  I am shook.  I don't know what to do with myself.  I don't know where to turn.  My reality is crumbling as existential dread sets in.  Alright, it isn't that bad and if I'm going to lose this thing I hope it's to Wake, who has been around these parts as long as I have (prehistoric times) and has always been a great competitor.  That said, if someone in RCL #6 wants to pick up the pace and drop Wake a couple points, I'd be greatly obliged.  As for me, some win luck and saves down the stretch wouldn't hurt, but I also see categories where I can drop further with a few sub-par weeks to end this thing.  I may have peaked too soon and Wake will be there to claim the crown, we'll see!
Each week we'll peek in at our resident 'perts to see who is laying claim to best "expert" RCLer in the land.  We'll take notes, check the standings and generally stalk them.  The heading is also hyperlink, so feel free to follow along as we go.
At least my 'Perts League team isn't in full-on choke mode, though it did lose half a point this week, despite leading in every offensive category save for batting average.  Grey and B_Don each moved up a spot in the standings this week, pushing Coolwhip down to seventh, his lowest point of the season to date.  Grey and B_Don also had the most points gained this week, each picking up 3.5.  Look at these two, twinsies!  Son lost the most points this week, dropping four but staying ahead of laura by five.
Each week we'll also take a look at the top ten overall standings in our other Razzball sponsored league, the RazzSlam.  This is our NFBC Best Ball league with managers from all across the industry, from content providers to fans and readers just like you.
Another cut thingy happened and I think our finals are set, these ten will do battle for the ultimate glory, a Razzslam championship!
TOP 10
For those too lazy to check the MASTER STANDINGS, I present to you, the current top 10
Check the lede, Wake Takes The Lead!  0.4 RCL points is the difference currently and I may need to up my streaming game down the stretch here and try gaining all the Master Points I can, it's going to be a fun finish folks!
The top four remain the same otherwise and stechsjj swaps spots with AllRice to fill out our very familiar top six.
Diamond Archers made a big jump this week, moving from 12th to seventh and cracking the top ten for what I believe is the first time this season.  That drops Young Guns down one spot as their ascent to the top final takes a step back.
Rounding us out are our two Crab Army teams, Asynda Boil & Jersey Pine 5, same as last week.  Our top ten is really settling down these final weeks.
WEEKLY LEADERS
The best of the best from the week that was.
R – 63 – MattTruss (PERTS LEAGUE)
HR –25 – Lake Titicaca Bungholes* (RCL 2022 (#1))
RBIs – 69 – Lake Titicaca Bungholes* (RCL 2022 (#1))
SB – 14 – Clyde (RCL 2022 (#24)) & AllRice (RCL 2022 (#42))
AVG – .347 – The Dripping Tap (Crab Army)
K – 100 – Wake Up (RCL 2022 (#6))
W – 14 – Horse-Faced Whips (RCL 2022 (#26))
SV –  12 – baseballworld (RCL 2022 (#16))
ERA (Min. 40 IP) – 1.23 – Des Morts-Vivants (ECFBL) (in 65.2 IP)
WHIP (Min. 40 IP) – 0.768 – Shoopy (RCL 2022 (#24)) (in 41.2 IP)
Thank the deity of your choice, someone finally broke the Wins tie and did so in STYLE!  We had eight teams tied at 10 wins and Horse-Faced Whips just jumps in with a neigh-neigh and in 77.1 IP nails 14 Wins.  The breakdown, courtesy of VinWins:
2 Wins – Daniel Bard – 4 IP
1 Win – Ranger Suarez – 6.2 IP
1 Win – Michael Wacha – 6 IP
1 Win – Giovanny Gallegos – 2.1 IP
1 Win – Hector Neris – 3 IP
1 Win – David Robertson – 3 IP
1 Win – Hunter Brown – 6 IP
1 Win – Edward Cabrera – 5.2 IP
1 Win – Roansy Contreras – 5.1 IP
1 Win – Bailey Falter – 5.1 IP
1 Win – Nick Martinez – 3 IP
1 Win – Jose Quintana – 5 IP
1 Win – Noah Syndergaard – 6 IP
TEAM OF THE WEEK
Our weekly shout out to the team that killed it the previous week.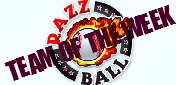 Team: CornHolio's Bunghole
League: RCL 2022 (#18)
Stats:   AVG: .286, R: 51, HR: 21, RBI: 53, SB: 11
IP: 64.1, ERA: 2.94, WHIP: 1.105, K: 79, W: 8, SV: 4
Summary: This is the stuff writer's dreams are made of right here, writing up the epic week of CornHolio's Bunghole.  What more could you ask for?  In all seriousness though, it was a pretty epic week, near the top in all offensive categories, a high K/9 and some pretty ratios all combined to push the Bungholes into the top 100 in the Master Standings this week, landing in 88th place.  Shohei Ohtani and Razzball man-crush, Jake McCarthy lead the way on offense combining for 5 HRs and 5 SBs.  On the pitching side, Shane Bieber and Spencer Strider went boss mode and struck out 23 in 20.1 IP.  Nice work by the Bungholes, way to finish strong!
Want to be Matt's Twitter pal?  That's kinda creepy, but you can follow him here: @MattTruss