I hope everyone has recovered from their Labor Day festivities.  The unofficial end of summer means we're into the nitty gritty of Razzball Commenter League action.  It's looking like a two horse race for the RCL overall title right now. Maybe even more impressive than those two seasons is the fact that the Squat Cobblers have three teams in the top 12 overall right now.  One of the three, we'll talk more about later, rocketed up the standings this past week. Having three teams in the top 50 is really something, but three in the top 12 is just incredible. We'll have to wait and see if all three can hang on, but as hot as they're running right now, I wouldn't bet against it.  It will take a real herculean effort to catch the two teams up top though as they really seem to be running away with things. More on the top 10 and the rest of the week that was, week 22 below:
Each week we'll peek in at our resident 'perts to see who is laying claim to best "expert" RCLer in the land.  We'll take notes, check the standings and generally stalk them.  The heading is also hyperlink, so feel free to follow along as we go.

Speaking of running away with things, Grey really took off this week in the 'Perts League, putting some distance between himself and Cram It and me.  Crammy and I are still locked in a virtual tie for second as we each gained one point this week and are locked at 82 points apiece. Grey on the other hand, gained 4.5 points this week, the most of any team.  Grey put in some work on the pitching front, throwing 81.2 IP. That kind of distance with four weeks to go could be enough for our fantasy master lothario.  
Malamoney was the biggest gainer in the standings this week, moving up two places to sixth.  Meanwhile, Ralph, Son and B_Don each lost the most points this week (4) but it was Ralph that dropped the most in the standings, falling two places to seventh.
TOP 10
For those too lazy to check the MASTER STANDINGS, I present to you, the current top 10
The top four remained in tact this week with FFB and Backdoor Splitters leading the way.  Just 0.6 RCL Points separate the two as the ECFBL League Competitive Index is keeping the Splitters in contention.  One more league point might be enough to tip the scales.
Squat Cobblers 2 moves up one spot to fifth as does kumamoto expungers, who move into sixth.
Acuna Moncada advances two places to seventh and Team mcafeeeee remains in eighth.
Squat Cobblers 1 jumps all the way up from 26th last week and into ninth this week.  More on them to come.
Rounding things out we have BEZOBRAZIE 1, who hasn't been in the top ten since week ten, but come storming back this week.
WEEKLY LEADERS
The best of the best from the week that was.
R – 69 – Backdoor Splitters (ECFBL) & The Colonol's (Julio) Gotay (Original Recipe)
HR –26 – Filthy Scooter (RCL 2019 (#32))
RBIs – 77 – Team MattTruss (RCL 2019 (#30))
SB – 13 – Team Jreas11 (RCL 2019 (#28))
AVG – .384 – Team Baghdoian (RCL 2019 (#42))
K – 108 – NY Sturgeon King (RCL 2019 (#12))
W – 10 – Acuna Moncada (RCL 2019 (#46))
SV –  11 – Yo(an)-Yo(enis) Ma(sahiro) (RCL 2019 (#16)) & Team Rmuzz55 (RCL 2019 (#5))
ERA (Min. 40 IP) – 1.11 – Team CrazyIvan (RCL 2019 (#38)) (in 40.2 IP)
WHIP (Min. 40 IP) – 0.658 – Mariner Moose, Blow out my Back Walls (RCL 2019 (#63)) (in 48.2 IP)
No new records this week, but Team Baghdoian did tie the batting average mark.  If the Splitters keep leading the RCLs in Runs, they'll be catching FFB before long.
TEAM OF THE WEEK
Our weekly shout out to the team that killed it the previous week.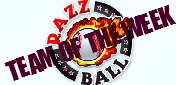 Team: Squat Cobblers 1
League: RCL 2019 (#13)
Stats:   AVG: .340, R: 60, HR: 22, RBI: 66, SB: 7
IP: 69.1, ERA: 3.12, WHIP: 1.01, K: 93, W: 5, SV: 9
Summary:  Now you can see why Squat Cobblers 1 shot up the overall standings this week.  Weeks like this will do that for you. How do you like that K%? 93 in 69.1 IP, holy smokes!  It was Yadier Molina of all people along with Kevin Newman, Xander Bogaerts and Juan Soto leading the offense for the Cobblers.  On the pitching side, the Cobblers can thank K/9 machine, Dinelson Lamet for boosting those numbers with 10Ks in 5 innings. The Cobblers will look to keep riding the hot hands up the standings with all three of their teams in the final four weeks of the season.  Good luck!
Want to be Matt's Twitter pal?  That's kinda creepy, but you can follow him here: @MattTruss