The hits just keep on coming, quite literally in fact.  One week after clobbering our Razzball Commenter Leagues weekly records we came very close to doing so again.  We did crush the weekly batting average record as we had a team hit nearly .400 for the week!  There were actually three teams with an average over .393 this week, all of which would have been a new record.  We're just cranking out the hits these days. The Fat Fruckin' Babies cracked the weekly leaders yet again and nearly set a new Runs record.  They gained another point in RCL #57 and another point in the overall standings as well. We've had one perfect season in the history of the RCLs, Team levy back in 2016.  That season ran away with the RCL overall title and we'll all be watching to see if FFB can pull off the feat. FFB is only lacking in batting average right now, a tough spot to make gains in this time of year but they are only looking for 3 points, moving from .274 to .277 would be enough.  More on the weekly stats and the rest of the week that was, week 20 below:
Each week we'll peek in at our resident 'perts to see who is laying claim to best "expert" RCLer in the land.  We'll take notes, check the standings and generally stalk them.  The heading is also hyperlink, so feel free to follow along as we go.

Grey and I have been steadily swapping the league back and forth for five weeks now and this week it was my turn to finish ahead of the 'Perts gang.  Grey and I swapped spots in the standings and swapped scores going from 81 to 84.5 and vice versa.
The story this week was Hot Rod who finished in the 30s for the first time since week six.  Hot Rod gained 6.5 points this week, the most of any team and with a few more weeks like this could pass Kerry and Tehol who have been dead teams since May!
Son and Kerry each lost 4 points this week, tied for the biggest drop.  Ralph gained 5 points this week and had the biggest move in the standings thanks to it, moving up 2 places, back to fifth.  B_Don on the other hand, fell two places, down to seventh despite gaining 0.5 points.
TOP 10
For those too lazy to check the MASTER STANDINGS, I present to you, the current top 10
FFB and Backdoor Splitters kept their top spots this week, but Squat Cobblers 2 moves up into third.  The ECFBL Cobblers, fresh off their hot week last week are knocking on the top 10 door as well, in 12th.  Impressive stuff from the Cobblers.
Prague Defenestrators moves up one spot to fourth while Up North falls two places this week, down to fifth.
Kumamoto expungers gain two spots this week, moving up to sixth while I fell another spot, down to seventh.
Team mcafeeeee falls one place to eighth and Orchids of Asia remains in ninth.
Rounding things out this week we have a new addition to the top 10, Acuna Moncada.
WEEKLY LEADERS
The best of the best from the week that was.
R – 77 – Fat Fuckin' Babies (RCL 2019 (#57))
HR –31 – Team Adams (RCL 2019 (#54))
RBIs – 85 – One Day (RCL 2019 (#49))
SB – 13 – Clown Prince (RCL 2019 (#43))
AVG – .398 – Stevie Janowski (RCL 2019 (#6))
K – 114 – Johnny Utahs (RCL 2019 (#1))
W – 10 – Johnny Utahs (RCL 2019 (#1))
SV –  10 – 5 Teams Tied
ERA (Min. 40 IP) – 1.22 – Florida Crackers (DFSers Anonymous) (in 44.1 IP)
WHIP (Min. 40 IP) – 0.800 – Donkey Teeth (PERTS LEAGUE) (in 55 IP)
Stevie Janowski set the diamond on fire this week, batting near .400 and setting a new weekly record.  That's a lot of hits! If it wasn't for Manny Machado's .238 mark this week .400 would have been theirs.
Johnny Utahs tied the wins mark for the second time this year.  There have now been six instances of 10 win weeks but no one has managed to hit 11.
Shout out to Donkey Teeth for a superb pitching week in the 'Perts League!
TEAM OF THE WEEK
Our weekly shout out to the team that killed it the previous week.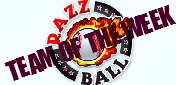 Team: EvilEvies
League: Cougs R Us
Stats:   AVG: .310, R: 65, HR: 29, RBI: 65, SB: 7
IP: 78.2, ERA: 2.40, WHIP: 0.966, K: 97, W: 6, SV: 6
Summary: Cougs R Us is one of our longest running and most competitive legacy RCLs.  It's a $100 league and often features some of the best competition in the RCL universe.  EvilEvies is no stranger to tough competition, also competing in the ECFBL, another long running and difficult league with a buy-in.  This is why it is important to diversify your portfolio. EvilEvies is currently in 9th in ECFBL, but shot to the top of Cougs this week thanks to a TOW-worthy week.  EvilEvies gained 12 points this week thanks to a total barrage in all categories. Usually the TOW has some warts somewhere, but not this one. Over .300 average, near record breaking HRs, a sub 1 WHIP, 6 Wins, 6 Saves, well over a K/IP, this one has it all.  Gaining 12 points at this stage of the game is no joke and the EvilEvies have primed themselves to cash in one tough league. Nice work my friend!
Want to be Matt's Twitter pal?  That's kinda creepy, but you can follow him here: @MattTruss