First of all, a big thank you to Rudy for getting his Razzball Commenter Leagues robots crunching the numbers we all know and love.  We now have real, live standings here in week two!  It's awesome to have a starting point for the Master Standings in the early going and it's much easier to collect data.  A big thank you also to fellow RCL nut, VinWins who diligently went through each league and copied out the weekly numbers for this week's weekly leaders section.  With the Master Standings also comes the league competitive index.  LCI is a Master Standings secret sauce that I love.  It's what's missing from most overall competition standings.  More info on LCI can be found at the bottom of the standings page.
It's still the silly season for our leagues at this point, where we can have huge swings in the standings based on 2-3 good days of stats.  So, fear not if you're off to a slow start.  One visit to Coors and your team can turn on a dime.  Of course, it can also turn on an Anthony DeSclafani start, so, give and take.  Who's the number one RCL team after the first two weeks of the season?  You'll have to click below to see that.  Let's take a look at the standings, the top teams in each stat category, and some trades in the week that was, week two in the RCLs:
Each week we'll peek in at our resident 'perts to see who is laying claim to best "expert" RCLer in the land.  We'll take notes, check the standings and generally stalk them.  The heading is also hyperlink, so feel free to follow along as we go.
It was little ol' me who made the biggest jump in both points (19.5) and total standings position gained (three spots) this week as a squeaked into second place, just behind Son who held the top spot this week.  I led the league in HRs, RBIs, IP, strikeouts, saves and co-led with Malamoney in wins with six.  Not too shabby.
JKJ was this week's biggest faller, losing 13 points and falling two places down to eighth.
Each week we'll also take a look at the top ten overall standings in our other Razzball sponsored league, the RazzSlam.  This is our NFBC Best Ball league with managers from all across the industry, from content providers to fans and readers just like you.
Yahoo!'s Triple D took over the top spot this week!  Congrats to long time Razzball commenter, Old School Brother for their appearance in the top ten as well!
Clark Olson picked up the most points this week with 654, good for moving them up 120 spots to twelfth overall.  Eric Cross moved up the most spots, gaining 177 positions and moving to 36th overall thanks to their 635 points gained.
TOP 10
For those too lazy to check the MASTER STANDINGS, I present to you, the current top 10
Here we have it, our first edition of the top ten!  We did notice an error in these that will get corrected ASAP (probably by the time you read this) where FanTrax has switched the position of Wins and Innings Pitched, so our data download has those swapped, still, the standings probably won't change a ton with that swap.
My DFSers Anonymous team, which was in the running for TOW honors last week takes the top spot in our first standings run.  That team has the second most league points of any team so far 108 and the DFSers League is an active one, driving up that LCI.
Son's Perts League team, which is currently whooping us appears here at sixth overall.
I can't say I recognize any of the other teams here, but if you're a commenter, let me know in the comments so I can sing your praises.
TRADES
All the trades that have gone down in the past week.  Public ridicule is not only allowed, but encouraged.
Just the one trade this week.  Maybe everyone is taking all the advice we've been dishing out all this week about holding the line.  If Semien rebounds from a slow start, this trade could look really lopsided in a month or so.
WEEKLY LEADERS
The best of the best from the week that was.
R – 54 – nawlins napsters (RCL #34) & Trussell Shuffle (Cougs R Us)
HR –20 – Trussell Shuffle (Cougs R Us)
RBIs – 59 – Freddies44 (RCL #43)
SB – 18 – Beastman (NOTLZ)
AVG – .314 – Parsec (RCL #23)
K – 88 – The Colonel's (Julio) Gotay (Original Recipe)
W – 8 – willybeanes (RCL #3); Our Balls Are Juiced (RCL #31); Uncle Rico 2022 (RCL #37)
SV –  11 – MattTruss (Perts)
ERA (Min. 40 IP) – 0.82 – twhite8148 (RCL #35) (in 54.2 IP)
WHIP (Min. 40 IP) – 0.66 – jtannehill (Writers League) (in 49 IP)
Once again, big thanks to VinWins for copying out all my team data this week.  I kid, I kid, other teams were included too, but it was a pretty good week for your RCL host.  Having 30 teams doesn't hurt either.
TEAM OF THE WEEK
Our weekly shout out to the team that killed it the previous week.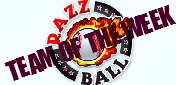 Team: tberkman
League: RCL #26
Stats:   AVG: .261, R: 39, HR: 13, RBI: 48, SB: 14
IP: 70.1, ERA: 2.43, WHIP: 0.91, K: 75, W: 6, SV: 4
Summary: tberkman was a poster child for the slam and legs this week and it was the young guns getting it done.  Julio Rodriguez swiped four bags, while Wander and Varsho each bashed three bombs. You love to see it.  On the pitching side, that sub one WHIP is always amazing and it was Tony Gonsolin, Nick Lodolo and Frankie Montas pairing up with veteran arms, Noah Syndergaard and Carlos Carrasco who got the job done.  All this shot tberkman up from fourth place with 77.5 points last week to first place this week with 106.5.  That'll work!  Nice job and good luck holding on!
Want to be Matt's Twitter pal?  That's kinda creepy, but you can follow him here: @MattTruss