First of all, a big thank you to Rudy for getting his Razzball Commenter Leagues robots crunching the numbers we all know and love.  We now have real, live standings here in week two!  It's awesome to have a starting point for the Master Standings in the early going and it's much easier for me.  No more copy/pasting league leaders from every league, thank goodness.  We also get to take the league competitive index into account, which is a Master Standings secret sauce that I love.  It's what's missing from most overall competition standings.  More info on LCI can be found at the bottom of the standings page.
It's still  the silly season for our leagues at this point, where we can have huge swings in the standings based on 2-3 good days of stats.  So, fear not if you're off to a slow start.  One visit to Coors and your team can turn on a dime.  Of course, it can also turn on a Lucas Gioltio Patriot's Day start at Fenway, so, give and take.  Who's the number one RCL team after the first two weeks of the season?  You'll have to click below to see that.  Let's take a look at the standings, the top teams in each stat category and some trades in the week that was, week two in the RCLs:
Each week we'll peek in at our resident 'perts to see who is laying claim to best "expert" RCLer in the land.  We'll take notes, check the standings and generally stalk them.  The heading is also hyperlink, so feel free to follow along as we go.
Son and JKJ are playing a game of hot potato with the top spot, but Laura is about to make tater tots out of them both.  Son gained 2.5 points this week and JKJ lost 6.5 leading to the swap of the pole position.  The real story of the week however, is Laura, who gained a whopping 14 points and jumped up four places to nab third.  If this heater continues, we don't stand a chance.  Laura paced the league in HR (16), RBI (51), AVG (.294) and ERA / WHIP (1.78 / 0.908) for good measure.  Wowza.
The biggest loser on the week?  You're looking at him, well, the words he typed anyway.  I dropped 15.5 points this week and fell five places in the standings to settle into eighth place.  All that thanks to 5.61 ERA and 1.338 WHIP *glares at Max Fried and Charlie Morton*.  That and only 8 bombs and a .214 average will do that for you.  None of these stats were league-worst, but the combination was.
Each week we'll also take a look at the top ten overall standings in our other Razzball sponsored league, the RazzSlam.  This is our NFBC Best Ball league with managers from all across the industry, from content providers to fans and readers just like you.
Ho hum, another week, another day atop the overall Razzslam standings for Donkey Teeth.  Coolwhip remains in third, but the jelly in our Razzball sandwich has been swapped out, this time it's Walter McMichael enjoying the sandwich treatment.  What we really have is an extra thick bottom bun, a three-way tie for third.  Brian Seymour had the best week of anyone, gaining 721 points this week in order to lock into that third place spot.  Ellis Canady moved up 16 places to make the third piece of the bottom bun.  Am I taking this sandwich thing too far?  Perhaps.  Sammy Reid, last week's filling, falls to sixth after posting just 549 points this week.  Nathan Longfield earns "top mover of the week" honors as they gained 708 points this week to move up 130 places to 93rd overall.  Nathan wants nothing to do with any sandwiches.
TOP 10
For those too lazy to check the MASTER STANDINGS, I present to you, the current top 10
I told you everyone in the 'Perts League was just biding their time until Laura stormed to the top spot and I present to you RCL #9 as evidence.  I saw some mess going around on Twitter about a fantasy super league and what managers would be in it.  I'll be honest, if this league doesn't include Laura, it's a sham.  Need I remind you that Laura's forte is deep leagues?  Then she just waltzes into the super-shallow RCLs and shows everyone how it's done.
Big props also to Son for sticking two teams in the top ten here in the early going.  Son's teams are out to hot starts and have a bit of a jump in IP.
Rounding out the top ten we have Vottoman Empire, a manager I've played with plenty that is a top-notch RCLer and Beastman, who is getting it done in one of the toughest RCLs out there.
Congratulations to everyone who has started hot, now the trick is holding on.
TRADES
All the trades that have gone down in the past week.  Public ridicule is not only allowed, but encouraged.
The RCL trade market got heated this week with six trades completed.  Yordan moves again, this time for Jack Flaherty.  I'd still prefer Yordan there I think, but it's close.  
The Barnes for Urshela trade is a little surprising to me in NOTLZ.  I know how closers are valued in legacy leagues and I was able to pick up Gio Urshela off waivers in a couple RCLs so far.
I love seeing what Ohtani gets moved for, it's fascinating.  Just like his ADP kept rising during draft season I think his trade value has done nothing but go up as well.
WEEKLY LEADERS
The best of the best from the week that was.
R – 135 – Diamond Archers (RCL 2021 (#22)) & Team philly7549er (RCL 2021 (#35))
HR –46 – The Woody Frymen (RCL 2021 (#14))
RBIs – 134 – Diamond Archers (RCL 2021 (#22))
SB – 33 – Straw Dawgs (RCL 2021 (#21))
AVG – .302 – Jeremy Gibbs (RCL 2021 (#1))
K – 237 – Team Jmason028 (RCL 2021 (#1))
W – 16 – Fightin' Phara0hs (RCL 2021 (#20))
SV –  19 – Zoe's Boys21 (RCL 2021 (#17)), Brad Hands Down – Worst Team (Name) (RCL 2021 (#32)) & RE-UP (RCL 2021 (#22))
ERA (Min. 40 IP) – 1.62 – CornHolio's Bunghole (RCL 2021 (#12)) (in 156 IP)
WHIP (Min. 40 IP) – 0.744 – CornHolio's Bunghole (RCL 2021 (#12))
These initial weekly leaders are really the two plus week leaders.  These numbers won't count towards the weekly records, but they are nonetheless, very impressive.  Diamond Archers has jumped out to a hot start offensively thanks to Jared Walsh, Mitch Haniger and Justin Turner.  No one on their squad is without a homer and the Archers are deploying the no catcher strategy.  A controversial strategy, but one that can pay off if deployed correctly.
33 steals in two plus weeks is a bit silly.  Straw Dawgs is working with Ramon Laureano and their team namesake, Myles Straw.  Manny Machado has chipped in four steals and Trea Turner is doing his part with three.
My favorite part about covering the RCLs is typing out things like, CornHolio's Bunghole and other classic RCL team names.  ConrHolio has been on an insane pitching heater to start the season.  These ratios are good in a normal week where 40 IP is the minimum limit and they've accomplished them in 156 IP!  What a starting foundation for the season. 
TEAM OF THE WEEK
Our weekly shout out to the team that killed it the previous week.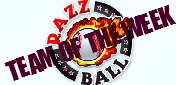 Team: Son
League: PERTS LEAGUE
Stats:   AVG: .225, R: 112, HR: 31, RBI: 95, SB: 17
IP: 199, ERA: 2.39, WHIP: 1.028, K: 202, W: 15, SV: 11
Summary: Congratulations Son, on being the first, official TOW of the season.  You may be wondering why Laura isn't TOW.  I determine TOW based on a formula created by VinWins and myself over the years to try and determine the best all-around team each week.  It assigns point values to each category and tries to find a balance.  If a team has an abundance of IP, that can skew things in their favor, however those IP need to be quality also, as Son's certainly are.  So, it's a little secret sauce that means nothing, but provides me a consistent metric by which to call attention to outstanding teams each week.  If you earn TOW honors, feel free to print out that week's post and have it framed for your mantle.
Want to be Matt's Twitter pal?  That's kinda creepy, but you can follow him here: @MattTruss