This juiced ball is getting a bit out of hand.  We once again obliterated our weekly records on offense this week and this year's numbers compared to last year's are a joke.  Our Team of the Week this week put up the highest scoring single week total of the season and had their way with the Master Standings.  There were gaudy numbers galore and with the trade deadline now come and gone we can only hope to scoop up the next Aristides Aquino from the waiver wire.  You can bet your bag of Flamin Hot Cheetos he was part of the TOW squad. At least if you're going to get beat in August it will be by a guy with an 80 grade name,  That helps ease the pain. We'll dive into all the weekly numbers and take a look at the top ten overall in the week that was, week 19.
Each week we'll peek in at our resident 'perts to see who is laying claim to best "expert" RCLer in the land.  We'll take notes, check the standings and generally stalk them.  The heading is also hyperlink, so feel free to follow along as we go.

Grey snuck back into the lead in the 'Perts League this week and now Donkey Teeth has joined the fray at the top of the league.  It's looking like a four team race right now, but even that could change with one hot week. Donkey Teeth gained the most points this week with 3.5 which pushed him over Cram It fro 3rd place.  Roto-Wan gained the most places in the standings however, as his three points moved him up two spots to sixth.
The biggest loser this week was Malamoney with 3.5 as he dropped two places in the standings, down to eighth.  It would seem his lack of moves is finally catching up with him after being as high as second place back in June.
Hot Rod is back on pace in IP thanks to streaming 278 innings over the past two weeks.  That's a lot of work my friend. "A" for effort!
TOP 10
For those too lazy to check the MASTER STANDINGS, I present to you, the current top 10
FFB and Backdoor Splitters still reign supreme this week and it could be tough to catch them.
UpNorth, Squat Cobblers 2 and Prague Defenestrators all move up one spot this week as my squad falls all the way to sixth after a rough week that saw me dip below 100 league points.
Team mcafeeeee and kumamoto expungers remain in seventh and eighth respectively as much of the top 10 stays in place this week.
Orchids of Asia moves up one spot this week to ninth as Brookhaven Modern Blue falls one spot to tenth and rounds out the top ten.
WEEKLY LEADERS
The best of the best from the week that was.
R – 78 – AutoDraft (RCL 2019 (#9))
HR –35 – Fresh Meat (Frequent Commenters League)
RBIs – 78 – Diamond Archers (RCL 2019 (#57))
SB – 14 – Casterly Rock Fighting Imps (edg5) (RCL 2019 (#42))
AVG – .384 – Oey Otto (RCL 2019 (#1))
K – 118 – Squat Cobblers 2 (RCL 2019 (#14))
W – 10 – Hot Rod (PERTS LEAGUE) & Johnny Utahs (RCL 2019 (#1))
SV –  10 – Team TheFantasyGOAT (RCL 2019 (#2))
ERA (Min. 40 IP) – 0.44 – snell ya later ;) (RCL 2019 (#32)) (in 41 IP)
WHIP (Min. 40 IP) – 0.756 – snell ya later ;) (RCL 2019 (#32))
As I mentioned, we destroyed some weekly records this week.  The 78 runs were only one more than the previous record but the homer total went up by four dingers.  That's four homers over a record that was already blowing away last year's weekly total of 26. Oey Otto upped the batting average record by a single point this week and the Squat Cobblers set a new strikeout record for the season.  Hot Rod and Johnny Utahs tied the weekly record of 10 wins and we now sit in a five way tie. Someone needs to work on an 11 win week ASAP. What might be even more amazing than all the offense is how some teams can still avoid it with their pitching.  Somehow, in the biggest offensive week of the year, snell ya later ;) with that unassuming winky face, laid down a teeny tiny 0.44 ERA and sub one WHIP. Well done.
TEAM OF THE WEEK
Our weekly shout out to the team that killed it the previous week.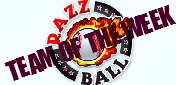 Team: Stl Squat Cobblers
League: ECFBL
Stats:   AVG: .289, R: 74, HR: 32, RBI: 70, SB: 7
IP: 110.1, ERA: 3.10, WHIP: 1.033, K: 117, W: 9, SV: 1
Summary:  Let's just look at the absurdity that is the week that Squat Cobblers had.  Now I know why they shot passed me in the ECFBL standings this week. Their 32 homers would have been a new weekly record had someone not hit 35 this week.  The 117 strikeouts would have also been a new record had Squat Cobblers 2 not put up 118. They were three runs off the weekly record and one win from tying that record.  The Cobblers now have three teams in the top 22. The Cobblers are riding the hot hands on offense with Gio Urshela and Aristides Aquino doing work. Yup, just who we thought would be carrying teams come August.  Dinelson Lamet and Lucas Giolito helped out on the pitching side of things. What a week! Now, if you would kindly slow down the remainder of the season so I can climb back of the standings, I'd be very appreciative.
Want to be Matt's Twitter pal?  That's kinda creepy, but you can follow him here: @MattTruss