Hello there, RCLers and welcome to another weekly round-up.  We're hitting the dog days of the Razzball Commenter Leagues now, this is the time of year where teams in the bottom half of the standings check out and start drafting fantasy football teams.  But not you, good reader, you are sticking around for the long haul and grinding out those roto points.  Just a friendly reminder that our RCL trade deadline is approaching.  August 13th at midnight is your last chance to make any moves via trade.  I expect the next week to be very busy with trades.  It's your last chance to make an impact move, so check out those standings, see where you can gain the most points, and maybe take the team ahead of you down a notch and get trading!  There's no need to win stolen bases by 100 after all.  May all your trades be accepted this week and may you be leading your league by September.  Here are the trades from the past week and all the other news from the week that was, week 17:
Each week we'll peek in at our resident 'perts to see who is laying claim to best "expert" RCLer in the land.  We'll take notes, check the standings and generally stalk them.  The heading is also hyperlink, so feel free to follow along as we go.
Grey picked himself up off the mat this week and gained two places, mostly thanks to Malamoney's 5.5 point drop and B_Don dropping a point as well.  JKJ had the most points gained this week, picking up six.  Blair lost 3.5 points this week, but more bonkers was his RCL-worst 8 ERA in 36 IP.  Blair has definitely packed it in for football season though, still rostering Chad Kuhl is not advisable currently with an 11.49 ERA and 2.49 WHIP in his last four.  Mercifully, he's on the IL now, but Blair is also still rostering Franmil and several IL'd players, so there's that.
My lead on the league stretched to 17.5 and I'm holding on for dear life for the final two months.
Each week we'll also take a look at the top ten overall standings in our other Razzball sponsored league, the RazzSlam.  This is our NFBC Best Ball league with managers from all across the industry, from content providers to fans and readers just like you.
Coolwhip had a big week and holds things down for the Razz Fam in third overall at the moment.  Following him are JKJ and Zach.  Grey bumped himself up to 24th this week, while DT now teeters on the edge in 30th place.  It really only takes one big week to move into that top 30 seat, as Henry Sobieski proved this week, putting up 709 points and moving up 26 places to seventh.
TOP 10
For those too lazy to check the MASTER STANDINGS, I present to you, the current top 10
Wake and I are still holding down our top two status but FredGarvin is making some noise this week, moving into third and pushing my 'Perts team to fourth while stechsjj remains in fifth.
AllRice and FFB each move up some places this week, pushing my RCL #37 team to eighth.
Asynda Boil ascends into the top ten this week, giving Crab Army two teams here as these squads battle it out for the league lead.
TRADES
All the trades that have gone down in the past week.  Public ridicule is not only allowed, but encouraged.
Some nice trades this week, in the second to last week of trade season, eight total with Starling Marte, J.D. Martinez, Gregory Soto, Kyle Tucker, and Shane McClanahan each moving twice.  I really like Vin's side of his deal with TT Is The Way in exchange for Adolis Garcia.  Also very interesting to see what Juan Soto is netting these days.
WEEKLY LEADERS
The best of the best from the week that was.
R – 61 – Jersey Pine 2 (RCL 2022 (#35)) & milothecat (Night of the Living Zombinos)
HR –24 – MattTruss (RCL 2022 (#37))
RBIs – 70 – Diamond Archers (RCL 2022 (#40))
SB – 14 – Finkelstein Ballers (RCL 2022 (#41))
AVG – .331 – G-Train (RCL 2022 (#13))
K – 103 – DFresh (RCL 2022 (#40))
W – 10 – Gunk Squad (RCL 2022 (#26))
SV –  8 – The Sneetches (RCL 2022 (#34)) & Backdoor Knucklers (Cougs R Us)
ERA (Min. 40 IP) – 0.29 – Mr. Sweat Necklace (RCL 2022 (#37)) (in 62 IP)
WHIP (Min. 40 IP) – 0.682 – Asynda Boil (Crab Army) (in 51.1 IP)
We had multiple leagues with multiple teams on the leaderboard this week and we added some more teams to a growing list of weekly leader ties.  Diamond Archers makes it a four-way tie with 70 RBIs and Gunk Squad made it a five-way in wins.  The real story this week though is Mr. Sweat Necklace who went sub-atomic on the ERA and landed a 0.29 in 62 IP.  The only pitcher who gave up runs was Cole Irvin (2 ER).  VinWins made a list of the pitchers Mr. SN threw out there:
Kevin Gausman 14 IP
Chris Bassitt 7 IP
Charlie Morton 6.2 IP
Julio Urias 6 IP
Justin Verlander 6 IP
Jeffrey Springs 6 IP
Hunter Greene 6 IP
Cole Irvin 6 IP*
Ryan Tepera 2 IP
Rowan Wick 1.1 IP
Josh Hader 1 IP
That's an impressive week, to say the least.  I think the only way that gets beat is if someone squeaks in a 40 IP / 0 ER performance.
TEAM OF THE WEEK
Our weekly shout out to the team that killed it the previous week.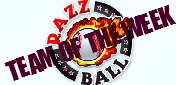 Team: MattTruss223 & Capital Offense
League: DFSers Anonymous
Stats:   AVG: .276, R: 49, HR: 17, RBI: 58, SB: 11
IP: 54, ERA: 1.17, WHIP: 0.741, K: 61, W: 6, SV: 1
And
AVG: .286, R: 44, HR: 14, RBI: 53, SB: 6
IP: 77.2, ERA: 2.20, WHIP: 0.979, K: 69, W: 8, SV: 7
Summary: I'm going with the rare double TOW this week because we're both in the same league and I hate talking about my own teams.  Plus, it really was too close to call, I have the edge in counting stats, CO has the edge in IP and Saves.  We both killed it this week and so, we're both being included.  For me, it was Oneil Cruz and Ryan McMahon coming alive and pacing the offense while picking Jesus Luzardo off waivers paid immediate dividends for the pitching staff.  For Capital Offense it was Goldy and Rowdy leading the way on offense and Max Scherzer being vintage Max with 11 Ks in 7 IP.  Way to keep that LCI high in DFSers!
Want to be Matt's Twitter pal?  That's kinda creepy, but you can follow him here: @MattTruss