The trade deadline in the Razzball Commenter Leagues is fast approaching.  Thursday, August 1st is your deadline, which means by the time you're reading this, you'll have about one week to make your move(s).  Happy trading friends. I happen to be on vacation this week which means I'm not at work and happily enjoying some day drinking like my DFS buddy, Richardo last week.  Fear not though, I'm still here for my fellow RCLers, I won't leave you hanging. We've got top ten updates, updates on the 'Perts League, trades and our weekly leaders for the week that was, week 16.  Hopefully, without too many hiccups.
Each week we'll peek in at our resident 'perts to see who is laying claim to best "expert" RCLer in the land.  We'll take notes, check the standings and generally stalk them.  The heading is also hyperlink, so feel free to follow along as we go.

Once again, it's Grey in the lead with me close behind.  However, a big week from Cram It rocketed him up the 'Perts League standings and into a tie for third.  I've got a lot more on Crammy's big week in the final section of the update but he was our biggest points (5.5) and standings gainer (two places) this week.  Ralph was the biggest victim, losing five points and falling three places to seventh.
TOP 10
For those too lazy to check the MASTER STANDINGS, I present to you, the current top 10
FFB held on to the top spot for yet another week, it's looking like their race to lose at this point.  Backdoor Splitters might have something to say about it if he can continue his tear in ECFBL. ECFBL could end up with a slightly higher LCI which could be all the difference in this race.  As it is, the Splitters have pushed themselves into second overall with a big week that had them third in the TOW standings.
My DFSers team remains in third for another week, but it's not looking like I've quite got the horses for a first place push.
UpNorth remains in fourth place this week and Team mcafeeeee swapped spots with the Splitters from second to fifth.
Licketty Splits and Squat Cobblers 2 hold their positions this week in sixth and seventh respectivly.
Kumamoto expungers and Prague Defenestrators each make a jump into the top ten this week from just outside last week.
Rounding things out this week we have The Great Knoche who took a little time off from the top ten but returns for another go at it this week.
TRADES
All the trades that have gone down in the past week.  Public ridicule is not only allowed, but encouraged.
Only four swaps this week as folks are no doubt gearing up for a big week of trades coming up.  
The Great Knoche was busy, adding a serious arm to his already top ten RCL squad.  Knoche has innings to burn and gets some quality innings to go with that now. Knoche also made a swap with the overall top team, wrestling what's left of Giancarlo's career in NY (I kid, sort of) and Austin Riley for Tommy Pham.  I really hope for my own team's sake Giancarlo can give us something this year, but I have my doubts.
WEEKLY LEADERS
The best of the best from the week that was.
R – 68 – Team DFresh (RCL 2019 (#35)) & 5IVE5IVE9INE (RCL 2019 (#38))
HR –26 – Cram It (PERTS LEAGUE) & Texas Flood (RCL 2019 (#36))
RBIs – 70 – Matty's Super Twos (RCL 2019 (#1))
SB – 15 – Honey Bunches of Sadness (RCL 2019 (#66))
AVG – .343 – Flint Crazier (RCL 2019 (#53))
K – 107 – New Jack Swing (RCL 2019 (#46))
W – 8 – 3 Teams Tied
SV –  12 – 3 Teams Tied
ERA (Min. 40 IP) – 1.05 – Team bwpercival (RCL 2019 (#8)) (in 43 IP)
WHIP (Min. 40 IP) – 0.837 – Team bwpercival (RCL 2019 (#8))
We finally broke the four way tie for the weekly stolen base lead.  Thanks Honey Bunches! New Jack Swing came within two Ks of a new strikeout record as well, but close doesn't count in the record books.
TEAM OF THE WEEK
Our weekly shout out to the team that killed it the previous week.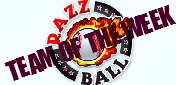 Team: Cram It
League: PERTS LEAGUE
Stats:   AVG: .314, R: 58, HR: 26, RBI: 62, SB: 4
IP: 67.2, ERA: 3.33, WHIP: 1.182, K: 64, W: 6, SV: 8
Summary: I told you we'd have more on Crammy.  Cram led the 'Perts League in HR, RBIs, Wins and Saves and co-led the entire RCLs in homers.  I'd say that's a pretty solid week. Just to prove it doesn't take anything too fancy to win TOW honors, Trey Mancini and Rafael Devers led the offense while Kyle Hendricks and Eduardo Rodriguez led the way on the pitching side.  It's not always your Christian Yelich's and Max Scherzer's out here ripping it up. Cram has now pushed himself right up into third and is knocking on the door to second. Someone needs to give Grey a run here, maybe Cram can be that someone!
Want to be Matt's Twitter pal?  That's kinda creepy, but you can follow him here: @MattTruss