Happy All Star Break my fellow RCLers.  The Razzball Commenter Leagues can take a toll on your time, you social life and your personal hygiene.  I hope you're using the break to take a shower, get out of your sweat pants and get reacquainted with your roommates, also known as, your family.  They've missed you. Spend a moment and remind them that you are in fact, alive and well. Show those that love you that you haven't been lost in the wilderness for the past 14 weeks, being cared for by a pack of wolves.  In fact, you've just been winning fantasy baseball leagues. You know, just like your idol, Grey Albright, current 'Perts League leader. Or, perhaps your idol might be the UpNorth, current Master Standings leader. Maybe you're partial to your RCL Update host, currently in second place in the Master Standings with another team in eighth.  Or maybe you look up to Backdoor Splitters who just had one heck of a week to take the lead in ECFBL and charge to fifth in the Master Standings. Whomever it may be, hopefully you're kicking butt just like them and getting ready to keep it up in the second half. Check out the current Master Standings and the rest of the All Star Break stats in the week that was, week 14:
Each week we'll peek in at our resident 'perts to see who is laying claim to best "expert" RCLer in the land.  We'll take notes, check the standings and generally stalk them.  The heading is also hyperlink, so feel free to follow along as we go.

It would seem Grey took his All-Star break early and after three weeks off, he's back in the top spot in the 'Perts League.  Despite the fact that I gained 3.5 points this week, Grey stormed back with 6 of his own and passed B_Don and me to retake the 'Perts League throne.  How did Grey manage his comeback? Simple: pitching. We had this little discussion in the comments section last week, but so many of these leagues are so close in the pitching ratios that one good or bad week can raise you up or clobber you.  With everyone floating around a 3.80-4.10 ERA a week of sub 3.00 ERA will have you flying up the standings. Grey led the 'Perts League in IP this week and managed a 3.27 ERA and 1.061 WHIP. That combined with all the strikeouts (82 in 66 IP) was enough to get him back on top.  It's a one point lead for Grey heading into the break and I'm sure he and I will be trading places plenty over the second half.
Donkey Teeth was out biggest loser this week, dropping 8.5 points and falling to seventh place.  The 5.10 ERA on the week certain didn't help matters much.
TOP 10
For those too lazy to check the MASTER STANDINGS, I present to you, the current top 10
As I mentioned in the open, UpNorth took over the Master Standings lead this week thanks to a five point gain in RCL #65.  That displaced me to second overall.
Licketty Splits added two points this week, which given the LCI of 108 in RCL #52, was enough to leapfrog FFB who also gained two points this week.  If the newly added manager in RCL #57 can help boost the LCI FFB will be a tough team to beat down the stretch.
Backdoor Splitters rockets back into the top 10 this week in fifth, more on his amazing week to come.
Team mcafeeeee remains in sixth place while Squat Cobblers 2 moves up two places to seventh.  The Squat Cobblers spent some time in the top spot last season, we'll see if they can make a push to get back there this year.
My Hippos fell from fifth to eighth thanks to the Splitters big week and J&G fell two spots to ninth.
Rounding out the top ten we have newcomer, Brookhaven Modern Blue who was in 12th last week.
TRADES
All the trades that have gone down in the past week.  Public ridicule is not only allowed, but encouraged.
There were seven trades this week with two leagues pulling off multiple swaps.  Private Confusion and BBums did some work this week. BBums must be hurting for saves.  Who'd have thunk that Jack Flaherty would be traded for Shane Greene this season, but it makes sense.  I'm not sure BBums has the Red Sox closer in that bunch, but best of luck trying. Speaking of saves, Backdoor Splitters traded some saves and steals (two categories they are leading the ECFBL in) for Walker Buehler.
WEEKLY LEADERS
The best of the best from the week that was.
R – 66 – Kriza (Cougs R Us)
HR –26 – Gold Dust Twins (RCL 2019 (#36)) & The Dick Loveladys (RCL 2019 (#25))
RBIs – 76 – SUMMER THUNDER (RCL 2019 (#54))
SB – 12 – DonSlaughtOnslaught (Night of the Living Zombinos)
AVG – .355 – Team Kuchi_Kopi (RCL 2019 (#7))
K – 106 – Fenway Franks (RCL 2019 (#7))
W – 9 – The Crack Fox (RCL 2019 (#8))
SV –  12 – The Lucchesi Family (RCL 2019 (#58))
ERA (Min. 40 IP) – 1.16 – Brookhaven Modern Blue (RCL 2019 (#18)) (in 54.2 IP)
WHIP (Min. 40 IP) – 0.748 – Brookhaven Modern Blue (RCL 2019 (#18))
No records were broken this week, but props to RCL #7 for placing two teams in the weekly leaders.  It's also to see why Brookhaven Modern Blue was able to push into the top ten overall this week.
TEAM OF THE WEEK
Our weekly shout out to the team that killed it the previous week.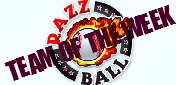 Team: Backdoor Splitters
League: ECFBL
Stats:   AVG: .295, R: 49, HR: 23, RBI: 69, SB: 4
IP: 81.2, ERA: 2.42, WHIP: 1.151, K: 93, W: 4, SV: 5
Summary: The Splitters gained 13 points in one of the toughest leagues in the RCLs this week and in doing so vaulted themselves back into the top ten.  The Splitters were victim to one of those awful weeks we all seem to have had this year where you leave with an 8.00+ ERA. That was enough to drop them out of the top ten for a couple weeks while they worked their way back.  After a week like this though, it's easy to see why they belong in the top ten. Those numbers are just stellar. Honestly, I'm not sure how the Splitters managed only four wins with those numbers. That seems like robbery. Yuli Gurriel's big week paced the offense while Patrick Corbin and James Paxton led the pitching.  Interestingly, it was those two that sunk the Splitters the week they had an 8+ ERA. The fantasy gods giveth and taketh.
Want to be Matt's Twitter pal?  That's kinda creepy, but you can follow him here: @MattTruss