I hope everyone had a wonderful tenth week of fun in the Razzball Commenter Leagues.  It was at this point last season that we were all done with the RCLs and fantasy baseball.  I still can't believe we played a 60 game season, stopping at this point in this season would just feel silly.  Some of my teams are just finally getting their shizz together.  Is it from this point forward we start seeing even more injuries than we already have?  Do even more pitcher's arms start falling off?  As someone who recently traded for Jacob deGrom in one RCL and drafted Max Scherzer in another, I was holding my breathe this weekend.  Don't worry though, the Mets say deGrom is fine for his next start after playing some catch.  If that doesn't make you rest easy, I don't know what will.  This, combined with the MLB attack on Spider Tack and we could be in for some major offense this summer!  I know my RCL teams that are currently batting under .250 will approve.  Let's take a look at how offense and pitching alike faired this week and the rest of the week that was, week 10:
Each week we'll peek in at our resident 'perts to see who is laying claim to best "expert" RCLer in the land.  We'll take notes, check the standings and generally stalk them.  The heading is also hyperlink, so feel free to follow along as we go.
Despite Son losing 1.5 points and Coolwhip gaining 4.5, Son still managed to keep hold of the league lead (and the RCL lead, but more on that later).  The lead is just 2.5 points now, as Coolwhip really applies the pressure.  Coolwhip has done this while only using about 60 moves, whereas, Son's next move will put him halfway to the 500 move limit.  It sure will be interesting to see how this race shakes out down the stretch.
Coolwhip's 4.5 point gain was the biggest gain of the week.  Coolwhip led the league in runs, batting average, and co-led in steals.  I was the other steals co-leader but have nothing but negative four points to show for it, the biggest loss of the week.  Itch gained the most positions in the league this week, moving up two places to fifth thanks to a four-point gain.
Each week we'll also take a look at the top ten overall standings in our other Razzball sponsored league, the RazzSlam.  This is our NFBC Best Ball league with managers from all across the industry, from content providers to fans and readers just like you.
It appears we're getting into the dog days of the RazzSlam as the top five remained unchanged this week and we haven't seen a change in the overall leader since week five.  I thought we might see a shake-up after the second FAAB ran, but no dice.  I, for one, was out of money for this round of FAAB, blowing it all on the first FAAB.  I don't recommend this.  
Donkey Teeth swapped spots with Ryan Owen landing in seventh and sixth respectively.  Zach Meyer moves up one spot to eighth.  We do see some turnover at the bottom end of the top ten as new teams, Kevork Mahserejian and Curtis Jones take ninth and tenth this week.
The biggest mover this week was Rob Sherwood who gained 744 points and moved up 44 sports to 50th overall.
TOP 10
For those too lazy to check the MASTER STANDINGS, I present to you, the current top 10
As I mentioned above, Son held onto his top spot for another week.  Team mpaltrow jumped back into second overall and a new challenger is pushing into the top three.  Team cubbiebluez gained seven league points this week, bringing them to 108 total.  If RCL #8 can boost their league competitive index a tad, cubbiebluez could be pushing for that top spot here soon.
Coolwhip moves up one spot this week to fourth overall and Laura takes a tumble, falling from second to fifth this week.  
I found out in the comments last week that this long team name: FlowersbangsAl waysRoyalmom… belongs to Grimey.  Congratulate Grimey on sixth overall the next time you see him in the comments.
Orlando Calrissians moves up one spot to seventh this week as Disgustipated falls four spots to eighth.
I keep hanging around the bottom of the top ten, landing in ninth this week and Son's Writer's league team comes storming back into the top ten after a one-week hiatus.
TRADES
All the trades that have gone down in the past week.  Public ridicule is not only allowed, but encouraged.
We had a couple of doozies this week.  Maybe teams are getting desperate.  One trade caused a minor ruckus in one league, can you guess which one?  
The manager of the Pachoka teams must just enjoy moving pieces, it seems like every day there is a new trade involving one of their squads.  Their trade of Bauer for three closers is the one that got some heat with the "c" word being tossed around.  I have stated before, and will again, it's very difficult to prove collusion.  Do we really think these two teams in 12th and 8th are plotting together to make a trade like this in order to take down an RCL?  Are they buddies outside of the league?  I doubt it.  It looks like someone who is in last place, making a desperate (albeit, ill-advised) move to gain some points in Saves and get away from Bauer, who has looked pretty meh since the sticky-stuff talk has gotten louder.  In the grand scheme of things, is this trade really any worse than trading Taylor Rogers for Giancarlo Stanton?  I'm not in the business of over-turning trades.  I am very pro letting managers manage their own teams.  If multiple trades go down in an obvious dump, we have a different story.  In that case, I would hope a league would be awake enough to cast the four votes needed to veto a trade.
WEEKLY LEADERS
The best of the best from the week that was.
R – 60 – Team GhostYu (RCL 2021 (#33))
HR –22 – Fighting Hams (Cougs R Us) & Helyar Hellhounds (RCL 2021 (#31))
RBIs – 59 – Team spicescat (RCL 2021 (#11))
SB – 15 – Kramerica Industries (RCL 2021 (#14))
AVG – .373 – Team the_chaz (RCL 2021 (#10))
K – 87 – Buffalo Wings (RCL 2021 (#24))
W – 9 – Team Srbanator (RCL 2021 (#27)) & Backyard Baseball (Night of the Living Zombinos)
SV –  10 – Team Draft Difficulties (RCL 2021 (#33))
ERA (Min. 40 IP) – 1.29 – Backyard Baseball (Night of the Living Zombinos) (in 70 IP)
WHIP (Min. 40 IP) – 0.563 – Butterscotch (RCL 2021 (#24)) (in 42.2 IP)
Team the_chaz nearly went Teddy Ballgame on us with a .373 average! Is it a coincidence that this is the week we set a new record for batting average?  I think it is because we also set a new WHIP record.  Pitching gives and pitching takes.
TEAM OF THE WEEK
Our weekly shout out to the team that killed it the previous week.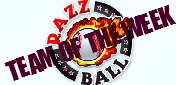 Team: Backyard Baseball
League: Night of the Living Zombinos
Stats:   AVG: .306, R: 42, HR: 14, RBI: 48, SB: 9
IP: 70, ERA: 1.29, WHIP: 0.829, K: 62, W: 9, SV: 1
Summary: It's been tough sledding for Backyard Baseball in one of the most competitive leagues in all the RCLs.  Last week they were sitting back in eleventh place and long overdue for a good week.  Well, that week has come.  BB led the RCLs in ERA and did it with 70 IP, while also co-leading in Wins.  They were also near the top of the weekly leaderboard in batting average.  Besides a low K/9 and only one save, this is the kind of week we dream of for our teams.  This week gained BB 12 points in NOTLZ, sending them into 10th place and looking for more.  Stanton and Pederson paced the offense while Framber and Walker Buehler were just two of the many stars on the pitching side this week.  Nice work BB!
Want to be Matt's Twitter pal?  That's kinda creepy, but you can follow him here: @MattTruss