Start the drum roll!  Twenty-Five weeks and change (let's call it 26) down and now we have 26 more until the start of next year's fantasy baseball season.  It's perfect symmetry because fantasy baseball is the perfect fantasy sport.  But, before we turn our eyes to next season we first have to recap this past season, and with that, our overall Razzball Commenter Leagues Champion…oh, ummm, hai, it me!  If you have read any of the many many words I have driveled over this fine website over the years, you know I hate talking about my own teams.  I actively avoid giving myself the Team of the Week honors if possible and I rarely highlight my teams any more than needed, which is going to make this write-up extra difficult.  I am not comfortable in the spotlight, I'm a fantasy baseball nerd, quiet, unassuming, please don't call me on the telephone, would you like to talk about spreadsheets, nerd.  That said, this is something I have been chasing since I first started playing the RCLs ten years ago.  I finished 15th overall that season and was immediately hooked on this format.  Like season-long DFS leagues, these RCLs play to my strengths, time, and effort.  Put in a little time every single day, put in a little effort tracking players, looking for breakouts, and knowing when to cut bait, and who to stream when and you'll be rewarded.  Do you need to make 500 moves?  No, I didn't even crack 200 with this team, unusual for me, honestly, but when the team is solid, there's not much to be done.  I led the Master Standings for 19 straight weeks before Wake Up went absolutely bonkers and passed me week 22, holding the top spot for three weeks.  I had two places to pick up points the final week and I started 9 RPs for five straight days trying to squeeze out any last saves I could, I fell one save short of the league lead, two short of a full point and I was convinced that would cost me the overall.  I also went into the final day tied with FANTASY ICON in Runs and just three behind Vegans, they scored eight and nine runs, respectively leaving me in third when my team only mustered four measly runs.  
These were the breaks I was convinced would cost me my shot.  In the end, every team in DFSers Anonymous was a rockstar, meeting the IP limit with seven teams exceeding the 1400 mark.  In RCL #6, two teams missed the IP mark, forcing the LCI a little lower.  That was all it took for the 0.1 point win….literally the smallest of margins.
Wake Up made a heck of a run though, and he really put the pressure on that final month of the season.  He pushed me to eek out any points I could.  He had a near-perfect season, recording 119 points but in the end, the 96 LCI hurts him.  As you'll see in the recap, Wake topped or came close to topping several stat categories.  It was an epic battle and doing it with a long-time commenter like Wake is a pleasure.  Wake and I go way back, almost prehistoric at this point (sorry Wake, we old).  As an employee of Razzball, it feels weird to take any prizes from this, so I'm passing the winnings on down to Wake.  I've got the virtual trophy, but Wake can take home the $250 Best Buy gift card and, more importantly, a Razzball T-Shirt!  Who can put a price on that?  Oh, it's $25, well then, moving on.
Feel free to stop by and heap the praise on your humble RCL host (who doesn't enjoy a good ego boost?) in the comments, but make sure you recognize Wake for his stellar season as well.  No winner is complete without a worthy adversary and Wake is more than worthy.  This is a huge feather in my fantasy baseball cap.  I will quote Grey when I told him I won, "I don't care what anyone says, that is the hardest of tourneys".  Grey should know, he created these beautiful beasts and they really are the biggest grind in the game.  Feels good man…feels good.
Here's what else happened this year and this final week of the RCLs:
Each week we'll peek in at our resident 'perts to see who is laying claim to best "expert" RCLer in the land.  We'll take notes, check the standings and generally stalk them.  The heading is also hyperlink, so feel free to follow along as we go.
Oh…did you want to hear about more of my fantasy teams?  Well, lucky for you I also won the 'Perts League for the first time ever!  It was a year of firsts, my friends!  Not only did I win it, I almost went wire to wire, never dropping below fifth place in week 2 and only losing the lead for four weeks after that when Son made an appearance in the league lead.  This team finished fourth overall in the Master Standings…not too shabby.
Enough about me though, let's chat about others.  Cram It went loco in the final week+, leading the RCLs in RBIs and stealing second place from Son, who had a horrid final streaming week and fell to fourth, leaving Laura holding the bronze medal.  Son was never lower than second all season long, but falls at the exact wrong time to fourth.  Shout out to Coolwhip, who had a fantastic streaming week and leaped over Grey for fifth place.  Beating the boss is always a feather in the cap and Whip made sure to let Grey know in the Razzball group chat.  Great season everyone!
Each week we'll also take a look at the top ten overall standings in our other Razzball sponsored league, the RazzSlam.  This is our NFBC Best Ball league with managers from all across the industry, from content providers to fans and readers just like you.
Steve Paulo is going to cover the RazzSlam tomorrow, so I will just say a quick congrats to Bob Cyphers on outlasting the competition in a marathon season in a league with…interesting rules.  Well done!
TOP 20
For those too lazy to check the MASTER STANDINGS, I present to you, the final top 20
I'm expanding the top 10 to the top 20 for the final standings.  Stand up and give a hearty pat on the rear end to your end-of-season top 20.  Most of these teams made an appearance in the top 10 at some point this year and it takes some serious effort to make the top 20 at the season's end.  The end-of-season IP penalties shook up the LCIs quite a bit, causing a stir, so be sure to check out where everyone finished:
Some people may not have gotten enough of my team yet, so let's take a look at the draft that made this season happen, shall we?  Let's shall:
When you start your draft with the two players being debated for fantasy MVP…it's going to be a good season.  Follow that up with the AL least valuable fantasy player and it gets a little dicey.  Still, I maintain, the RCLs are the easiest leagues to recover from a bad draft with.  I went into this draft with zero Shohei shares and I really wanted to have one, with the first overall pick I said, the heck with it, I'm going for it.  Little did I know, one hour later when the Perts League draft started that he would fall to me at pick 6 there, where I also nabbed him.  His flexibility in FanTrax daily leagues was so huge, he should have been the 1.1 on all my RCL draft boards in hindsight.  I think the Julio Urias pick is where the Perts League draft started and I was drafting two teams at once, which may have helped honestly.  Sometimes thinking less and acting more is handy.  These were my final two drafts of the season, I knew my strategy by this point.  The Urias pick gave me some trade value once the season started and the free-agent pitchers were collected (Tony Gonsolin & George Kirby) but wasn't the best move in hindsight, a hitter there would have been better.  I moved Urias for Oneil Cruz who went 14/10 after Vegans beat me to the waiver wire by literal seconds.  I was adding him and dropping Torkelson and by the time I hit submit, he was gone.  The Judge/Stanton combo had me drooling after this draft but Stanton was pretty meh.  Hunter Renfroe, 7 rounds later, was a much better get.  Really, looking at this draft it's not all that great, it's not hit after hit after hit.  The pitchers were great (Carlos Rodon in the 12th was enormous), and the top two picks were ideal, the rest could have been anything it seems like.  Spencer Torkelson in the 11th…HA!  Robert Suarez…remember when we thought he would be a thing?  Contreras in the 19th ended up being a very good value, but the rest of this team's success came from the waiver wire.  Andres Gimenez and Jon Berti were my waiver wire all-stars.  Jurikson Profar, Harrison Bader, and Jose Miranda also had a significant amount of ABs for this squad.  Profar hit .323 in my lineup!  So, a fair amount of luck was involved there as well considering the man only hit .243 on the season.  If we are to take anything from this team winning the overall, it's that, while you do need a smattering of hits, the misses won't sink you if you're diligent on the wire and get a little lucky here and there.
Alright, enough of me, let's move on. Young Guns completed their epic late-season rise up the standings, gaining four league points and vaulting over my Perts league team and stechsjj to land on the podium with the bronze medal.  Nice season, Young Guns…more on this team a little later!
Fred Garvin MP, Jersey Pine 5, AllRice, and Asynda Boil all held onto positions six through nine and all deserve kudos for a top ten finish.
Original Schmohawks made a five-spot jump to finish the year in the top ten just squeaking in 0.1 points ahead of the eleventh and twelfth place finishers.
Diamond Archers finished the year with a strong 5.5 point league point gain, finishing the season in eleventh.
The remainder of the top 20 includes some familiar names from previous updates including perennial top 20 finisher and former RCL Overall Champion, DFresh.  A reminder that the top 13 teams will all get an invite to next year's Championship League (Cougs R Us) if any of them do not accept the invite, we continue down the list.  Cougars was this year's fiercest league, with a 111 LCI.  I'm psyched to be a part of it again next year!
WEEKLY LEADERS
The best of the best from the week that was.
R – 85 – Young Guns (RCL 2022 (#26))
HR –22 – cubbiebearz (RCL 2022 (#44)), Licketty Splits (RCL 2022 (#16)), & GMoney Squared (Frequent Commenters League)
RBIs – 71 – Cram It (PERTS LEAGUE)
SB – 20 – MattTruss (RCL 2022 (#37))
AVG – .325 – Endangered Species (Original Recipe)
K – 222 – Vin 25 (RCL 2022 (#25))
W – 11 – Vin 25 (RCL 2022 (#25)), Blue Squadron 8 (RCL 2022 (#8)), & #6org (RCL 2022 (#34))
SV –  11 – 4 Teams Tied
ERA (Min. 40 IP) – 0.66 – Green Monster Mashers (RCL 2022 (#40)) (in 54.1 IP)
WHIP (Min. 40 IP) – 0.736 – malamoney (PERTS LEAGUE) (in 70.2 IP)
With this being a 10-day week, none of these numbers will count towards our weekly records, but, RCL co-pilot, VinWins did provide me last week's numbers are the only new record, was one he set!  Unsurprisingly, it's his team that recorded 222 strikeouts in 10 days.  Vin had 149 K's last week to steal the strikeout weekly record in the final week as he streamed his buns off.
WEEKLY RECORDS
The best of the best from the weeks that were.
R – 72 – jbmcgavock (RCL 2022 (#11))
HR –26 – foulballs (RCL 2022 (#46)), TheBallBusters (RCL 2022 (#43))
RBIs – 71 – Nolan d'Arnaudo (RCL 2022 (#25))
SB – 18 – Beastman (Night of the Living Zombinos)
AVG – .371 – Cup4Water (RCL 2022 (#13))
K – 149 – Vin 25 (RCL 2022 (#25))
W – 14 – Horse-Faced Whips (RCL 2022 (#26))
SV –  13 – Greetings from the Humungus (RCL 2022 (#9)) & Your Mom (RCL 2022 (#2))
ERA (Min. 40 IP) – 0.29 –  Mr. Sweat Necklace (RCL 2022 (#37)) (in 62 IP)
WHIP (Min. 40 IP) – 0.629 – Dunphy's Joint Venture (Cougs R Us) (in 41.1 IP)
These are the best weekly outputs in each category from the year that was.  If you would all stand up to receive a round of applause, that would be lovely.
TEAM OF THE WEEK
Our weekly shout out to the team that killed it the previous week.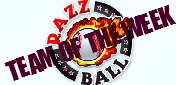 Team: Young Guns
League: RCL 2022 (#26)
Stats:   AVG: .281, R: 85, HR: 20, RBI: 62, SB: 8
IP: 77, ERA: 1.40, WHIP: 0.805, K: 101, W: 5, SV: 11
Summary: I told you we were going to talk about Young Guns again!  RCL #26 was Laura Holt's $100 RCL league that filled up pretty quickly as I recall.  Back in week 18 Young Guns won the second of what would become FOUR TOW honors.  That week 18 vaulted them from fourth to first in RCL #26 and the Guns never looked back.  Young Guns won TOW back in week 2 before we had the stats up, but they were second overall in the Master Standings and I wanted no part of giving my team the honor.  Quite a ride, from second overall week 2 to third overall to end the year.  In week 21, Young Guns cracked back into the top ten overall, and as you saw, week 25 saw them finish third overall.  Quite an impressive finish, in an impressive league with an impressive payout!  This final week it was Aaron Judge, J.D. Martinez, and Josh Jung with two homers each leading the offense and Hunter Greene and Blake Snell pacing the pitching staff, combining for 30 Ks in 23 IP with sterling ratios.  Heck of a season!
TEAM OF THE WEEK OF THE YEAR
I thought it would be cool to look back at each TOW from this past season and see which week was the best week.
Throwing out this final week that was extra long and disregarding some weeks where I had to lean on VinWins's numbers for TOW and didn't have a total point tally to compare (our formulas are a little different) the Seiyantists's week 12 performance was the best of the best this year with 370.58 points!
Three of our top ten finishers managed a TOW honor.  Razzkai double-dipped with two different teams and Young Guns and Wake Up each managed multiple honors.  RCL #46 & RCL #18 sent multiple teams to the TOW ring of honor.  I technically could have given myself week 2 honors and then four of the top ten would have made this 
The points mean little here, they only come from a formula that VinWIns and I made up and tweaked to try and capture the most well-rounded team each week.  
YEARLY LEADERS
The best of the best from the year that was.
R – 1186 – Fat Fuckin' Babies (Cougs R Us)
HR – 356 – Wake Up (RCL 2022 (#6))
RBIs – 1177 – stechsjj (RCL 2022 (#35))
SB – 202 – HoosierBoss (RCL 2022 (#8))
AVG – .272 – Vegans (DFSers Anonymous)
K – 1644 – Wake Up (RCL 2022 (#6))
W – 116 – Lucky Bucky (RCL 2022 (#30))
SV –  183 – Greetings from the Humungus (RCL 2022 (#9))
ERA (Min. 1000 IP) – 2.56 – RBV (RCL 2022 (#31)) (in 1170.2 IP)
WHIP (Min. 1000 IP) – 0.986 – RBV (RCL 2022 (#31))
IP – The Sneetches (RCL 2022 (#34)) – 1449.1
K/9 (Min. 1000 IP) – CornHolio's Bunghole (RCL 2022 (#18)) – 10.56
MOVES – 500 – Vegans, Fat Fuckin' Babies, Backdoor Knucklers, Backdoor Cutters, Holt, TT Is The Way, Auto-22, Cleats Boyardee, Athletically Unathletic, Vin Moves In, Scoboticus 2, STL Squat Cobblers
Worst Place – Ball Boys 4 Life (RCL 2022 (#40)) – 17.2 RCL Points, 14.0 League Points with a League Index of 101.
It would appear that offense was down and pitching was up this season as FFB was almost 150 runs shy of their 1332 mark last season…yes, they have led the RCLs in Runs scored for two straight years.  We also set new all-time lows for ERA and WHIP this year as RBV completed the first RCL season with a sub-1 WHIP!  Big congrats to RBV!  12 Teams hit the 500 move mark, doubling last year's number.  Wake led the RCLs in two categories, one offense and one pitching which is quite the feat!  My DFSers team was 9th in HRs and 6th in Ks, for what it's worth.  Vin broke down the moves made into percentages for you, if you find that data interesting.  Thanks, Vin!
500: 12 Teams (2.1%)
400-499: 23 Teams (4.1%)
300-399: 21 Teams ( 3.7%)
200-299: 48 Teams (8.5%)
100-199: 111 Teams (19.7%)
1-99: 310 Teams (55.0%)
0: 39 Teams (6.9%)
Vin also provided some fun notes on some league winners.  You can find these stats for every league HERE.
RCL 6: 
WAKE UP – 119 pts  
Margin of Victory: 20   
ASB: 1st/23.5 ahead  
HIT/PITCH: 60/59  
Cats won: 9  
Worst Cat: 103 Wins (11 pts)   
OVERALL –  HR: 356 (1st)  RBI: 1151 (5TH)  RUNS: 1155 (4TH)  Ks: 1644 (1ST)  2.72 ERA (3RD)  1.036 WHIP (6TH)
RCL 35: 
Stechsjj – 108 pts  
Margin of Victory: 12   
ASB: 1st/15.5 ahead   
HIT/PITCH: 54/54  
Cats won: 5 (RBI, Runs, Wins, ERA, WHIP)  
Worst Cat: 61 Saves (7 pts)   
Overall – HR: 332 (Tie 5th) Runs: 1164 (2nd) RBI: 1177 (1st)  ERA: 2.73 (4th) WHIP: 1.045 (8th)
PERTS: 
MattTruss – 110.5 pts    
Margin of Victory: 24     
ASB: 1st/10 ahead      
HIT/PITCH: 56/54.5 
Cats won: 4 (HR, SB, Ks, Saves)     
Worst Cat: 1051 RBI (10 pts)     
Overall – Saves: 140 (7th) 
DFSers: 
MattTruss223 – 109 pts   
Margin of Victory: 16.5     
ASB: 1st/26.5 ahead      
HIT/PITCH: 53/56
Cats won: 4 (HR, Ks, ERA, WHIP)    
Worst Cat: .258 Ave (9 pts)     
Overall – HR: 326 (9th)
TOP LEAGUES
I've mentioned in the past that I have a bias for high LCI Leagues.  I've played in several and commish one of the best, so naturally, I want to give them their due.  Here are the top 10 leagues in order of LCI:
Cougs R Us – 111
Night of the Living Zombinos – 110
RCL 2022 (#17) – 107
RCL 2022 (#34) – 106
DFSers Anonymous – 105
RCL 2022 (#26) – 105
Original Recipe – 104
ECFBL – 104
RCL 2022 (#8) – 103
RCL 2022 (#11) -103
RCL 2022 (#16) – 103
RCL 2022 (#21) – 103
RCL 2022 (#23) – 103
RCL 2022 (#39) – 103
There you have it, the top ten (plus ties) most competitive leagues.  Well done leagues!  I'm not very surprised that the Champions League was the most competitive.  I'm willing to bet it will be next year too.  Not a single team missed the IP limit, only one team made fewer than 100 moves with four making the maximum.  It was a real battle royale, I finished fifth here and am thrilled to have made the cut to be back for next season.  Nice work to all my league mates, especially Fred Garvin MP who ran away with the thing at the end!
It's the usual suspects otherwise.  NOTLZ, ECFBL, and DFSers are perennial top LCI leagues and this year is no different.  Cougs R Us was dominant in every way this season, they led in every category but the ratios (AVG, ERA, WHIP).  A true Champions League!  Crab Army led the RCLs in batting average with a .2548 average and RCL #23 had the lowest average ERA and WHIP.  
The winners of all these leagues deserve major kudos.  It's not easy winning an RCL and certainly not one with an LCI north of 105.  Take note of the league names and maybe reach out next year when the time comes if you want to play in one of the top leagues.  I'm almost always looking to fill a few spots in these leagues each year.  You have no one to blame but yourself for not being in a competitive league.  I played in four of the top eight leagues listed above and each one was a total blast.  
It has been an absolute pleasure to bring you these updates every week.  Thanks to everyone who read, lurked, commented, and/or gave a kind word.  A million thanks go out to Rudy for collecting data behind the scenes and making my job easy!   Thanks to Vin for providing extra insight and a second look at all the numbers.  I love these crazy, time-consuming leagues, I love the daily moves and the competition it creates and I hope that was evident in my weekly reports.  Is it perfect?  Nah, but darn it, it's fun as hell.  I also love the community it brings together, pitting commenter against commenter, 'Pert against random lurker.  Is there another place on the interweb where you can play against 500+ other people all with weekly Master Standings updated as well as a weekly report on the goings ons?  I think not.  Thank you to Grey and Rudy for creating this beautiful monster known as the RCLs.  Let's dedicate this season to Vin Scully, the best to ever do it, and enjoy our winter of hibernation.  See all you crazies next year, much love.
PSYCH!  One last quick note, FanTrax wants to make ULTRA sure there are no stat corrections and locks all our money leagues until October 12th.  I will process payouts Thursday the 13th and the money should then be in your FanTrax account.
Want to be Matt's Twitter pal?  That's kinda creepy, but you can follow him here: @MattTruss