With 3/4 of the season over, it's time to show your moxy and show up every day to play. This ain't over, and you might be surprised how much ground can still be made up. Don't start Trippin' like you're at the Disco! Yes that was a plug for a video I want you to watch. I'm trying to keep it light in here. Have a smoke and a pancake and just chill. Make smart moves, dump dead weight, start looking at your starting pitchers next 4 starts and see how many of those you will actually throw them, never leave your computer, always have your phone charged, stay away from daylight because you can burn your eyes out and not be able to play, slap your self awake (feel better? YES YOU DO!). Now do it again to avoid the caffeine jitters, feel that adrenaline run through you, just stay alive so you can win this and screw your job, money is over rated, women will ruin our good time and for god's sake DON'T RELY ON BILLY BUTLER! I'm sorry, I 'm losing it over here because not only am I trying to win a few leagues, I'm also working with the football side here at Razzball and I need you all to take our oath of allegiance (I pledge allegiance to the Razz…) and sign up for RCL football NOW!
Oh Jack, I don't play football
 DON'T WHINE…SHUT UP AND PLAY!
But I'm a baseball guy, I don't get it
LOT'S OF GIRLS PLAY FANTASY FOOTBALL YOU SISSY BOY, SHUT UP AND PLAY!
Why are you yelling at us?
BECAUSE I CAN, NOW SHUT UP AND PLAY!….please?
Great, thanks for playing. Now that I got out of the way. It's time to start talking about you and by you I mean those of you in the RCL's. If you're not then please move on to the comments and ask me random questions. I'm kidding, read what you're missing out on and hope Santa doesn't skip you this year because you didn't play an RCL. Yup, we got that kind of pull around here.
The RCL Top 10
Why the top-10? Because they're the top-10 teams out of 1,000+? And that's pretty amazing? I'm Ron Burgundy? Simply put, they're the best of the best of the best, and I think they deserve a little bit recognition. BUT NOT TOO MUCH. Just a taste.
RCL Highlights
Mr. Grey, Tear Down This Mauer! – We got a real tight one in here between the Minnesota Mink and the Philly Cuban. Is it me or does a Philly Cuban sound like a really delicious fusion sandwich? (Patent Pending) Last week both teams were in the overall top 50 and with a league index of 102 are getting some competition among their league mates. With Minnesota losing Goldy and the Dread Pirate and the Philly set to get Springer back soon we have the makings of a great finish. I say don't count the Prague Defenestrators out yet either. With him and Philly about 40 game starts behind Minnesota we can see a final standings of Philly, Prague, and Minnesota depending how those starts go. Good luck you three and keep us posted in the comments.
Cairo Century Cricketers
– We got a tight three headed sprint to the finish between the
BALCO Bombers
,
Port-Joli Gordos
, and
Long Balls
. At first glance it looks like Long Balls has checked out recently and I hope they come back to play this one out. All three teams are competing in ERA, WHIP, and Saves. Game starts among the three is going to be the difference maker in this race as BALCO has a lot of ground to make up. I hope he uses
Stream-o-Nator
down the stretch and keeps this race tight. The league is sporting an index of 102 and as I click around I see a few different strategies being employed. With your league title I have to wonder whom from the other side of the pond set this one up. Gareth is this your league?
Hakuna Machado
– Another battle to the finish and as you can see is what I like to highlight. Blowouts and ghost towns are not what I like to cover and this one has the makings of another great finish.
Bay of Puigs
is out front with
Baltimore Scorioles
 and
Styxx Zadina 
breathing down his neck. Lots of head to head battles in the standings can make this one really interesting. I like that Bay has been utilizing his moves with 176 and is looking ready to hold the others off if he keeps that up. Time to step it you two trailing the Bay and get those batty calls going.
THE RCL #1
The RCL #1, which sounds like a RCL made for 2001: Space Odyssey (Grey notified me that RCL #1 isn't related to a space shuttle, but is meant to be said like The Iron Sheik. RCL #1! RCL #1! RCL #1!), is the Friends & Family league that Grey created so we could all be his fantasy baseball punching bags. Actually, maybe not so much punching bags as mustache combs. Seems more Grey-ish to Jay. I wasn't invited so I'm not sure if I would be Grey's punching bag. What I do know is I can say whatever I want because I'm not in there. With that being said I say "Why you dodging me Bro?" 
Regardless, this league stars Jay, Rudy, Tehol the Elder God, Prospector Scott, Paul, the Sing(ing)man, Nick the Podcast Host, and Sky… err, the Blue? We need to find you a better title buddy. But that's us, that's the family. Which, I can assure you, I'm already filing paperwork to gain emancipation. The friends are Dalton Del Don from Yahoo, Brad Johnson from FanGraphs, Ryan Carey of Mastersball, and Tim McLeod of RotoRob.
The Standings: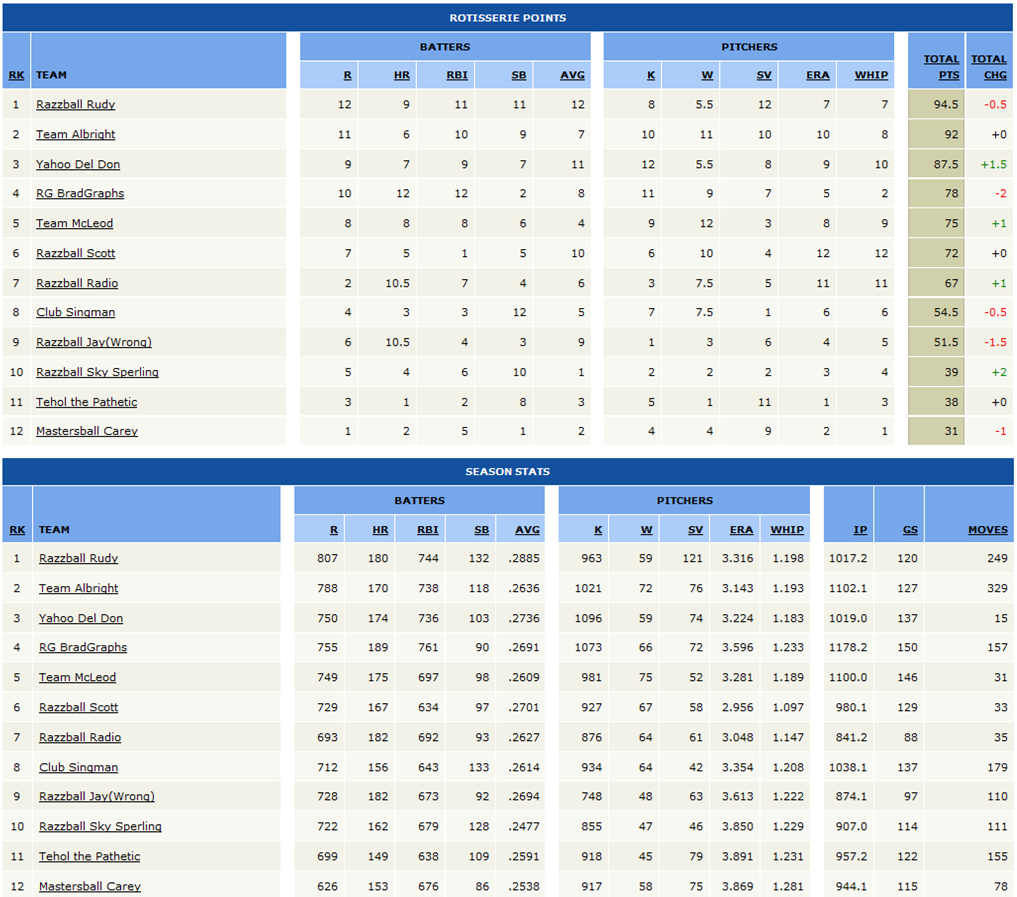 – This battle between Grey and Rudy is best summed up with the use of imagery. Two foes! Same knowledge! Same skill! Head to Head! in the
THUNDERDOME!!!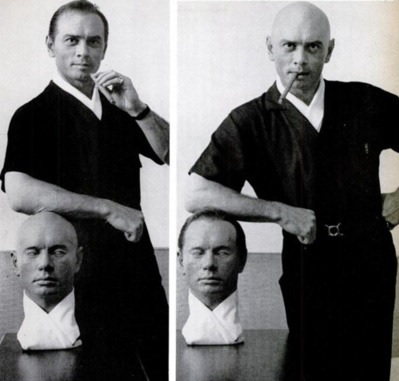 – Oh and Yahoo Del Don has a chance too as he's close in lots of categories.
– The only other battle in the RCL#1 is the Sky vs. Tehol battle for 10th place. Sky overtook Tehol and has him edged by 1 point. This league is a real nail biter on both ends! It looks like the battle for Wins and WHIP will decide it all….for 10th.