This year we have a new trophy for the Grand Champion, and it's not something you can wear or lose in the lobby of your building before you even get it. We want to add to your collection of stuff that your wife, girlfriend, mother, or cat will hate and want out of the house. But to your friends and peers, it's like a gold chain to hang around your neck and an added strut to your walk like Travolta in Saturday Night Fever. Without further ado here it is, and here's also a link to Far Out Awards, were you can order your own for your home leagues.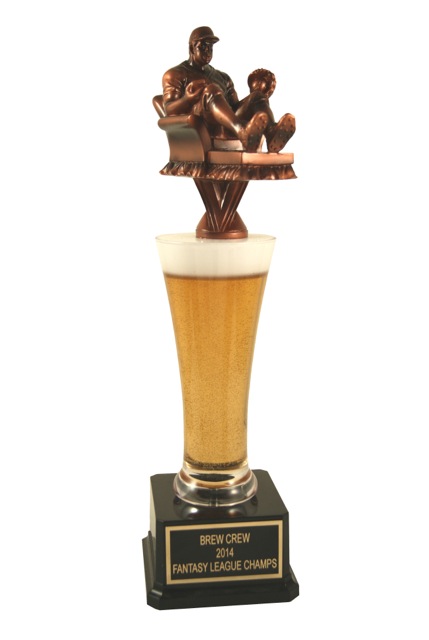 The RCL Top 10
Why the top-10? Because they're the top-10 teams out of 1,000+? And that's pretty amazing? I'm Brian Fantana giving you the news! Simply put, they're the best of the best of the best, and I think they deserve a little bit recognition. BUT NOT TOO MUCH. Just a taste.
VinWins Is Always Watching… with six weeks to go Vin has shined a light on some of the tightest races in the RCL land. I'm in some of these leagues, and I have written about a few others over the last couple of weeks. This is good stuff people. There are 27 total tight races, which is really a testament to people stepping up the competition this season, and we love that so many are in a dogfight to the end. *Tips cap all around.* If you notice the top of the list, there's a three-way tie in Jack's Late to the Party RCL. That tie has been broken, but it is outstanding we have such a tight battle and not a blowout. Wouldn't you rather be a warrior instead of a clown getting a beatdown? Am I right? The FCL, my home league, has got even tighter with frequent commenter SteveNZ (the Giant Moa) holding a one point lead over last years grand champion Mauled By Pandas (Traveling Riverside Blues). Now at 92.5 to 91.5, this one is getting tighter than a pair of yoga pants. Mmmhhhhhh Yoga Pants!!!! Lastly I want to highlight the ECFBL, one of the regular high index RCL leagues. Classic frequent commenter Matt Truss (The Hippos) is battling other old schooler Mauled By Pandas (Nine Pound Hammer) and El Macho Barracho for the title of this clout league. The lead has changed hands from when I looked at the league 20 minutes ago. Chingow! Good luck guys, I'm sure Simply Fred will remind all of us how awesome you guys are in the off-season. One title that you guys never lose are most moves, but when you have Nick @Nite with 1,084 moves on the year I can see how that will never be challenged.
The RCL #1
The RCL #1, which sounds like a RCL made for 2001: Space Odyssey (Grey notified me that RCL #1 isn't related to a space shuttle, but is meant to be said like The Iron Sheik. RCL #1! RCL #1! RCL #1!), is the Friends & Family league that Grey created so we could all be his fantasy baseball punching bags. Actually, maybe not so much punching bags as mustache combs. Seems more Grey-ish to Jay. I wasn't invited so I'm not sure if I would be Grey's punching bag. What I do know is I can say whatever I want because I'm not in there. With that being said I say "Why you dodging me Bro?" 
Regardless, this league stars Jay, Rudy, Tehol the Elder God, Prospector Scott, Paul, the Sing(ing)man, Nick the Podcast Host, and Sky… err, the Blue? We need to find you a better title buddy. But that's us, that's the family, except me. Which, I can assure you, I'm already filing paperwork to gain emancipation. The friends are Dalton Del Don from Yahoo, Brad Johnson from FanGraphs, Ryan Carey of Mastersball, and Tim McLeod of RotoRob.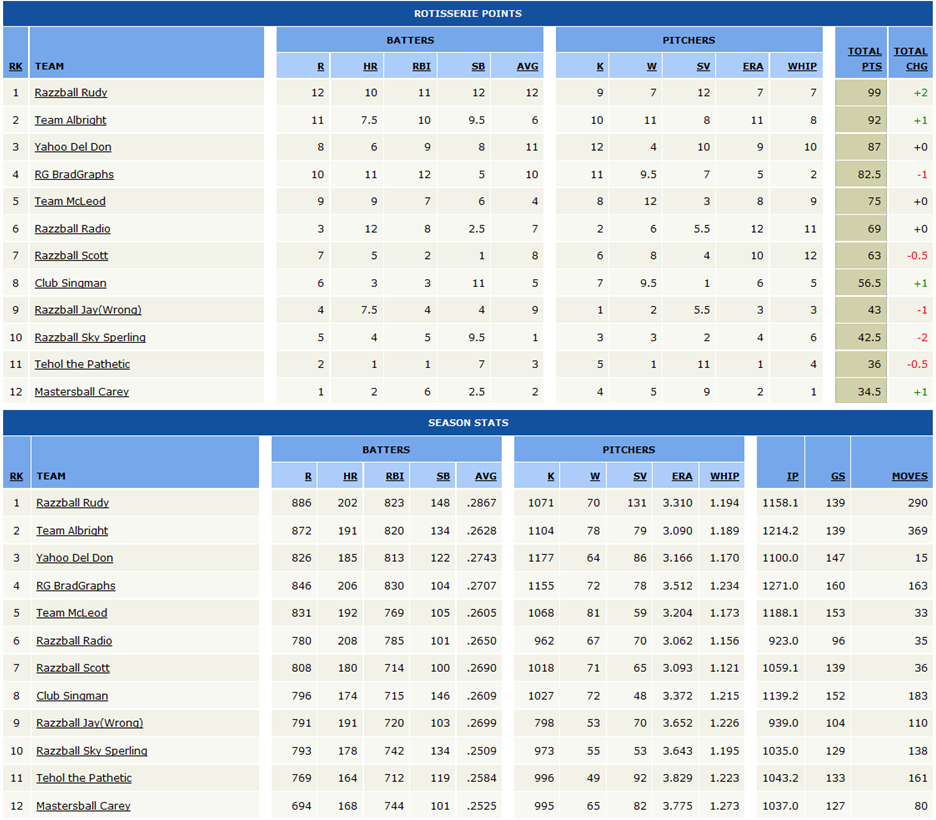 – Grey has only trimmed a point and a half on Rudy since last week, and if he can keep that up then maybe he has a chance to win and be able to gloat all off-season. Grey likes to gloat like Sky likes to post weird random stuff he always has in his back pocket, like a Jedi with a link list. Let's just say, it's goin down to the wire and will be like back in the day when you played for $5 a game on Madden 95 on Sega! Ok, I have placed three links in this post to extend Hip-Hop Sunday into Hip-Hop Any Day on the Razz. We need some relief with all this end of season going on. Find them and let's discuss. I'm expecting Nick and Ralph in here on that.
– Grey vs. Rudy part Deux, the smell of hot pastrami in the air! Grey needs to hit some dongs, steal some bases, win that RBI battle, and pass the guys ahead of him in K's, then he can beat Rudy. Seems reasonable. Am I right?
– Sky has started to pull away from Tehol for the not the worst of the Razz crew title. Real thrilling stuff…