The first season of Fantasy Razzball – a fantasy baseball game where you try to manage the worst team possible – has been quite the trip. Never have players such as Brian Bixler (backup Pittsburgh SS – 41 AB, 0 HR, 0 RBI, .195 AVG) and Kyle Kendrick (he of the 1.81 WHIP) been so celebrated. Never has unforeseen success like Cliff Lee and Chad Gaudin been so derided.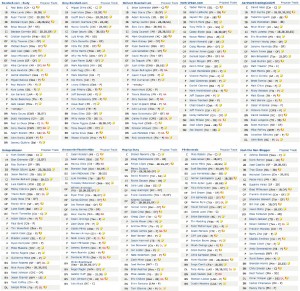 At about the 4 week point, our Razzball leader is baseball card blogger Cards in the Attic with 88 of a potential 120 points (standings here and at bottom, click thumbnail on right for rosters). The Aardvark Trading Company hasn't been playing scared – he's leading the league in At-Bats (one of 3 above the 752 pro-rated minimum) and 4th in innings pitched. It's just that his team is playing like a whole bunch of Billy "Fuck Face" Ripkens. Led by staff aces Matt Morris (3 Losses, 9.15 ERA, 1.98 WHIP) and Matt Chico (4 Losses, 6.04 ERA, 1.55WHIP), the AardvarkTradingCo.Com is setting the pace (or is it trailing the pack?) with 50 out of a possible 60 pitching points.
Yours truly is in 2nd place as my team has cooled off (warmed up?) after a torrid (horrid?) start. Damn you John Denks and Pat Maholm! Rotoprofessor is in 3rd place and our teams are performing quite similarly. We've done a bit better in offense with 42.5 and 44 points, respectively, managing some rather low HR/RBI (8/63 and 7/71) and awful (awesome?) batting averages (.237 and .235). Hitting MVP's include Mike Lamb (1B/3B, .182, 0 HR), Brian Bocock (SS, .172, 0 HR, 2 RBI, 22 Ks), Travis Buck (OF, .154, 0 HR, 6 RBI, 20 Ks), and Cody Ross (OF, .146, 41 AB, 1 R, 0 HR, 2 RBI).
Underdog entry Josh the Non-Blogger has been the overachiever (underachiever?) managing 4th place with a well-balanced squad. Greener On The Other Side and Sweet Lou's Defunct Baseball Lab have struggled out of the gate with ABs – falling 100+ below the necessary pace (pro-rated 5200 team AB) and seeing their HR nearly double after the adjustments were made. Fantasy Baseball Generals has struggled with a pitching staff that doesn't realize it is supposed to suck – don't take my word for it, here is their commentary on it.
Should be interesting to see how the season progresses. It's a lot tougher to maintain a lead when your best players are the most likely to be benched, demoted or released (see Matt Morris).
(Click to expand)