We're at the 1/4 mark for the first season of Fantasy Razzball – a fantasy baseball game where you try to manage the worst team possible – and we're on our way to probably the worst collective stat totals ever seen in a Yahoo! public league. With team batting averages as low as .238 and ERAs and ERAs as high as 5.36, it's no wonder that Alan Trammell keeps bugging us for a chance to manage one of these teams (See 2003 Tigers team totals).
The top 4 are closely bunched but the leader at this point is….me. That's right. My team sucks more than the rest. Look at me, ma. I'm king of the third world!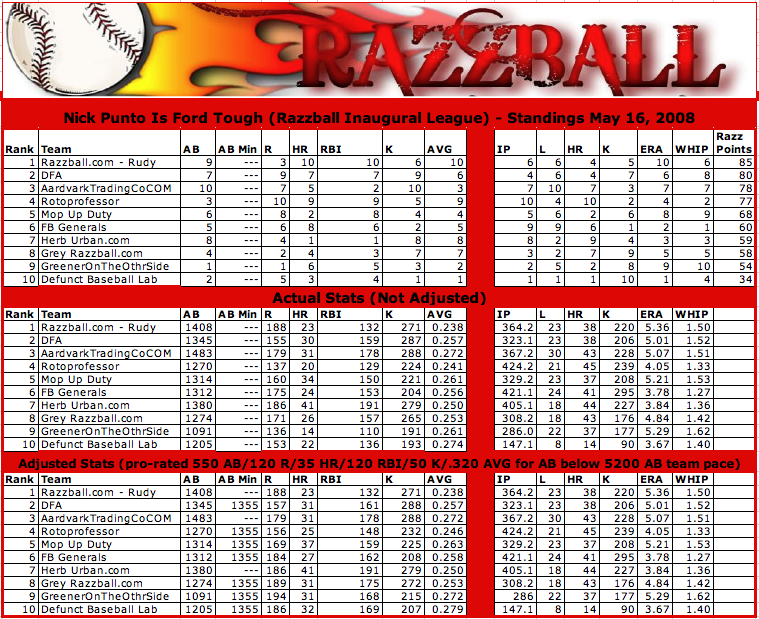 No doubt my 48 point offense (out of 60) has prospered at the expense of the real-life lineups that employ my top two picks (Willy Taveras, Michael Bourn). The two of them have combined for 277 ABs and managed 40 Runs, 3 HR (all Bourn), 12 RBI, 60 Ks, and a .206 AVG. Multiply that by two and you've got one AWFUL season. Message to Cecil Cooper and Clint Hurdle: Keep those guys at the top of your lineups. Don't ruin a good thing…for me!
In 2nd place is our amateur entry from Josh the Non-Blogger – Team DFA (Designated For Assignment? Destined For Awfulness?). He's overcome surprising starts by Scott Olsen, Edwin Jackson, and Ryan Ludwick with draftees like Franklin Morales (6.39 ERA over 25 IP yet only 2 HR?), Jose Castillo, and Brendan Harris (.248/33 Ks/2 HR/9 RBI) and smart pickups like the one-time apple of my eye Eugenio Velez and Tom "I'm Punto's Backup" Tolbert.
In 3rd place is April league leader Cards In The Attic. Coincidence that his drop from 88 to 78 points started around the time that Pittsburgh dropped the anchor of his staff (and an anchor on their staff) Matt Morris? I blog to differ.
The 4th team of the top quartet is Roto Professor – who is so dedicated that he scouts Razztastic performances in the minor leagues. He's smartly banking on the Giant offense (Ortmeier, Durham, Winn) but needs to find more AB machines like Kurt Suzuki and Jason Bartlett to avoid the minimum AB penalties (He's currently about 320 AB off the pace of 5200 AB – the pro-rated stats definitely have an impact…e.g., goes from 20 to 25 HRs after applying 80 ABs of pro-rated 35 HRs.)
Other notes:
5th place Mop Up Duty's team is looking good (bad?) relying on high AB/low performance middle infielders like Julio Lugo, Felipe Lopez, and David Eckstein. Also liked their recent preview on interleague play.
Biggest gainer in the last 20 days or so has to be the Fantasy Baseball Generals moving from 10th to 6th. Their ridiculous 3.17 ERA / 1.17 WHIP finally regressed (progressed?) to the mean with a move to 3.78 / 1.27. Keep up the bad pitching.
Blogmate Grey has fallen to 8th place. Ha ha…you don't suck!
The team fielded by the blog formally known as GOTOS – now FantasyPhenoms – is suffering from a roster full of benchwarmers. Stop spending so much time on your fancy new blog and pick up some every day players. Their team's 14 HR boosts to 31 HR because of the minimum-AB penalties. (BTW, here's an interesting rank of pitchers they did – a little stat wonky but good.)
And in last place, our occasional contributor Lou and his Defunct Baseball Lab. Defunct indeed. I think you have to spend less time writing about great fantasy baseball players and start reading my Razzball Spotlights!