Note: Besides providing advice and news on fantasy baseball, we at Razzball created and sponsor a fantasy baseball variation where the goal is to manage the worst team possible.  These Historical Spotlights honor those players who would've excelled in such a format.   See here for more info.  See here for our 2009 Fantasy Razzball standings.

There is one immutable law within baseball.  When on offense, don't make outs*.  For a short time in the 80's, no one broke this law with as much abandon and aplomb as Omar Moreno.
* Yes, you can argue the sacrifice bunt, sacrifice fly, and the ground ball to the right side when a man is on 2nd with no outs are 'productive' outs.  That doesn't mean we want to hear it.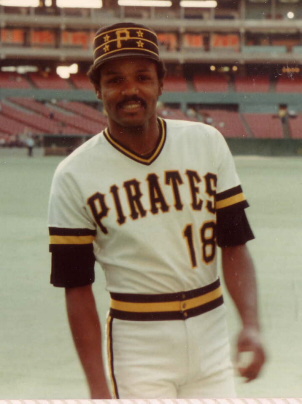 Omar Moreno never pretended to be on the right side of the law – his affiliation with Pirates, his love for the stolen base, a name that sounds like an amalgam of badass Omar Little from 'The Wire' and Tony 'Scarface' Montana.  After being signed as a free agent in 1969 at the age of Latin 16, he toiled for over 7 years in the minors before earning his skull and crossbones with the 1977-1978 Pirates.  Besides narrowly missing the playoffs for two straight years because of their cross-state rival's unstoppable troika of Mike Schmidt/Fat Shit (Luzinski)/Bat Shit (Carlton), the Pirates also had a startling number of:
Future Yankees (7 – Moreno, Dale Berra, John Candelaria, Mike Easler, Goose Gossage, Al Holland, Ed Whitson)
Future managers (4 – Phil Garner, Ken Macha, Cito Gaston, Jim Fregosi)
Future players charged by MLB with doing cocaine (3 – Dale Berra, Dave Parker, Al Holland)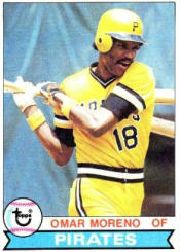 In 1979, Moreno ascended to the leadoff spot as previous leadoff hitter Frank Taveras was jettisoned to the Mets.  Moreno had his best year yet leading the league in ABs (695), SBs (77), and even getting some MVP votes (finished 15th) as the 'We Are Family' Pirates won the World Series.  Beneath all this success, however, was a hunger to make Outs.  His 535 outs (395 ground out/flyouts, 104 Ks, 21 CS, 7 GIDP,  6 Sac Hits, 2 Sac Flies) were the 4th highest in MLB history.  Any satisfaction that Moreno could take in this accomplishment was lost when the same very Frank Taveras whom he supplanted at the top of the Pirates batting order set the new standard with 545 outs.
Armed with this motivation and the goodwill that comes from helping a team win the World Series, Moreno shattered the single-season Outs record with 560 outs in 1980 despite 12 less plate appearances from the previous year.  Playing in all 162 games for the 2nd year in a row, his luck turned when his BABIP (batting average on balls in play) dropped from .322 to .290 and knocked his AVG (.249) and OBP (.306) to Razztastically low levels.  While he dazzled the league with 96 SBs, they were only a cover to pad his Outs total with 33 caught stealings.  No one – including Frank Taveras – could compete with the Out-making machine that was Omar Moreno.
After a strike-shortened 1981 where Moreno only finished 3rd in the league in Outs behind Ozzie Smith and past Historical Spotlight nominee Ivan DeJesus, Moreno arose like a malevolent Phoenix in 1982.  He equalled his 1979 total of 535 outs in 51 less plate appearances by getting back to fundamentals.  He increased his K rate, cut down on those pesky BBs, and decreased his SB percentage.  His adjusted OPS (i.e., OPS+) of 68 was a career low.
Realizing he had nothing left to prove in Pittsburgh, Moreno signed a free-agent deal with Houston who traded him in August to the ex-Pirate loving Yankees (note: besides the seven 1977-1978 Pirates mentioned earlier who went on to play for the Yankees, another five played with Moreno from 1979-1982:  Tim Foli, Cecilio Guante, Pascual Perez, Rick Rhoden, Rod Scurry).  Despite never clearing a .300 OBP for the Yanks from 1983-1985, the Yankees never gave Moreno the inordinate playing time he had with the Pirates as his one dazzling skill (stolen bases) flickered away.  A last hurrah with the 1986 Braves (.276 OBP over 386 plate appearances) hinted at another run at the single season Outs leaderboard but it wasn't meant to be.  He retired from MLB at the young age of (Latin) 33 but stayed involved with baseball – playing in the short-lived Senior Professional Baseball Association, coaching in the Panamanian winter leagues and teaching his son (Omar Moreno Jr.) the gift of Out-making.
Omar Moreno – we've never seen another player make outs as often as you did.  If liking you is against the law, consider us outlaws.
** Omar Moreno's 560 outs are still the single season record as of January 2010.   His two seasons of 535 outs are tied for 7th most in a season. **