Note: Besides providing advice and news on fantasy baseball, we at Razzball created and now sponsor a game where the goal is to manage a team and compile the worst stats. These Historical Spotlights honor those players who would've excelled in such a format. See here for more info. See here for the summary of the inaugural 2008 season.
"Jose, can you see?" may serve as the punch line for a lame Star Spangled Banner joke but it was a fitting question in 2003.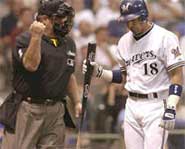 Jose Hernandez became a viable fantasy baseball play in 1998 with the Cubs after putting together a 23 HR / 75 RBI campaign. Granted he struck out a lot and hit .254 but those are draftable late round stats for a SS. Over the next four years, Hernandez put together similar seasons for the Cubs, Braves, and Brewers – peaking in 2002 at a 24/73/.288 campaign that was more amazing b/c he managed to do this while striking out 188 times (a record at the time). The secret – a ridiculous .448 BABIP. So the elements were in place for a Razztastic 2003.
But things didn't look promising (from a Razzball perspective) when he signed with the Rockies. Hell, 30 HR didn't seem out of the realm of possibility. But the thin air of Colorado couldn't stop the gravitational pull of a little thing we call regression to the mean. By June 20th, Hernandez already had 95Ks with only 8/23/.237 to show for it. Right when Colorado might've seen the light and benched him, destiny called upon the one coach that could delude himself into spinning these stats as good old-fashioned aggressiveness at the plate. Yup, Dusty Baker!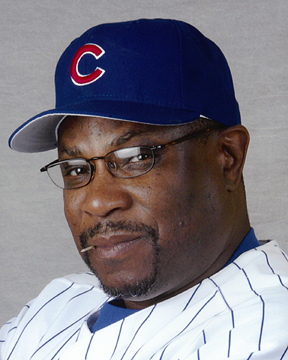 The Cubs traded Mark Bellhorn for him and, once back in the Chitown pinstripes, decided SS-eligibility was too limiting for such a momentous Razzball season. So they got him into 17 games as an outfielder. The position change didn't upset Jose's rhythm though. In 69 AB, he managed a mere 2/9/.188 with 26Ks.
Now with SS/OF eligibility, Hernandez's Razzball value was rising in parallel with his K totals. But it would take someone with even more clouded vision than Dusty Baker (and Jose Hernandez for that matter) to make it a season worthy of the Razzball Historical Spotlight. Enter into the equation: Dave Littlefield, GM of the Pirates. After downing a twelver of Iron City Beer, Littlefield agreed to give up a 25 year old Aramis Ramirez (1 1/2 years removed from a 34/112/.302 season) and a relatively spry Kenny Lofton for Jose Hernandez, Bobby Hill, and a sack of nickels.
Suddenly with a hole at 3B, the Pirates decided to add 3B eligibility to Jose's credentials – ushering in a renaissance of subpar Joses at 3B in Pittsburgh (see Batista, Castillo). In 193 AB, Jose Hernandez managed 3/21/.223 while adding in another 56 Ks.
The final seasons stats were: 519 AB, 58R, 13HR, 57 RBI, 177Ks, .225 with SS, 3B, and OF eligibility.
While others had gotten more K's in a season (including Jose Hernandez), no one else had managed to do it with less than 24 HRs (let alone 13!). The only other player to do it since….none other than the man he was exchanged for in 2003 – Mark Bellhorn – who managed 17 HRs in 2004 while fanning 177 times.
Jose Hernandez never got another shot to duplicate these stats. He had three more years in the league where he was a utility man across four teams.
Jose Hernandez – we miss you as much as you used to miss the ball.