Starting with the 2017 MLB season (and continuing for NFL and NBA), Razzball has partnered with Daily Fantasy Cafe to ensure subscribers to our DFS Premium Package can use our Razzball's expert projections (here is a FAQ) within the most advanced MLB lineup optimizer in Daily Fantasy Sports.
The Razzball MLB Lineup Optimizer powered by Daily Fantasy Cafe includes projections for FanDuel, DraftKings (Standard mode), and Yahoo. It has the standard features you expect from your standard MLB Lineup Generator (lineup confirmation, weather, lock in or exclude a player, etc.) as well as many advanced features such as:
Easier Comparisons of Lineups Using Different Settings – The tabbed interface allow you to toggle between multiple 10-100 lineup runs based on different settings (e.g., different stacks, locked players, etc.)
Team Stacks – Like a certain team(s) for tonight's games? Create multiple lineups around any team or let the Optimizer select the most optimal stack for you.
Player Stacks – Like a certain player(s)? Create lineups around 1 or more players. Optimizer will select the optimal combinations according to your settings.
Save Setting Profiles – Avoid having to make the same setting changes each time. Just save your settings.
Save Lineups – Do you like to research early in the day and then revisit later in the day? You can save unlimited lineups.
Download CSV – Download one or all your lineups for easy uploading to DraftKings & FanDuel.
One area that I think is worth highlighting is Player Exposure. When you are generating in upwards of 100 lineups, just 'locking in' and excluding players becomes both unwieldy and ineffective. Do you really want the same player in 100 different lineups? This optimizer provides two features that makes diversifying one's lineups much more efficient:
Set A Fixed Player Exposure – You can set the percentage of lineups in which a player is included – e.g., 50% puts him in 50 of your 100 lineups.
Set A Ceiling for Player Exposure – Hate seeing the same players in all your lineups? You can set a 'global' player exposure ceiling to increase the player diversity. The ceiling is only set for players you have not manually adjusted so you can set a ceiling of 25% for all players while still playing Kershaw in 70% of of your lineups.
Review Player Exposure From Optimized Lineups – See below for an example. Think Matt Holliday is a bad play? You can remove him completely (the X to the right of his name)  or set the exposure ceiling right from the results page.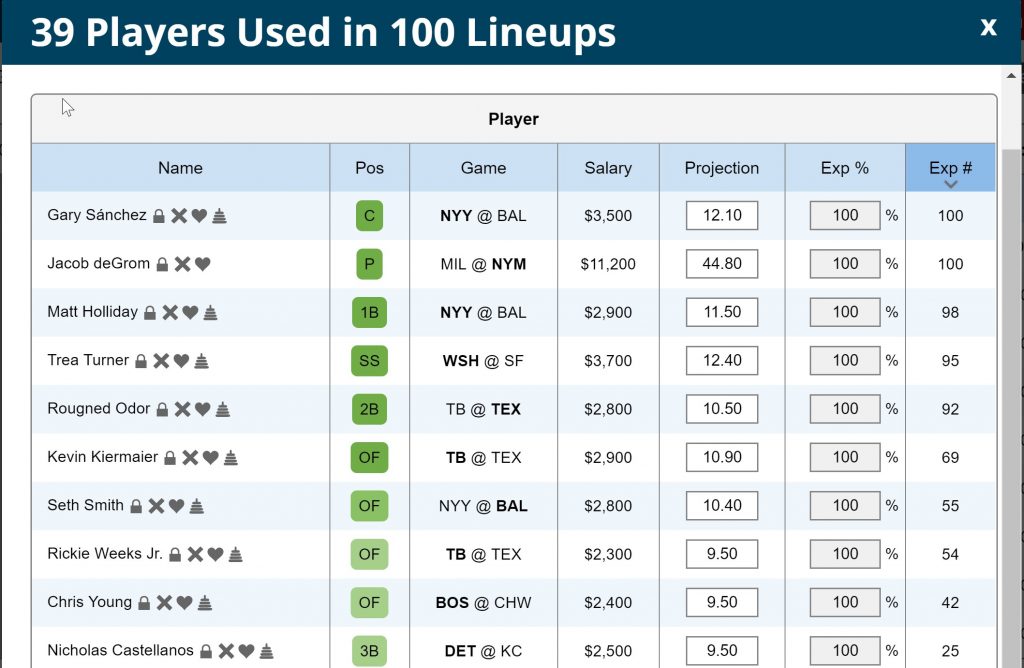 Below is a 5-minute demo video if you want to take a break from reading:
Click below to get a free 3-day trial or subscribe for a monthly or season-long package. If you sign up for a new FanDuel account through this link and deposit at least $10, you can receive a free month of DFS Premium or $50 off of a season-long purchase. Added bonus – all the DFS Premium subscriptions come with free access to our Roto tools (e.g., Streamonator, Hittertron) which project out player performance for 7-10 days.
| Level | Price | |
| --- | --- | --- |
| 3 Day Free Trial (One-Time Only) | Free | Select |
| DFS Premium (Monthly) | $39.99/month | Select |
| DFS Premium (Season) | $149.99 | Select |