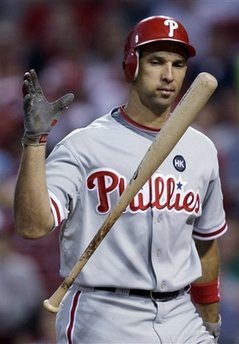 One of our blogging brethren over at Midwest Sports Fans was analyzing 37 year old Raul Ibanez's breakout start to the season and, as part of a rather detailed analysis of park factors and whatnot, 'begrudgingly acknowledged' that performance-enhancing drugs cannot be completely dismissed. A Philadelphia Inquirer journalist saw it.  By the next day, they had an angry Raul Ibanez threatening to 'come after people who defame or slander me' and labeling the charges as 'pathetic and disgusting'.
While we are bloggers and naturally want to defend one of our own, we can't bring ourselves to do it in this case. It doesn't take an investigative journalist or top-notch blogger to figure out what's going on with Señor Ibanez. We realized it in the first week of the season and didn't think it was worth spelling out but now that it's all the talk….well, we might as well spill the beans.
Raul Ibanez is not doing well because he's on performance-enhancing drugs. C'mon, get real. It's quite the contrary – he's doing well because he's finally off performance-enfeebling drugs.
Look at his career – do you really think any major leaguer would play 13 seasons for only the Mariners and the Royals if they weren't on drugs? Think about what Seattle and Kansas City have in common. Who is Seattle's most well-known musician? Yes, Kurt Cobain (sorry Jimi Hendrix). And who is Kansas City's most well-known musician? That's a harder one but you guessed correctly if you said jazz musician extraordinaire Charlie "Bird" Parker (sorry dude who played with the Sunshine Band). What do those two musicians have in common? Yup, they were dragon chasin', white horse ridin' heroin addicts.
Did you really think Ibanez was just a .290/20 HR type? He can hit that while his body is ravaged by smack. In fact, he has. Every single year until this year that is. Now the dope-free dope is finally having the monster season that he could've been having for the past 15 years if only he stayed clean. Hell, even his much-maligned fielding has gotten better.
So sorry Midwest Sports Fans but we're siding with the hot-hitting OF in Philly who is angry on life. Keep ragin', Raul!