Kyle Seager has been on a bit of a tear. Seager's OPS over the past week is a very handy 1.372. He is going to close out 2015 with stats almost identical to his previous couple of seasons, 20+ homers, 70+ RBI, and a .260/.330/.430. Not bad, but not all that special, either. Seager is one of those guys that you draft for safety but recognize immediately that it wasn't a "sexy" pick. In my 10-team AL-only league, I had my eye on Kyle but he was plucked right before me in round 5, so I grabbed Manny Machado. If we're talking "sex" and "baseball", we're talking Machado … or Susan Sarandon in Bull Durham. Now that we've established that Kyle Seager isn't as beautiful as Manny Machado, how does Kyle's younger brother Corey Seager compare?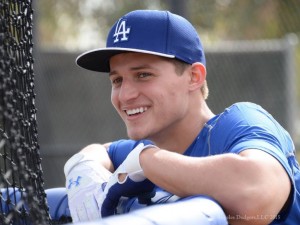 I've got to say, Corey, you're a dreamboat. You may not be a Machado, but you're something close. Now, will you be a dreamboat that becomes an OPS demigod?
My eight ball says doubtful – for now. I can't advise dropping anyone legit to pick up Corey. But, if you've got a fringe shortstop, by all means, make the swap. I have no doubt that the Dodgers are going to play Corey regularly down the stretch, likely splitting time at SS and 3B. Across 4 seasons, Corey has a .891 OPS with a very respectable .362 OBP. His numbers this season remind me a bit of Brandon Crawford's 2015, and that is probably his upside right now. In keeper or dynasty OPS formats, he's obviously a guy to own (and who should be owned in 99 percent of those leagues by the time this post is published).
Shortstop sure is an up-and-coming position, with guys like Carlos Correa, Francisco Lindor, and now Seager – with more guys on the way, including the three shortstops taken with the first three picks in the 2015 Amateur draft. I'm starting to look ahead to 2016 drafts, and assessing the pool of shortstops is making me excited. I've got Correa and Troy Tulowitzki as my top two options. Who should slot in third? Let me know your thoughts in the comments.
Like most writers on Razzball, I'm smitten by The Great White, Miguel Sano. Since my last post, Sano has gone on a rampage. He achieved 15 big league homers in the second fewest number of games in major league history (51 games), behind only Albert Pujols. Sano has been on an OPS-rampage, posting a 1.524 in the past week with a bunch of homers and RBI.
Jeff Sullivan over at Fangraphs wrote a helpful breakdown of Sano's early career adjustments, which bodes well for his future. Our own Tehol Beddict asked in the comments of Grey's Wednesday Daily Recap how many homers Sano would hit in 2016. Grey predicted 32. Let's set the over/under there. What do you think? I'll go bold and take the over, but just by a hair, maybe 34.
It's worth pointing out how impressive Brandon Moss has been in recent weeks. Moss, who was traded to St. Louis in late July, began his Cardinal career mired in a terrible slump. In recent days, he has really turned it on, homering in back to back games, with 3 homers in 4 games. Over the past week, Moss has an impressive 1.635 OPS (tops in baseball). He is available in nearly 60 percent of ESPN leagues, with eligibility at 1B/OF. He is a solid plug-in play option for OPS leagues while he is streaking for the Red Birds.
Speaking of miserable slumps, how about Ryan Zimmerman's entire 2015 season? Well, like Moss, he is finally providing owners some value. Zimmerman has been on a home run, multi-hit game binge. In just this last week, Zimmerman has hit 6 long balls (tops in the league for this stretch) with 12 RBI and a 1.503 OPS. He hasn't taken a single walk during this period, and who can blame him with the torrid streak he is on? As Grey might say, Zimmerman's 2015 stat line has been yawnstipating to say the least, but these August/September fireworks will boost his draft day status a bit for those who are suckered in.
Last week, I advised that you continue rolling with Evan Longoria, pointing out his strong September numbers as one reason to do so. Well, Longo has made good on that so far, hitting 3 bombs since August 31st. Like Zimmerman, Longoria is making the third base pool look a lot less impressive than it should with his uninspired 2015 campaign. That said, I have more confidence in a strong 2016 from Longoria than I do Zimmerman. I would continue rolling with Longoria in all formats. I have a hunch he'll finish with a flourish.