If the Twins closer shituation were any crazier, it would be called Jeff Reardon.  For right now, grab Jon Rauch or Matt Guerrier.  In that order.  Where you can, own both.  Mijares, Crain, and Neshek are longer shots.  They don't seem very likely to get first or second crack.  As for Joe Nathan… Well, Nathan's shot, dawg.  He's headed for Dr. Freeze.  If Twins fans are having trouble swallowing the pain of losing Nathan, Joey Chestnut could help.  If you drafted early and took Nathan, I don't have much sympathy.  Should try to draft as close to the regular season as possible and you shouldn't ever draft a $12 Salad.  I think Rauch emerges as a Donkeycorn when this is all said and done.  Don't be wary of him just because he wasn't a closer last week.  He was a closer before and did fine.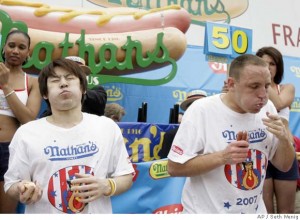 Anyway, here's some more fantasy baseball news:
Alex Gordon – Broke his thumb.  Will now be held back and repeating his Sophomore slump for the third year.  I dropped him out my top 300 for fantasy baseball.  (BTW, Nathan was removed and Rauch and Guerrier were added.  Also, there were some other small adjustments.)  I wouldn't touch Gordon outside of a 15 team league or deeper that had at least 2 DL spots.  At what point do Royals fans say, "Forget the next George Brett.  We'll take the next Joe Randa!"
Russell Martin – Gained 20 pounds to regain some semblance of power (harder infield grounders!) and pulled his right groin.  And here we thought Alyssa Milano was in charge of pulling Dodger groins?  Rookie A.J. Ellis is an OBP machine (.437 in last two years in AAA) with less power than Martin (0 in 283 ABs last year).  Oh, and he'll be the oldest rookie (29 in April) on the team since Hiroki Kuroda.