While we at Razzball are content toiling within the modest confines of fantasy baseball blogdom, we occasionally like to flex our journalistic muscles and take on a challenging interview.  (Click here for our interview archive.)  Sometimes that's not enough of a challenge and we answer for our interview subject.  Luckily, our subject today – Morgan Ensberg – is a blogger himself and took care of his end of the interview.  His blog is one of my two favorite ex-player blogs along with Brent Mayne's blog.  Don't believe me?  See it for yourself: Morgan Ensberg's Baseball IQ.  His Twitter feed can be found here.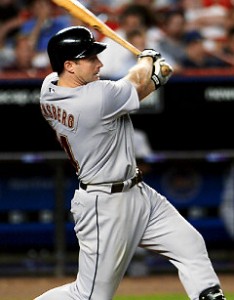 Our interview subject today is Morgan Ensberg – undoubtedly the finest MLB player ever with the first name of Morgan (cry me a river, Morgan Burkhart and Morgan Murphy).  Ensberg grew up in Southern California, played college ball at USC, and was in the minors for 4 1/2 years before being called up for good in 2002 by the Astros.  He eventually wrestled the 3B job away from Geoff Blum despite Blum's clear advantage of having a surname starting with B.  Ensberg played 3B for the Astros through 2007 with his best year coming in 2005 when he finished 4th in the MVP voting and helped lead the Astros to their only World Series appearance.  In addition, Morgan Ensberg fell into the category of "Is his name Jewish, European, both, or neither?" along with players such as David Eckstein, Ben Zobrist, Gabe Gross, and Royals' prospect Kila Ka'aihue (scroll to end of interview for the answers!)
On to the interview…
Rudy:  Fans generally expect players to have the typical 'bell-shape' career where they might struggle at the beginning, ramp up to a peak in their prime and come back down as they get in their upper 30s.  But there are numerous careers – like yours – that defy these expectations.  Your first full season at 27 was very good (.377 OBP, 131 OPS+), you had an MVP-caliber season at 29 (86/36/101 with a .388 OBP and 144 OPS+), and you were out of the league at 32.  What do you feel were the main reason(s) why your peak wasn't longer?

Ensberg:  Each situation is different.  Most of the reason I didn't continue to do well was because I got down on myself and didn't have perspective.  Other players simply loose their skills, but that was not the case for me.  Mine was mental.  I have said before that I would be a better ball player today because I have had a year off to gain perspective.
Rudy:  Moneyball – for better or worse – is credited with bringing OBP into vogue.  You had an excellent eye – walking 101 times in your last full season.  How much of a good batting eye is a skill vs. a choice?  Did it frustrate patient hitters like yourself, Berkman, and Bagwell when a guy like Willy Taveras and even Craig  Biggio took so few walks?
Ensberg: OBP is important if your organization thinks it is important.  Your real underlying question is more about defining the brand of ball that your team plays.  My belief is that most teams won't define themselves because they don't know what sort of team they are.  With that lineup in 2006, what sort of team do you think we were?   (Rudy:  Man, you know I can't pass up a question like that!  See my lengthy analysis below the interview.)

Rudy:  A number of hitters with seemingly average speed pull off 15-25 SB seasons seemingly out of nowhere.  Case in point:  Lance Berkman stole 18 in 2008 after never stealing more than 9 in nine prior seasons.  Paul O'Neill set his career high of 22 in his last year (at 38).  How hard was it for a non-stealer like yourself to get the opportunities to steal?  Do coaches slowly gain confidence in a player throughout the year or do the runners themselves lobby hard for the increase?

Ensberg: Some managers don't understand how important stealing is to winning.  Most managers will look at a players speed and give him the "green light or red light".  I was always given the "red light".  But good teams constantly apply pressure to the other team to make the plays.  If you look at bunting in the Big Leagues, it is terrible.  If players were taught correctly how to sacrifice then more teams would use it and those teams would win more games.
Rudy:  I hypothesized (https://razzball.com/20-risky-pitchers-for-2010/) that the most effective pitch on average is the slider but it's so tough on the arm that most starting pitchers with above-average stuff will avoid overusing them (leaving the more fringe starting pitchers to throw out their arms for a season or two of effective pitching).  So two questions:  1) Did you find the slider to be the toughest pitch to hit (on average)? and 2) Do you think this hypothesis has any merit?

Ensberg: The toughest pitch is the straight fastball.  A well located fastball cannot be hit hard.  Sliders are tough, but anytime there is more that one plane, we have a chance.  So sliders cross 2 planes and that gives us another indication of its location.
Rudy:  What do real baseball players think of fantasy baseball?

Ensberg: I have never met a player who talks about fantasy baseball.  Fantasy is a derivative of the game and fun for fans.  It has no impact on us at all.
Rudy:  You wrote a very interesting piece on how Pujols' HR against Lidge in the 2005 playoffs wouldn't have happened if you had been put in the right position against David Eckstein (http://morganensberg.wordpress.com/2010/03/15/lidge-vs-pujols-i-was-in-the-wrong-spot/).  Why didn't one of the coaches look at the hitting charts and position one of the outfielders up in the left field train tracks against Pujols?
Ensberg: That is a question that I find myself asking every night.
Bonus feature #1 – Rudy's analysis of the 2006 Astros (in response to Morgan Ensberg's question, "With that lineup in 2006, what sort of team do you think we were?")
Short answer:
With their strong pitching, the 2006 Astros only needed average offensive performance to win their easily winnable division (Cards won NL Central with 83 wins).
The 2006 Astros offense was poorly constructed and management focused on empty power (Preston Wilson, Jason Lane) in their corner OF spots rather than OBP to compensate for the limited offensive contributions that should've been expected from Everett, Ausmus, Biggio, and Taveras.  The lack of speed in the lineup (short of Taveras) made it difficult to put pressure on competitors.
The 2006 Astros would've been better served offensively to focus on OBP by promoting Luke Scott to start the year and acquiring a high OBP guy (like Scott Hatteberg) to help maximize the RBI opportunities for the heart of the lineup as well as moving Biggio or Taveras further down in the lineup given their below average OBPs.
Long answer:
It's always easier to judge a team's construction and lineup choices after the season than before.  So I'll try to minimize the 'hindsight is 20/20′ by basing decisions based on the end of 2005 when Phil Garner (Manager) and Tim Purpura (GM before they nabbed Ed v. Wade) were mapping out their 2006 team.
The 2005 NL Champion Astros were clearly a team driven by their pitching.  The trio of Oswalt (20-12, 2.94 ERA/1.20 WHIP, 184 K/48 BB), Pettitte (17-9, 2.39/1.03, 171/41) and Clemens (13-8, 1.87/1.01, 185/62) all had Cy Young-caliber seasons and amounted to an astounding 18.3 WAR (Wins Above Replacement).  The bullpen was excellent as well with Lidge, Qualls, and Wheeler all having above average seasons.
The 2005 offense was in flux as Jeff Bagwell's early shoulder woes led to only 24 ABs after April and took one of the best bats and OBPs out of the lineup (in 2004, he'd hit .266/.377/.465 and played in 156 games).  The team's best hitter coming into the season was Lance Berkman and he performed well but missed all of April with a knee injury.  He took over Bagwell's place at 1B forcing UTIL Chris Burke into OF duty and adding a 4th weak bat and below average OBP into the lineup (Burke, Adam Everett, Willy Taveras, and Brad Ausmus all finished between 70-80 in OPS+ with Ausmus' .351 OBP and Everett's 11 HRs moderate bright spots).  Biggio and Jason Lane provided solid power (26 HRs each) which helped balance their pedestrian OBPs (.325 and .316 respectively).
The breakout season of the 2005 Astros, though, was this post's subject (Morgan Ensberg) as he went .283/36/101 with a .388 OBP that, based on WAR, was the 3rd best season in the NL that year after MVP Albert Pujols and Andruw Jones' career season. ( Ensberg's WAR was higher than Derrek Lee's monster .335/46/107 season driven by Ensberg's defensive value).
So going into 2006, the Astros retained two of their aces (Oswalt, Pettitte) and got back Roger Clemens on June 1st after Drayton McLane paid him the king's ransom of a pro-rated $22 million.  With promising young pitchers Wandy Rodriguez and Brandon Backe, this was definitely set to be an above-average pitching team BUT it would have been ridiculous to expect as dominant a collective pitching season as 2005.  So the offseason goal should've been to improve the offense.
Specifically, the #1 priority based on the 2005 team should've been to upgrade the team's OBP which at .322 was tied for 2nd worst in the NL with the Mets, Nationals, and Pirates (http://www.fangraphs.com/teams.aspx?pos=all&stats=bat&lg=nl&type=1&season=2005&month=0).
Here was the returning starting lineup with some in-house options in parentheses:
C: Ausmus
1B:  Berkman (Carlos Rivera)
2B:  Biggio (Burke)
SS:  Everett
3B:  Ensberg
RF:  Lane (Luke Scott)
CF:  Taveras
LF:  Burke (Lance Berkman, Luke Scott)
C – It's hard to look at Brad Ausmus' stats and not see potential for an upgrade.  He was turning 37 and posting 5 straight subpar seasons (as chronicled here – https://razzball.com/razzball-historical-spotlight-brad-ausmus/).  I can only assume he was deemed to be a great receiver which may be tough to measure via traditional stats and in-house options Eric Munson and Humberto Quintero weren't much better.  I didn't see any great upgrade on the FA wire and it's hard to postulate trades so I'll leave him be.
1B:  Berkman was set here but could've been moved to the OF if a 1B was found.  27 year old prospect Carlos Rivera was coming off a solid .312/.363/.505 season at AAA.  Free agency also an option.
2B:  Biggio was coming a league-average season and was turning 40.  It would've been natural to assume he'd regress to slightly below average.  The best in-house option – Chris Burke – wouldn't have been an upgrade.  Given Biggio was towards the end of his march to 3,000 hits and was one of the two best Astros ever, this wasn't the position (or player) you were going to upgrade.
SS – There was little reason to upgrade Adam Everett's below average offense as his glove made up for it.
3B – No reason to change from Morgan Ensberg after an MVP-caliber season.
RF – Jason Lane – At 29, he was coming off his first full MLB season where he showed he could be a servicable slugger type (26 HRs, high K rate).  Not an ideal platoon candidate given he had more success as a right-handed bat against RHP than LHP in 2005.  Luke Scott was a left-handed bat turning 28 and had nothing left to prove at AAA after posting .286/.363/.603 with 31 HRs and a solid BB rate (near 10%).
CF – Willy Taveras – Still young, a solid glove, and plus speed.  Just coming off his first full season which held more superficial promise (.291, 33 SBs) than actual promise (high K rate, ridiculously low BB rate, no power).  Worth taking a shot on but should've been forced to do 20 pushups every time he hit the ball in the air a la Willie Mays Hays.
LF – Chris Burke was an emergency fit at LF and was an obvious area for upgrade either with Luke Scott, shifting Berkman back and replacing him at 1B, or a free agent.
In summary, the biggest offensive team need was for a 1B or corner OF with high OBP to offset the below-average OBP of Everett, Ausmus, Taveras, Jason Lane, and Chris Biggio.  The last thing the team needed was a low OBP guy regardless of the player's power or speed.
So whom do they acquire via free agency but a gamy Preston Wilson whom, at 31, was coming off a .260/.325/.467 split-season between the Marlins and Rockies that was eerily similar to Biggio and Jason Lane's 2005 seasons.
Who would have been a better choice?  Carlos Garcia profiled as an AAAA type so an in-house option probably wouldn't have worked.  But none other than Moneyball favorite Scott Hatteberg was a free agent that year after an off season at 35 for the A's (.334 OBP with no power).  The Reds signed him and, in 2006-2007, Hatteberg posted OBPs of .389 and .394 for the Reds.  Preston Wilson, on the other hand, had 9 HRs and a .309 OBP before being dumped on the Cardinals in late 2006.
With Berkman back in left, Jason Lane and Luke Scott could fight for the RF position with the potential for a left/right platoon (though the right-handed bat of Lane hit better against RHP vs. LHP in 2005).  A projected lineup with some assistance by Tom Tango, Mitchel Lichtman, and Andy Dolphin's 'The Book' for lineup construction (great summary at http://www.beyondtheboxscore.com/2009/3/17/795946/optimizing-your-lineup-by) would be:
#1 – Willy Taveras
#2 – Morgan Ensberg
#3 – Scott Hatteberg
#4 – Lance Berkman
#5 – Luke Scott/Jason Lane
#6 – Chris Biggio
#7 – Brad Ausmus
#8 – Adam Everett
#9 – Pitcher
The lineup still has its holes (painful to put Taveras up 1st but a 40-year old Biggio doesn't make sense and the slow-footed Hatteberg – stats be damned – would be ugly to watch at leadoff.  The only speed option (Taveras) is hitting in front of the three best hitters so his SB potential is less utilized than if he hit lower in the lineup.  Switching the two 'bergs to #2/#3 is also a possible alternative.
The lineup used most often in 2006 was:
Pitcher
While the team's OBP went up to .332, this was driven mainly by getting a full season of Berkman.  The team's OPS was 2nd worst in the NL and was 5th worst in Runs.
Preston Wilson and Jason Lane had the type of disastrous seasons that's a greater risk with power/high-K/low BB guys.  You know it's bad when your most valuable opening day OF (measured by WAR) turns out to be Willy Taveras.  While Ensberg regressed in some areas (AVG, HR), his stellar .396 OBP was wasted hitting in front of these two.
Luke Scott was inexplicably kept in the minors until July and had a fantastic 2nd half with .336/.426/.621 that wouldn't have held up the whole year (high BABIP) but proved he was a better option than Jason Lane.  Hatteberg would've been a much more productive player than Wilson though this would've nullified the positive impact of Aubrey Huff who was picked up for the stretch run.
The incremental wins of Scott Hatteberg vs. Preston Wilson as well as starting Luke Scott from the beginning might've netted about 2-3 extra wins throughout the season (guesstimated looking at WAR – also worth noting that Preston Wilson was an atrocious fielder).  That's generally inconsequential for a team that ended with 82 wins except for the fact that the Cardinals won the division with only 83 wins.
While any number of factors could've helped boost the Astros by an extra 2 wins (like, say, Roger Clemens pitching the whole season, any sort of contribution from Wandy Rodriguez, a healthy Brandon Backe), it's hard to look at the team and not blame Garner/Purpura for not optimizing the offense.
Bonus feature #2 – Are these players Jewish?
Morgan Ensberg – No.  He is of Norwegian descent (see comments in this link).
David Eckstein – Nope.
Ben Zobrist and Gabe Gross – Not even close!  Ben and Gabe would organize Bible studies when they played together for the Tampa Bay Rays and Ben is married to Julianna Zobrist – a Christian rock singer.
Kila Ka'aihue – Unknown.  I can't find any info out there that confirms his religion.