When you're 6'7″, 275 lbs as an athlete there are a few limits to how you can reach the highest level. Running back? Nope. Shortstop? Nope. Quarterback? Well, Jared Lorenzen did at about 4 bills, so maybe? But as much as Andre 3000 loved singing about the prototype, you can't put that label on a 6'7″, 275 lb outfielder. Remember Richie Sexson? Ugh. Hey, @JB…what would it look like with you galavanting around the outfield? #Razz30
All that to be said, I was totally out on the Aaron Judge experiment. He has massive power in his bat, but I just didn't see his build and makeup translating well into a MLB slugger. Same worry I have about Phillies minors monster Dylan Cozens. In 670 plate appearances at AAA the last two years Judge hit around .250 with 27 HR. He improved from 2015 to 2016, but I just held some big hesitations.
And man…was I wrong.
Aaron Judge, OF, NYY (75.4% owned) – Alright, it's a small sample size, but in 63 PA this year Judge is slugging .281/14/6/13 with a 25.4% K rate and almost double-digit BB%. That's solid, fam, and his patience at the plate shows he's disciplined enough to adjust and continue improving. I don't see any reason the Yankees don't play him every day as he's the face of the youth movement they desperately need along with Gary Sanchez and Gleyber Torres. The ISO should drop from .386, but the hard hit % could easily remain at a ridiculous 48.8%. Even in his poor 2016 debut of 27 games he had the identical %. The super easy, low hanging comp that everyone can see coming: Giancarlo Stanton. And it wouldn't surprise me if it comes true. Oh, and he's got an inch and 30 lbs on him according to his profile. I'm a fan. I'm in. And I'm pissed I missed him on every team. He's climbing fast.
Eye rolls all day. And much of the below rankings are my subjective thoughts, so don't agree? THAT'S WHAT THE COMMENTS ARE FOR!
Note: These rankings are considered ROS Trade Value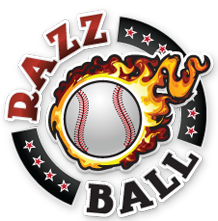 [email protected]'s Top

 Hitters
(Rankings based on 12-team Roto. GREEN = player rising. RED = player dropping. BLUE = new to the 100.)
The Honorable Mentions (Next Five In…)
Dropped from the Rankings: Starling Marte (14), Joc Pederson (59), Yasiel Puig (87), Adrian Beltre (93), Willson Contreras (95), Avail Garcia (99), Keon Broxton (100)
A few notes on the 100:
Yep, Harper up to #2. It's like I've been fighting against myself to put him there since the offseason. He's the same player that went ham in 2015, and showing to be even better now. The Trout and Harper tandem is back in full effect as the top tier.
Starling Marte drops out of the rankings due to the 80-game suspension, but I'm still targeting him everywhere. If he's been dropped, stash him (if you can). Be smart on your league settings and format, but from July-September he could be a Top 20 player again. RCL's make it tricky with the format, but if you're stashing Yoan Moncada for two months, it's worth stashing Marte for three. Beltre also drops out due to the injury, but when he's healthy he'll likely jump back in immediately.
Eric Thames jumps his ranking again this week. Doubles it. I'm a believer, so I'd rather take his upside than the names under him. I think that ceiling will be met. However, don't overpay as a buy-high right now when he just had a Bondsian-type two weeks.
Should be fun to watch all the young OF populating the bottom of the rankings the rest of the year. Margot, Conforto (I want every share), Souza, Tomas, Kiermaier, Dahl, Haniger. How do y'all think they rank ROS?
As always…don't agree with something?
DROP THOSE COMMENTS!
Follow [email protected] on Twitter at @matthayes for far more than just fantasy advice.