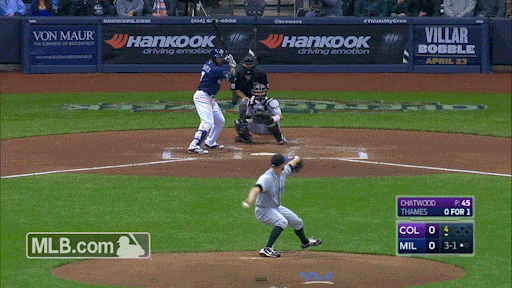 A lot's happening in Korea these days. Not sure if you watch the news, but let's just say they're not happy with us in the North. You know, the whole communist vs. freedom thing. [Jay's Note: Or is it simply two man-child idiots battling over who's more emotionally unstable?] But in the South, where our friends live, we may be getting on their bad side, as well. No, not in a manner that causes global political strain, but with one of their most beloved past-times… our national past-time.
The KBO had a monster in it the last few years. Sure, Japan claims Godzilla, but Korea can say they produced a baseball godzilla. Steamer loved him in the preseason projections, ESPN hated him enough to put his pre-draft ranking at 200+, and other Razzball pundits warned of not overspending for someone that couldn't make it in the MLB just a few years ago.
And now? Well, Milwaukee not only paid him, but they've been seeing a lot of the gif above recently. Platoon? GTFO. You don't platoon this…
(Note: Last year, and even last week, I said I'd try to focus on one player that's owned in less than 30% of leagues, but that doesn't fit with the Top 100. Why I didn't think of this earlier? Who knows. But moving forward the upcoming highlight will revolve around the article's title player, whether it's someone dropping fast, rising up the ranks, or new to the scene.)
Eric Thames, OF, MIL (77.6% owned) – Alright, for all the hype I just wrote we do need to breathe for a second. As much as it would be incredible to see Thames continue his 42.6% HR/FB ratio, his .553 ISO or his .921 SLG%, there will be some regression. NO ONE does that across a whole season. Not in the MLB. But there are so many promising stats hidden underneath Thames already impressive line of .368/11/6/12/0. He strikes out 1/4 of the time, but walks 11%+. He sports a .381 BABIP, but that's actually consistent with his numbers in the minors, and, of course, with what he did in Korea. Steamer may have been the only ones right on his projections, and now they say his end of season line will look something like: .280/78/32/81/11. And I'd say many of those numbers could very well be a floor. And beyond all that, the stat that truly makes me believe we'll see even more from Thames is the ridiculous 55.6% hard hit rate. Dude's locked in and destroying the ball. Hopefully he'll adjust well as pitchers shift in their approach to him, but if he can we're looking at a monster. A KBO-blossomed godzilla. Haha, in just 11 games he's already produced 1.0 WAR. I mean, come on!
You won't see too many changes. Again, the upside of the players ranked highly still carries more ROS value than the upstart two-week hot hands. Some of them make their way into the Top 100, but it's those that I think could really stick around. Thames? He's gonna be higher than Avisail Garcia. I believe in him more. And much of the below rankings are my subjective thoughts, so don't agree? THAT'S WHAT THE COMMENTS ARE FOR!
Note: These rankings are considered ROS Trade Value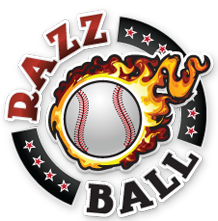 [email protected]'s Top

 Hitters
(Rankings based on 12-team Roto. GREEN = player rising. RED = player dropping. BLUE = new to the 100.)
And the honorable mentions. The next five in.
Dropped from the Rankings: Dustin Pedroia (71), Jose Bautista (76), Byron Buxton (88), Mike Napoli (93), Victor Martinez (94), Javier Baez (97), Dexter Fowler (99), Maikel Franco (HM)
A few notes on the 100:
As always…don't agree with something?
DROP THOSE COMMENTS!
Follow [email protected] on Twitter at @matthayes for far more than just fantasy advice.