Even before accounting for Jackie Bradley Jr.'s 4-for-4 game on Monday — including a double and a home run — his post All-Star break numbers are enough to impress Mike Trout. Bradley has posted a blistering .336/.410/.692 line, good for a .458 wOBA and 194 wRC+. Those numbers rank third and fourth best in baseball since the break, minimum 100 plate appearances. Bradley was shuffled a bit between Triple-A and the majors, but a mix of trades and injuries gave him an opportunity in late July, and he hasn't looked back. For the sake of calculation, all numbers here are post ASB and do no include his big game yesterday.
Of course as great as the batting average and on-base percentage is, the slugging is probably the most surprising bit. Sure, one of Bradley's eight home runs came off of a back up catcher in Jesus Sucre, but still. The BABIP gods have apparently smiled on Bradley as well given his .429 BABIP, however to his credit, he's been hammering the ball. Of the 260 hitters to record at least 100 PA since the midsummer classic, Bradley rates very well in terms of quality of contact.
| | Soft% | Hard% | BABIP |
| --- | --- | --- | --- |
| Rate | 13.2% | 39.5% | .429 |
| Post ASB Rank | 52nd | 28th | 5th |
For further illustration, Baseball Savant breaks down a hitter's average exit velocity by week while also comparing it to the league average. The data is only available in major league stadiums, thus the multiple gaps in coverage from when Bradley was in the minors.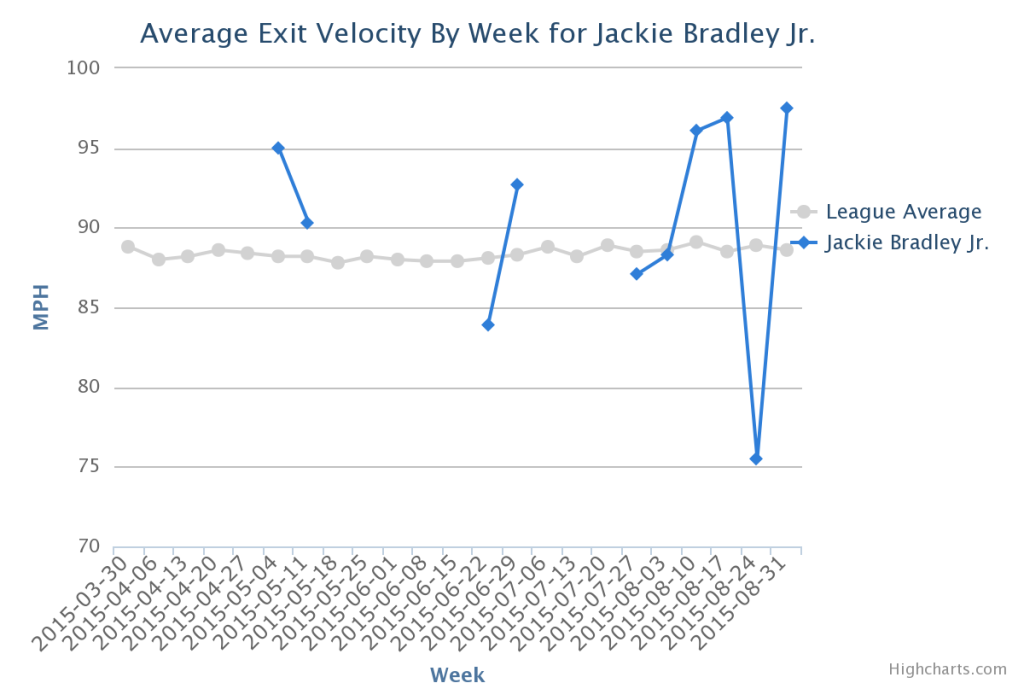 The beginning of this hitting spree began when he was recalled on July 29 and since then Bradley has been nearly average in his opening two weeks, then mostly other worldly save for a one week dip. Data isn't yet available for this week, though given his six extra-base hits in the past seven days, I think it's safe to say he's probably going to have another above average week.
Even with an incredible exit velocity, Bradley's BABIP isn't likely to stay in the stratosphere. What makes me not too worried is that he's not selling out all of his plate discipline to try and make hard contact. Bradley posted a mere 49 big league PAs in the first half of the season, so his numbers should be taken with a grain of salt — for that matter, so should his 122 second half PAs — yet I've chosen to show the split because I'll always take more data!
| | BB% | K% | SwStr% |
| --- | --- | --- | --- |
| 2013-2014 | 7.7% | 28.7% | 11.6% |
| First half 2015 | 11.4% | 28.6% | 10.9% |
| Second half 2015 | 10.7% | 26.2% | 13.6% |
While Bradley's walk rate has dipped a bit in the back half, he's also managed to trim his strikeout rate a hair, though he is whiffing at a higher rate. Swings and misses are part of his game, but Bradley takes his walks as well as he owns a career 18 percent strike out rate and nine percent walk rate in 761 Triple-A plate appearances.
This type of power and AVG is unlikely to last, however I'm not so sure he'll plummet back down to earth entirely. I love the Hard% and he's been making adjustments along the way. He is a former top prospect who rated in the top-100, usually top 50 of Baseball America, MLB, FanGraphs and Baseball Prospectus in both 2013 and 2014. Between his pedigree as a supplemental first round pick in 2011, 40th overall, and his willingness to adjust, I'm buying Bradley for next season. With Hanley Ramirez shifting to first base to open up playing time in the outfield, there's no reason to not buy into most of what Bradley is doing.