I'm not a writer, I'm a talker, but I'm going to summarize the profound undertaking that's about to occur with words… that I type!  CRAZY, I know.  If that's not your thing, just watch the above video five more times as penance.  (And share it with your friends 10 times.)
The Razzball Podcast is now Razzball Radio and we're going daily AND we're going mobile. 
You read that right, folks.  Razzball Radio is having a Grand Opening.  The sexy details:
I've bought a 2014 Mercedes Benz High Roof Sprinter Van and I'm outfitting it with a digital audio/video production studio.
The show's backbone is absolutely fantasy, but it's also sports, food, travel, fun, and it'll be three segments a day to start.
It'll be a mix of audio AND video.  Mainly baseball and football, sometimes with a touch of basketball and hockey, including a bonus segment called 'Overtime' where we'll talk about everything and anything.  (Maybe Grey and I talk movies.  Maybe we'll take listener phone calls.  Maybe we'll give Rudy some calculus problems.  Or ask Jay why we call him JayWrong.)
You want Razzball television?  You got it.  The very fine people at FNTSY (Fantasy Sports Network) have been gracious enough to put our daily show on TV.
And guests?  Check!  As in I need to check, but, yes, I believe we will have guests.  (We've already had Corbin Bernsen, Steve Garvey, Betsy Brandt, Peter King, Jimmy Pardo, and Steve Byrne on the Pod.  That was just the beginning.)
Oh, and in case you thought I forgot, I didn't.  There's a reason why Razzball Radio will be mobile.  Razzball is going on tour…
This August, Razzball is hosting 32 fantasy football drafts, in 32 straight days, in 32 pro football cities across America.  AND YOU'RE INVITED.
That's right.  We're kicking it off on 8/4 in Seattle and we wrap up on 9/4 in Denver.  We're calling it 32in32in32 (because spacing is so 90's).  10,000 miles.  One van.  All Razzball.  All over the country.
We're going to roll up to sports bars, pull out the pop-up set, and do the show.  That's right, we're doing the show with you.  Again for people who need things capped, WE'RE DOING THE SHOW WITH YOU!  You are the most important part of Razzball.  We're going to drink with you, we're going to draft with you, we're going to bring Razzball right to you.
(Before I break this down I want to mention how much support DraftKings has given to this crazy idea.  We're also really excited to start working with SportsVault.net, which you and your league commissioner needs to get on ASAP.  They collect and distribute your league fees and money prizes for FREE.  No catch.  No joke.  No more hassle.)
There's initially going to be 100 spots available in each NFL city to start and we'll be doing our prime-time events at specific microbreweries and national chains.  (Most locations are TBD at the moment, but that will change quickly as I finish ironing out all the great plans with the specific sponsors.)
Introducing the VIR (Very Important Razzballer) Program 
It's going to be $15 to get into the 1st annual 32in32in32, and you can buy those tickets here.
When you purchase a ticket, you'll also become a member of our special VIR (Very Important Razzballer) program.  Along with that snazzy title, you'll be entering in at the ground floor of something special.  There will be plenty of swag, plenty of prizes, and, of course, beer.  And that's just the beginning.  This tour will become yearly, both for baseball and football.  As a VIR, you'll always get first-in-line privileges to these tours and other exciting, yet-to-be announced Razzball events.
And I'm not the only one on this trip.  Grey and his mustache will be making some appearances, sometimes separately.  (Don't ask me how.  Science, I guess.)  Sky will be around, hopefully wearing pants.  JB Gilpin might even tell us how much milk he drank to become so tall.  Some of our main contributors like Tehol, Smokey, Prospector Scott, and others will show their faces.  Or in Tehol's case, his bathing suit areas.  And it wouldn't be a true NFL road trip without the new Chief Editor of Razzball's Football site, JayWrong, joining me for the entire trip.  HIDE YO WOMEN.  AND ALCOHOL.  Actually, hide everything to be safe.
Be a part of the 32in32in32 Pre-Tour, uh, Tour.
I'm driving from Toronto to Phoenix from 4/2 – 4/8 to scout locations (i.e. bars) for the tour.  If you're in any of the following places, come hang out and get to experience the "pre-season" part of the tour.  No tickets required, just a rolling party that wants you along for the ride.
4/2 BUF — Lunch, CLE — Evening.  4/3 CHI — Evening.  4/4 IND — lunch, STL — Evening.  4/5 KC — Lunch.  4/6 DEN — all day baby!  4/7 Durango, CO.  (Durango WTF?  Originally, I was going to go through Albuquerque until I found out that regular commenter Shake 'N Bacon is based in Durango.  Do you see how well organized this is?!)  4/8 Phoenix — Evening.
Help out Razzball Radio and the Tour by checking out our Indiegogo.
If you reside in a city that doesn't have an NFL team, but still want to support the Razzball product (attention Los Angeles, Portland, Great Britain, Mars, etc.), check out our Indiegogo page for your chance to get unique Razzball swag and support our journey. We'd rather you buy a ticket and come have a drink with us, but we want to make sure there are other ways you can show your love for us.  Everything we raise, we'll be investing back into the tour and to create content just for you.
You have been advised…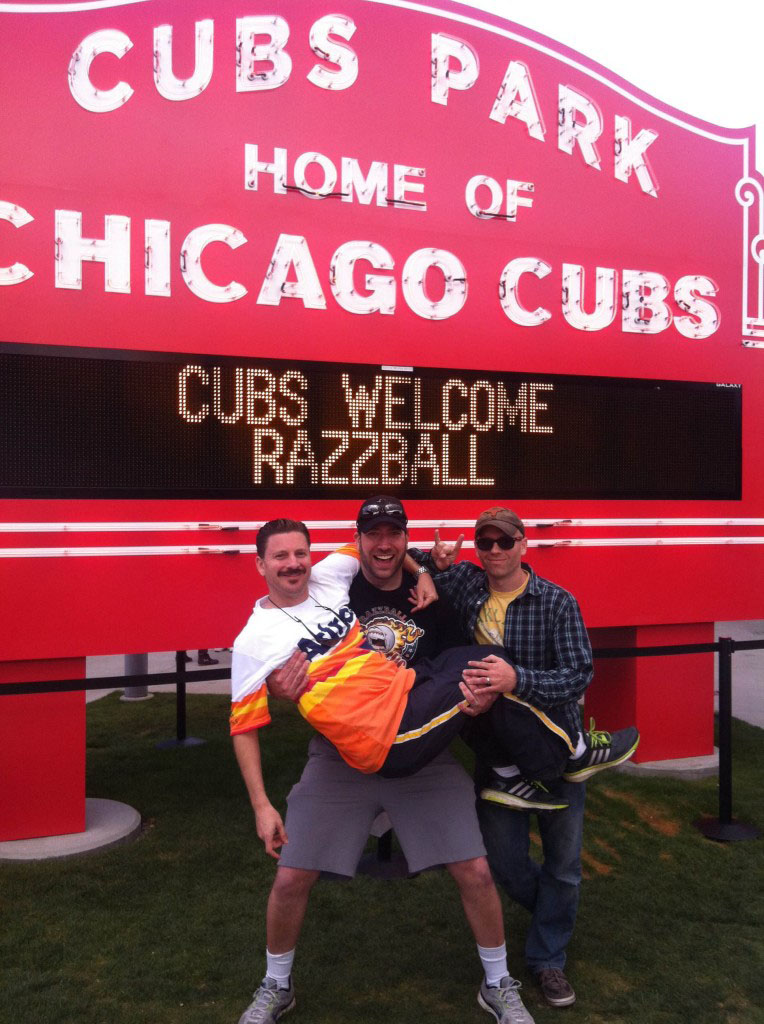 Nick Capozzi (center), Rudy Gamble (right), and Grey Albright (left… and, um, center, and a little on the right too I guess.  EVERYWHERE.).