Part One of this series can be found here. This is Part Two of a three-part series. 
"The rules are quite clear. For violation of any part of this rule, deliver what is called the "shine" ball, "spit" ball, "mud" ball or "emery" ball, the umpire shall call the pitch a ball, warn the pitcher and have announced on the public address system the reason for the action." — Fast Facts of Baseball- The Spit Ball*
For decades, the spitter was an accepted part of major league baseball, and little to no controversy surrounded its use.  Jack Chesbro, who achieved baseball immortality by setting the unbreakable 20th century record of 41 wins in the 1904 season, was a notorious spit-ball pitcher. (Perhaps the baseball gods achieved their revenge on "Happy Jack" when he managed to lose the deciding game of that same season on a wild pitch which was undoubtedly a spitter (a pitch he called a "slow ball") with a bit too much action.  During a match between his own New York Highlanders (nee: Yankees) and the Boston Americans (nee: Red Sox), Chesbro 's wild pitch allowed the winning run to score from third base. However, for many years, Chesbro's bereaved widow blamed the team's catcher for the miscue.) The following year, Chesbro stated that he had invented a new pitch which he called the "jump ball", which unfortunately for him, didn't jump all that much; his record plummeted from a mind-boggling  41-12 to a pedestrian 19-15. During the hallowed '04 season, Jack also posted an ERA of 1.82, struck out 239 batters, pitched 454 2/3 innings, and set MLB baseball records for wins, complete games and innings pitched in a season. Jack also won 14 straight games during that season, which would remain a Yankee record until Roger Clemens broke it almost 100 years later in 2001; he also held the Yankee strike out record until Ron Guidry broke it 74 years later in 1978. (However, because of the brobdinagian number of innings he pitched that year, his K/9 ratio that season was a mere 4.7). In 1908, Chesbro announced that he would forever more eschew the use of the wetball, and his record amply demonstrated his truthfulness, as he went 14-18 for the season.
Ed Walsh, another legendary hurler from the Dead Ball Era, also fashioned what was to be the lowest career ERA in the history of baseball – a sterling 1.82 mark over 14 seasons, with the use of the spitter.  In fact, along with the baseball that had the texture of one of your Aunt Mildred's dumplings, the use of the spitter was one of the primary reasons for the notorious "Dead Ball Era" that existed from the fin de siècle to around 1918. There is no reason to believe that neither Walsh nor Chesbro would have been inducted in Cooperstown's Hall of Fame without that pitch. **
Baseball has gone through a number of different era's in its storied history. Some of them have to do with the effect of rule changes, such as when the baseball mound was moved to its present distance of 60'6" from home plate in 1893. But the two major factors that typically produce radical change in baseball play are intense controversy/scandal as well as the thought or reality of attendance plummeting and threatening the existence of the game. The cancellation of the 1994 World Series, whereupon millions of frustrated fans vowed never to watch or attend another baseball game in their lifetimes, could be said to be the spark that ushered in the age of steroids, and the excitement of watching Mark McGuire go toe-to-toe with Sammy Sosa in the epic 1998 home run chase. The 1919 World Series, where the Black Sox threw the epic classic, allowing the decidedly inferior Cincinnati Redlegs to take the World Title, had a similar profound effect. It is no coincidence that the damaging hearings concerning the fix convinced the Lords of Baseball to radically change the nature of the game. The balls were replaced more frequently, giving them more juice; fences were moved in, and the era of the long ball soon dominated the game, and the spit ball was made to be an illegal pitch. But there is one more episode that people often overlook when considering the banning of the spitter – on August 16th, 1920, Ray Chapman's life ended as a result of a tampered ball thrown by an unrepentant Carl Mays, who threw an "errant" pitch at Chapman's temple. Chapman attempted to walk off the field after being hit, collapsed, and died within 12 hours. As per Wikipedia: "At the time of Chapman's death, "part of every pitcher's job was to dirty up a new ball the moment it was thrown onto the field. By turns, they smeared it with dirt, licorice, tobacco juice; it was deliberately scuffed, sandpapered, scarred, cut, even spiked. The result was a misshapen, earth-colored ball that traveled through the air erratically, tended to soften in the later innings, and as it came over the plate, was very hard to see."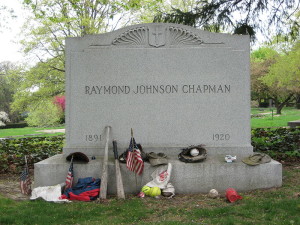 Between 1919 and 1920, a rule was put into effect by Major League Baseball that outlawed the spitball and other substance-abuse type pitches. However, a group of hurlers who depended almost exclusively upon the spitball pitch were officially listed and grandfathered in, allowing them to throw spitters for the remainder of their careers (It should be noted that what we call the spitter, for all intents and purposes involve very little spit but consist of Vaseline, pine tar, appendages for cutting the ball (Elston Howard of the Yankees reputedly used his belt buckle, scuffing the ball for Hall of Famer Whitey Ford, who once had the chutzpah of bringing a water bottle to the mound for the sake of easing the pain in his arm), and any other imaginative tool that a hurler can dream up for radically altering the spin of the ball sans arm movement.
"Rules or no rules, pitchers are going to throw spitters. It's a matter of survival." – Bob Gibson
For those interested in the complete list of pitchers who were exempted from the rule:
The complete list: Doc Ayers (played through 1921); Ray Caldwell (1921); Stan Coveleski (1928); Bill Doak (1929); Phil Douglas (1922); Red Faber (1933); Dana Fillingim (1925); Ray Fisher (1920); Marv Goodwin (1925); Dutch Leonard (1925); Clarence Mitchell (1932); Jack Quinn (1933); Allen Russell (1925); Dick Rudolph (1927); Urban Shocker (1928); and Allen Sothoron (1926).
The most successful of the grandfathered spitball pitchers was perhaps Burleigh Grimes. On September 20, 1934, the era of the legal spitter ended when Grimes made his final appearance as a reliever at Ebbets Field. He retired after that season, and his efforts resulted in immortality as yet another one of a select group of spitballers who parlayed their career into a trip to Cooperstown.
Thus the clause in the rules added between the 1919 and 1920 seasons that banned what I like to call the foreign-substance pitch— but grandfathered in those like Burleigh Grimes who used the pitch to build a career before the rule change. As baseball columnist Dan Devine states, however, "most major league pitchers would consider amputating their middle finger if they thought the result would give them a better split-finger pitch…", and so unsurprisingly, the spitter lingered past Grimes's last pitch in 1934. As for Grimes, he had collected a total of thirty-four wins prior to the 1920 season. The year after the ruling he won 22 games, leading the league. He finished his career with 270 wins.
But perhaps the more important statistic is by measuring the composite and individual careers of those pitchers who were grandfathered in. Here is the list, with the won-loss record of all of those pitchers after the foreign substance pitch was deemed illegal:
Doc Ayers 7-14
Ray Caldwell 26-16
Stan Coveleski 109 – 89 (HOF)
Burleigh Grimes 248- 187  (HOF)
Bill Doak  95 -75
Phil Douglas 40-24
Red Faber 172 – 158  (HOF)
Dana Fillingim 34-49
Ray Fisher 10-11
Marv Goodwin 4-12
Dutch Leonard 35-36
Clarence Mitchell  116- 110
Jack Quinn 161 – 130
Allen Russell 34-36
Dick Rudolph 5-12
Urban Shocker 156-83
Allen Sothoron 58-63
COMPOSITE WON LOSS RECORD: 1311 – 1085, .548 WIN%
Now, out of 17 pitchers, three were Famers, and several others were above average pitchers who received votes for immortal status. That comes to approximately 18%, or close to 1 in 5 grandfathered spitballers have their busts in Cooperstown. One could make a good case for Urban Shocker as well, which would put make the list close to 25%. I would surmise that this is far higher than the odds of the average major league pitcher making the Hall.
Now look at the Composite Win% – .548. I counted 10 pitchers in the Hall of Fame with a lower Win %; one of them, ironically, was Gaylord Perry, who had a career .542 Win %. It should be noted there were also a number of pitchers from this list who were close to the end of their careers when the spitter was made illegal, and had a win percentage earlier in their career that would have made the composite score even higher. And of course there were numerous Hall of Fame pitchers, such as Bob Gibson, who used the spitter in key situations, but not in their regular regimen. When all of this is considered, it is hard to contest the fact that the foreign-substance pitch was and still has a daunting effect as a performance enhancing substance.
*http://www.baseball-almanac.com/legendary/lispit.shtml
**Interesting factoid: Arpad Elo, a professor of physics at Marquette University who strove throughout his lifetime to invent an improved rating system for chess, had his concept borrowed by baseball in what we call the Elo Rating System, which is a method for calculating the relative skill levels of players.  According to the Elo System, the 18th best pitcher of all time is Gaylord Perry. #19? Ed Walsh, of course!