This is part three, the final conclusion, in what is a very special mini-series exploring the St. Louis Cardinals' "Gas House Gang". You can read part one here, and part two here. The story continues…
"The most rabid, vituperative, hysterical rooter in the world, the Brooklyn fan, will troop across the bridge by the thousands, bringing cowbells, sirens, razzberries, whistles." Paul Gallico – NY Daily News
Perhaps no team in the history of the game has ever taken the role of spoiler so seriously. The excitement in Brooklyn is extreme. The Polo Grounds are expected to be filled with Dodger fans, who want to pay Bill Terry (pictured above) back in the worst way for slighting his New York neighbors. Dodgers' President Judge McKeever takes out his cane and, shaking it with glee, exhorts his team, "We'll make him eat those words." Casey Stengel adds, "Yes, and if it chokes him, that will be all right, too." And, indeed, Brooklyn takes out the Giants in both games, concluding a collapse that had seen them lose their last five games to inferior competition.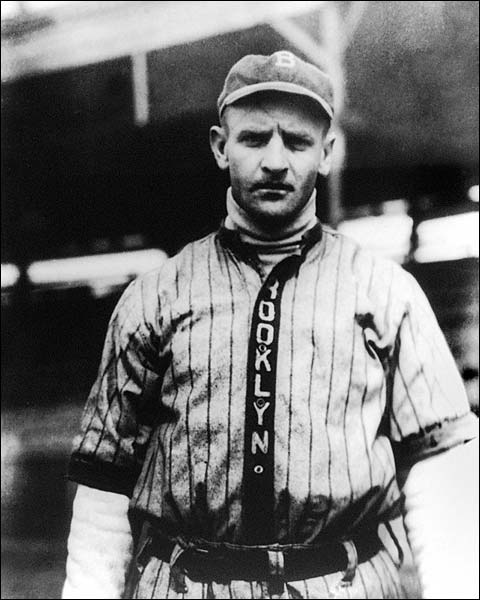 Addressing his men after the game, Dodger skipper Casey Stengel (pictured above) says: "Farewell, my bonny men. Some of you are off to maim the gentle rabbit. Some of you will shoot the carefree deer. I bid you Godspeed, my lamby-pies, my brave young soldiers. Go with Casey's blessing on your sweet heads."
Meanwhile, The Gang is taking care of business against the Redlegs. They win the last two games of the Series, and Dizzy wins # 30 on the last game of the season, pitching a shutout, his 7th of the season. While the crowd exuberantly celebrates the occasion, some notice a young boy placing a chunk of ice on the pitching rubber. When questioned about what he is doing, he states, "Dizzy told me this morning to put it there after the game. He said the mound would be burning up if I didn't. Go ahead and feel it. Even the ice hasn't cooled it down yet."
THE 1934 WORLD SERIES: DETROIT TIGERS VS ST. LOUIS CARDINALS
"…Can life be stupid, drab, or slow with Dizzy Dean and Schoolboy Row?" – Grantland Rice.
The Gas House Gang is going to the World Series. They are playing the Detroit Tigers, with their famed "Battalion of Death" infield, consisting of Hank Greenberg at 1st, Charlie Gehringer at 2nd, Bill Rogell at SS, and Marv Owen at 3rd; the first two in the Hall of Fame, the second pair exceptional fielders. This infield is often rated as one of the best in the history of the game. Gehringer is known as the "Mechanical Man"; "you wind him up on opening day and forget him," per teammate Doc Cramer. Their Catcher/Manager, Mickey "Black Mike" Cochrane, is recognized as one of the greatest and most competitive backstops, alongside Berra, Bench, and Josh Gibson. Cochrane is a terrific role model, so much so that many parents are naming their sons after him, one of them being a newborn christened Mickey Mantle. Mickey Cochrane is the MVP this year, despite Gehrig's Triple Crown. The Battalion of Death hit 462 RBIs this year, a record which still stands today. Their Pitching staff includes Schoolboy Rowe, who is 24-8 , winning an incredible 16 games in a row. This will be one of the greatest fall classics in the annals of baseball.
Before the Series begins, Dizzy, ever the Showman, picks up a Tuba on the sideline and plays Wagon Wheels, with reasonable competence. While Hank Greenberg bats, Dizzy saunters to the batting cage, takes the bat from him and says, "Watch me hit, and pick up a few pointers." All Hank can do is laugh.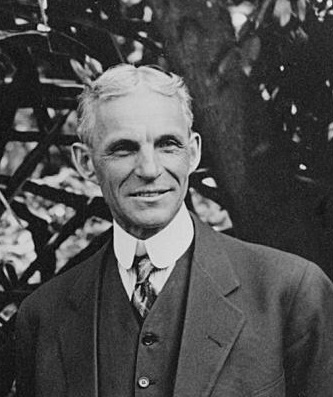 Two of the most rabid Tiger fans are Father Charles Coughlin and Henry Ford (pictured above), both intense anti-Semites. They apparently do not see the irony or naked hypocrisy of rooting for Hank Greenberg, the most notable Jewish star in Major League history (alongside Sandy Koufax). It is common for opposing players to attempt to bait Greenberg by yelling out to him, "Hitler is waiting." Other notables in attendance include Will Rogers, George Raft, and Funny man Joe E. Brown. Radios are installed in every schoolhouse auditorium to enable all students to hear the game. Bradenton, Fla., changes its name to Deanville. In San Juan, Puerto Rico, a judge declares a recess so that court attendants can watch a scoreboard from the balcony. This is the age when baseball truly is our National Pastime.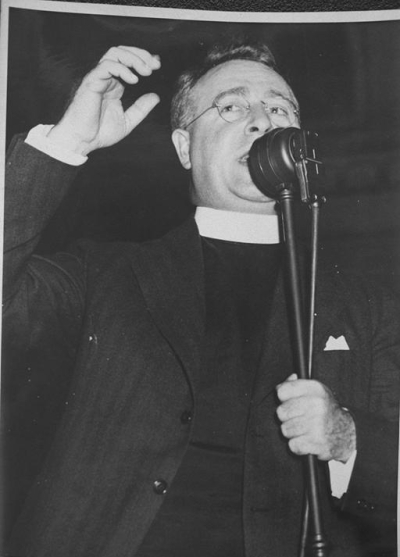 We all expect the first game of the Classic to be a match between the elder Dean and Schoolhouse Rowe. Black Mike elects to pass over Rowe, going instead with Alvin Crowder. Crowder had been sensational the two prior seasons for the Washington Senators, leading the league in wins both years, with a combined total of 50. In spite of having an off year in 1934 of 9-11, he has posted a 5-1 record since being traded to the Tigers in mid-season. So, Cochrane has reason to hope for lighting in a bottle.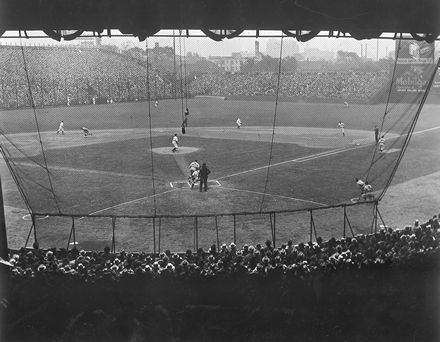 The World Series at Navin Field
A jubilant crowd of 45,000, eager to see the city's first pennant-winning team in 25 years, crowds into Detroit's Navin Field. However, Jerome Dean promptly puts a damper on their excitement, and the Cardinals, led by "Ducky-Wucky" Medwick who goes 4-4 including a homer run, beats the Tigers 8-3. Detroit doesn't help its cause, making five errors in the first 3 innings. The Tigers strike back the following day with an outstanding outing by Schoolboy Rowe, who holds the Cards to a single hit in the twelve-inning, 3-2 victory. Apparently, the Cards aren't the only team with tenacity and resolve.


Sportsman Park – 1934 World Series
The Series moves to St. Louis for Game # 3. A crowd of 34,000, almost nine times greater then the average attendance during the season, comes to greet their home town heroes. Perhaps the most devoted fans are Mr. and Mrs. A. O. Taylor of Minden, Nev., who sell their 200-acre farm and drive for five days and six nights to be here. Paul Dean, although giving up 14 base runners, manages to shut out the Tigers for 8 2/3 innings, and holds on for a 4-1 triumph. Pepper Martin, who had boasted an incredible .500 average during the '31 Series, is the batting star again that day, hitting a double, a triple, and scoring two runs. After the game, Paul tells the press, "I couldn't get my curve ball breaking properly. We'll go right through them now. . . ."
Before the fourth game, 3rd-baseman Pepper Martin announces he will eat a plateful of apples for good luck, as he did in 1931. The next day Martin makes three errors, his teammates two more. Sent into the game as a pinch-runner, Dizzy takes off from the bench when Frisch seeks a substitute for Virgil "Spud" Davis. On a ball to the shortstop Billy Rogell, Dizzy roars into second base but does not slide. Rogell's throw hits him squarely on the head, and Dizzy falls "like a marionette whose string has snapped" and lays motionless on the infield dirt. The ball is thrown so hard it bounces 50 ft. into the air. But, the Diz revives, leaves the field, and is taken to the hospital. The headlines next day read, "X-Rays taken of Dean's head – nothing found." Meanwhile, the Tigers knock around four Cardinal hurlers and win the game by a score of 10-4, with submariner Eldon Auker getting the win.

"They X-Rayed my head, and found nothing" – Dizzy Dean
Several days removed from the hospital, Diz comes back to pitch game five. When he reaches the mound, a fan races onto the field presenting him with a medieval armor helmet. Dizzy Dean Bonnets are being sold as souvenirs. Dean announces his intention to become a vaudeville actor, strutting on the mound with his Helmut; he states that he plans to wear a bandsman's red coat and a Tam O'Shanter when he performs on the stage. Unfortunately, Dean is out-pitched by Tommy Bridges, and Detroit wins game five, 3-2. Later, Dean admits that he suffered severe headaches while pitching, an apparent reaction from his recent concussion.
The Series once again moves back to the Motor City for Game Six, the potential deciding match. The Tigers feel relatively comfortable; they are in their home park with their ace going against Dean-the-younger. But, Paul is not your typical rookie, nor is this version of the Redbirds a squad you can afford to be take for granted. With the score tied 3-3 in the 7th inning, Daffy prevails over Schoolboy and the Tigers by delivering the game winning hit, 4-3. The scene is now set for the decisive match, and one of the more bizarre and controversial contests in baseball history.
In Game 7 Dizzy is matched against Elden Auker (pictured below), the winner in the Game 4 tussle. Dean is attuned to the intimidation tactics of Muhammad Ali (a generation before the Great One utilized them to paralyze Sonny Liston). Taking a stroll and visiting the Tiger bullpen prior to the game, Dizzy says to Auker, "You don't expect to get anyone out with that stuff, do you?" Whether Auker is cowed by the comment, or just doesn't have his stuff, we'll never know, but in the third inning, the Cardinals shell Auker, and three other Cardinal hurlers, striking for seven runs, a rally sparked by a double by Dean. In a real sense the game and series are over, but the conflagration continues.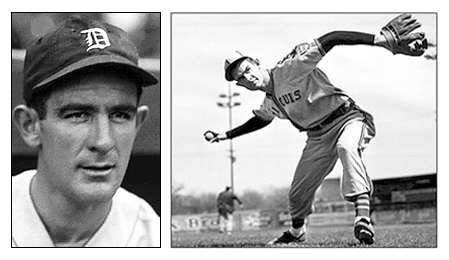 In the 6th inning, Ducky Medwick, flying across 2nd base going for a three-bagger, steals a page out of Ty Cobb's bag of tricks and slides into third baseman Marv Owen with spikes raised high. Tiger fans take umbrage to Medwick's play and hurl a barrage of bottles, oranges, and assorted garbage at him when he attempts to take his position in the outfield. Four times he retreats; each time he attempts to return to his post, he is waylaid with more debris until the field is filled with an unbelievable amount of flotsam and jetsam. At this point Judge Kenesaw Mountain Landis, who had warned against "recklessness" before the game started, throws Medwick off the field. After the muck is cleaned up, the Cardinals complete the debacle, humiliating the Tigers 11-0. Thus, after winning 49 games in the regular season, good ol' Diz and Daffy have combined for all four St. Louis World Series victories to win the World Championship of Baseball for the City of St. Louis.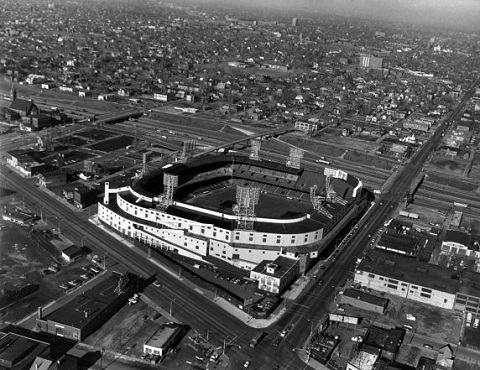 Riots at Navin Field – Game 7, 1934 World Series
Dizzy sends this missive to Branch Rickey, "I would be tickled to death to pitch another game tomorrow. I think I would have my stuff tomorrow and probably would shut the Detroit Tigers out because after pitching today without my stuff, and they didn't know I didn't have my stuff, I could go out there tomorrow and shut the boys out. I think that if they pitched me the whole four days I would win all four of them."
"It-ain't-bragging-if-you-can-do-it" – Dizzy Dean.
THE END
*This effort is acknowledged as the first Major League "Knot Hole Gang", a term which derives from the propensity of kids to cut out holes in outfield fences in order to watch professional ball games. This goodwill gesture caught on, especially in Brooklyn in the '40s-50s, where during that time the Dodgers gave over 2 million free passes to Ebbets Field. Today, many Minor League Clubs continue this worthy tradition.
**A third brother Elmer ("Goober") Dean sold peanuts in St. Louis Sportsman's Park until Mrs. Jerome Dean made him stop because she felt that it lessened the dignity of her husband.
***Perhaps the closest modern analogy would be the 1977-78 Yankee teams, with the constant bickering between Reggie Jackson, George Steinbrenner, and Billy Martin.
****The 1934 St. Louis Cardinals played 153 games during the regular season, won 95 games, lost 58 games, and finished in first position. They played their home games at Sportsman's Park III where 325,056 fans witnessed their 1934 Cardinals finish the season with a .621 winning percentage. Thus, one of the most exciting, gifted squads in Major League History played to an average home crowd of about 4,200 fans.
*****Dizzy Dean was the last National League pitcher to win 30 games in a single season, and the last pitcher in Major League Baseball to do so until Denny McLain accomplished the feat for the 1968 Detroit Tigers. With the radical changes in the manner in which starters are used in modern baseball, it is likely that no one in the foreseeable future will achieve this mark.
REFERENCES:
THE GAS HOUSE GANG – JOHN HEIDENRY – A terrific read, which explores the history of this exciting era in baseball history, bringing to life the patchwork quilt of unique personalities which made up this squad.
BASEBALL STATISTICAL REFERENCE
THE SPORTING NEWS: 1934
WIKIPEDIA: "THE GAS HOUSE GANG, LEO DUROCHER, DUCKY MEDWICK"
Harold Friend, Correspondent, 148 articles written,112 comments written,20 fans, View Profile