We told you that last week was going to be bizarre with our streamers and it was just that. It was so strange that we actually have two of the same two-start streamers this week! No, this isn't the Twilight Zone but it's close. Both of those guys pitched well, thanks to my recommendations, so let's go right back to the well. Now that we have the trade deadline out of the way, we shouldn't deal with pitchers being pushed back or any crap like that. 
Two-Start Streamers
Dinelson Lamet, SD (at SEA, vs. COL) 
Lamet was in our streamers article last week with starts against the Orioles and Dodgers but he might have even better matchups this week. What makes Lamet such an intriguing option is his elite strikeout ability, with Lamet generating a 29 percent K rate this season. That's amazingly on par with his career average K rate and this dude simply has some of the best stuff in the game. While his 5.09 ERA and 1.39 WHIP may scare off some fantasy owners, don't be that guy. That elite K rate paired with a 4.06 xFIP and 3.95 SIERA is much more indicative of how dangerous this dude is. 
All of that potential looks even better when you consider these superb matchups. Not only are these games both in pitcher-friendly parks, they also come against some of the most swing-happy teams in the league. In fact, Colorado ranks 23rd in K rate while Seattle sits 28th in that statistic. Not to mention, the Mariners rank bottom-10 in OBP, OPS, xSLG and xwOBA since the opening month while the Rockies sit 29th in road OPS and dead-last in road OBP. The Streamonator absolutely loves Lamet, as it has him projected to provide a 3.19 ERA, 1.07 WHIP and 11.9 K/9 rate en route to $39.4 worth of value.  
Jeff Samardzija, SF (vs. WSH, vs. PHI)
These are by no means easy matchups but it's hard to argue with The Shark getting two home starts, This dude has been much better than people give him credit for, as his 3.75 ERA and 1.15 WHIP are impressive marks. He's been even better recently, generating a 2.09 ERA and 0.85 WHIP over his last six starts. This is one of the quietest resurgences I can remember and he looks like the stud that we saw in 2014.  
This is a pitcher who's put together a nice career too, with Samardzija posting a 3.93 career xFIP, 1.25 career WHIP and 21.4 percent K rate. That's really all you can ask for from a streamer, especially when they get to pitch two games at Oracle Park. The Giants spacious stadium currently ranks as the best pitching parks in the Majors and that's evident by Shark's 3.67 ERA, 1.17 WHIP and 8.2 K/9 rate there this season.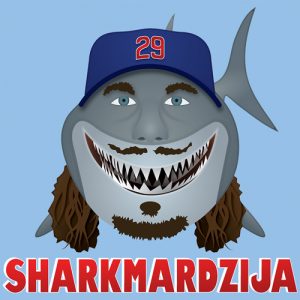 Vince 
Velasquez,
 PHI (at ARI, at SF)
I confessed my abusive relationship with Velasquez in my last article but we got through another clean week last week. We avoided any abuse mainly because he was gleeful after getting to play the outfield on Friday night! We're talking about a pitcher though and this is a guy who has a 4.14 career xFIP and 26 percent K rate. His numbers don't quite match those this season but he's been much better recently. Over his last 37 innings pitched, Velasquez is pitching to a 3.81 xFIP, 1.16 WHIP and 11.4 K/9 rate. 
That's the potential we've been waiting for and we simply have to love him in two pitcher's parks. Not only does Oracle Park rank as the best pitching park in the Majors, Chase Field sits sixth in that statistic. That's huge for Velasquez and neither of these teams are necessarily scary. Arizona currently ranks 17th in runs scored and 18th in OPS against righties while the Giants sit 27th in wOBA, 26th in runs scored, 28th in OPS and 27th in OBP.
One-Start Streamers
Brendan McKay, TB (vs. TOR)
McKay is one of the highest touted prospects in this organization and he's showing why. Let's start with his minor league numbers, with McKay pitching to a 1.15 ERA and 0.82 WHIP for his career. He also struck out 94 batters in just 70.2 innings of action and it's really no surprise he cruised to the Majors with those fantastic numbers.  That stellar form has carried over to the Rays, with McKay generating a 3.55 FIP, 1.15 WHIP and 9.1 K/9 rate so far this season.
That really makes him enticing against the Blue Jays, with Toronto sitting 20th in K rate, 21st in runs scored, 28th in OBP, 24th in OPS and 27th in wOBA. That's why we expect McKay to enter this game as a –200 favorite with the Streamonator projecting him for a 2.79 ERA, 0.97 WHIP and 10.6 K/9 rate en route to $23.8 worth of value.  
Steven Matz, NYM (vs. MIA)
Matz has had two bad starts against the Phillies and those terrible outings make his numbers look way worse than they actually are. If you take out those ugly outings, Matz has an ERA below 4.00 and a WHIP in the 1.25 range. That's all you can ask for, with Matz pitching to a 3.42 ERA and 1.18 WHIP over his last six appearances. What really adds to his intrigue this week is this matchup, with the Marlins ranking bottom-three in runs scored, OBP, OPS, xwOBA and xwOBA. That's why the Streamonator has Matz projected to provide $20.4 worth of value.  
Streamers to Consider
Ryan Yarbrough, TB (vs. TOR): All of the reasons we like McKay falls right into Yarbrough's lap. The left-hander has been superb his last eight appearances too, accruing a 1.95 ERA and 0.78 WHIP in that span. Streamonator Value = $12.7 
Mike Fiers, OAK (at CWS): Why isn't this guy above 70 percent ownership? The Oakland righty is pitching to a 2.34 ERA and 0.99 WHIP over his last 16 starts and gets to face a White Sox team who sits 25th in K rate, 28th in runs scored and 26th in xwOBA. Streamonator Value = $11.2
If you'd like to complain, comment me here or get at me on Twitter @Bartilottajoel.