There aren't many good two-start streamers this week but there are a few guys with huge upside. These are volatile pitchers in what's going to be a volatile week. We have the trade deadline approaching in the next three days and that will surely cause a lot of pissing in the wind for fantasy owners. That means it will be imperative to keep track of rotations, as things will surely get mixed around by next weekend.  
Two-Start Streamers
Dinelson
Lamet
, SD (vs. BAL, at LAD)
Lamet's ERA and WHIP are nothing to write home about but there's so much potential with this kid. The Streamonator sees this upside, as his $27.9 start against the Orioles is one of the highest projected streamers I've seen. It's really not a big surprise when you look at these peripherals, with Lamet generating a 3.96 xFIP this season and 31 percent K rate. That's not far off of his 29 percent career K rate and 4.17 career xFIP and it's clear this dude has all the talent in the world.  
While the Dodgers start is obviously scary, this Baltimore start limits some of that risk. In fact, the Orioles currently rank 22nd in K rate, 25th in runs scored, 26th in OBP, 25th in OPS and 29th in xwOBA. Getting two starts in pitcher's parks is a huge bonus too and that should limit any blow-up potential.   
Vince Velasquez, PHI (vs. SF, vs. CWS)
God, why can't I get this guy out of my head? This is just one of those pitchers that I've never been able to shake and he keeps me coming back for more. While it's been an abusive relationship up until this point, I absolutely love him this week. The reason for that is because of these matchups, as he gets two cupcake lineups at home. In fact, he faces a Giants team who ranks 23rd in runs scored, 28th in OPS, and 27th in wOBA and a White Sox Club who sits 28th in runs scored, 25th in OPS, 24th in K rate and 25th in xwOBA.  
Those phenomenal matchups are perfect for a volatile pitcher like Velasquez, who's shown signs of brilliance throughout his career. We're still talking about a 27-year-old with nasty stuff and that's evident by his 26 percent career K rate, 3.99 SIERA and 4.13 xFIP. Not to mention, Velasquez is coming off the best start of the season, pitching 5,2 scoreless innings while striking out nine batters against the Tigers.  
Also consider Reynaldo Lopez. The talented righty as an unsightly ERA and WHIP but has looked much better recently and has seen an uptick in his velocity. He'll face the Mets and Phillies this week. 
One-Start 
Streamers
Griffin Canning/Jose Suarez, LAA (vs. DET)
Let's get both of these talented pitchers in there in what's become the best matchup in baseball. Let's start with these tame Tigers, as they currently find themselves at the bottom of nearly every offensive category. In fact, the Motor City Kitties currently rank 29th in K rate, OPS, wOBA and xwOBA while sitting dead-last in runs scored and OBP. Those are horrifying statistics from a proud franchise and this lineup could get even worse after the trade deadline. 
It's not like these streamers are bums either, with both of these guys showing signs of excellence this season. Canning is the guy that we really love, as a recent slump has made him widely available. Despite struggling in his last three starts, Canning actually pitched to a 3.79 ERA and 0.99 WHIP across his first 10 starts while providing a 26 percent K rate. Suarez is a much riskier option but his 4,46 SIERA and 26 percent K rate make him viable in such a tasty matchup. The Streamonator loves both of these guys, projecting Canning for $27.3 worth of value and Suarez at $14.8.  
Jakob 
Junis
, KC (vs. TOR)
Junis regularly gets high ratings in the Streamonator and it's easy to see why when looking at his recent results. Over his last four games, Junis is pitching to a 3.12 ERA and 1.19 WHIP while striking out 28 batters across 26 innings of action. He's also pitched at least six innings in 10 of his last 13 starts too, as he's really become an innings eater for this club.  
What makes him an attractive option this week is the matchup against Toronto, with the Blue Jays ranking 20th in K rate, 27th in runs scored, 28th in OBP, 27th in OPS and 26th in wOBA. That's why the Streamonator has Junis projected to strike out 6.6 batters in this game en route to $17 worth of value.   
Michael Pineda, MIN (at MIA)
Please guys, get this dude above 80 percent ownership. He's been way too good to remain in my articles and it's all your fault. Once he reaches that 80 percent threshold, he will no longer be here. Part of it probably has to do with people checking out from their leagues, because Pineda has been superb for two months now. In fact, Pineda has allowed three runs or fewer in 14 of his last 15 starts while pitching at least five innings in each of them. That equates to a 3.62 ERA and 1.07 WHIP in that span while generating an 8.6 K/9 rate.  
That's really no surprise when you consider the fact that Pineda has a 3.49 career xFIP, as this dude is simply one of the most underrated arms in the game. Facing Miami is simply the icing on the cake, with the Marlins ranking bottom-three in runs scored, OBP, SLG, OPS, wOBA and xwOBA. The Streamonator agrees, as it has Pineda projected to provide $20.2 worth of value in this start. This has been one of the best streamers of the season and it's time for you guys to pick him up!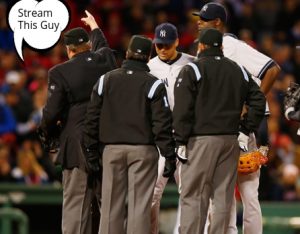 If you want to let me know how bad I am at this or want to tell me how much you love my work, comment me here or reach me on Twitter @Bartilottajoel.