The Fantasy Baseball Hall of Fame in conjunction with Razzball.com, are electing the All-Star teams of the Fantasy Era. For every season from 1980 to today full 23 man rosters will be created and analyzed. In the second installment the 1992 through 1994 seasons are identified.
Year: 1992
First Time All Stars: 10 – Roberto Alomar, Carlos Baerga, Brady Anderson, Darren Daulton, Travis Fryman, Marquis Grissom, Doug Jones, Dennis Martinez, Curt Schilling, Gary Sheffield
3 Time All Stars: 6 – Barry Bonds, Joe Carter, David Cone, Dennis Eckersley, Greg Maddux, Mickey Tettleton, Kirby Puckett
5 Time All Stars: 3 – Roger Clemens, Paul Molitor, Ryne Sandberg
10 Time All Stars: None
Future FBHOF'ers: 11 – Alomar, Bonds, Clemens, Cone, Greg Maddux, Frank Thomas
Snubs: 2 – Terry Pendleton (11.4), Ray Lankford (11.2)
16 Pt Season: None
The finest All-Star teams were assembled in the late 1990's, coinciding exactly with the period of off the charts offensive levels and thanks to the ability a handful of great pitchers who were able to maintain their own production levels despite this increase. While the early 1990's featured some of the worst all star squads, several key greats made their first appearances in this timeframe. Roberto Alomar, Albert Belle, Jeff Bagwell, Barry Bonds, Ken Griffey Jr., Randy Johnson, Greg Maddux, Mike Piazza, Sammy Sosa, Curt Schilling, Gary Sheffield, and Frank Thomas each made their first all star team between 1990-1993.
This wasn't much of a help in 1992. In only a few rare cases in baseball history do players have their best season the first time they're considered great, rather, they start good, become great, level off to good again and then retire. So while the 1992 team may be riddled with all-star names, they hadn't quite reached superstar status yet. In fact, the 1992 team is the second worst on record.
Their two defining qualities were the catchers and relief corps – which happen to be the two least important aspects of any fantasy team. Darren Daulton and Mickey Tettleton were power hitting backstops, averaging 29 HR, 96 RBI, and 81 R between them. Daulton even threw in 11 stolen bases for good measure. The two were good enough to be ranked 2nd best among all star teams that didn't feature Mike Piazza.
No closer had an ERA above 2.00 and Doug Jones, Dennis Eckersley, and Duane Ward combined to strike out nearly 300 batters.
The Toronto Blue Jays, led by fantasy All Stars Roberto Alomar, Joe Carter, and Ward bested the Atlanta Braves 4 games to 2 in the World Series.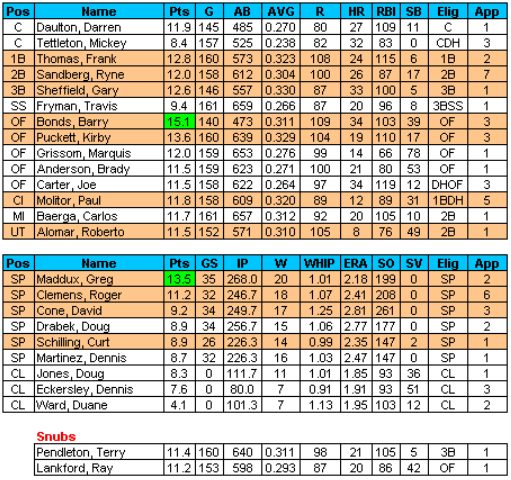 Positional Ranking Among the 28 Teams
C: 6th
IF: 26th
OF: 19th
SP: 28th
RP: 9th
Overall: 27th
Year: 1993
First Time All Stars: 11 – Kevin Appier, Rod Beck, Albert Belle, Juan Gonzalez, Ken Griffey Jr, Randy Johnson, Jeff Montgomery, Rafael Palmeiro, Mike Piazza, Billy Swift, John Wetteland
3 Time All Stars: 4 –Barry Bonds, Greg Maddux, Ron Gant, Frank Thomas
5 Time All Stars: 1 – Paul Molitor
10 Time All Stars: None
Future FBHOF'ers: 9 – Roberto Alomar, Belle, Bonds, Griffey, Johnson, Maddux, Molitor, Piazza, Thomas
Snubs: Marquis Grissom (11.7), Lenny Dykstra (11.7)
16 Pt Season: Bonds (17.0)
After a long hiatus of ten consecutive well below average teams, the All-Stars of 1993 finally cracked the Top 15. This was not a great team, but after finishing 27th the year before, their 11th place finish was quite remarkable.
The key areas of improvement were in the outfield and starting pitcher positions. Barry Bonds was the best player in fantasy baseball, amassing 17.0 FBHOF points, the first exceptional fantasy season since 1988 when Jose Canseco recorded 18.3 points. Bonds combined power, speed, and a high average as only a select few have done before – .336 AVG, 129 R, 46 HR, 123 RBI, 29 SB. Joining him in the outfield were Ken Griffey Jr, Juan Gonzalez, Albert Belle, and Ron Gant who between them averaged 106 R, 41 HR, 118 RBI, and 18 SB.
While the outfield improved considerably, it was nothing compared to how much better the 1993 pitchers were over their predecessors. They rank 11th, a 17 slot improvement, due to the fact five pitchers scored 11 or more FBHOF Points. Compare this to 1992 when just 2 accomplished the feat. Fantasy Baseball Hall of Famer's Greg Maddux (20 W, 2.36 ERA) and Randy Johnson (19 W, 308 K) led the charge with 14.5 and 13.9 FBHOF points respectively. While not great names, Jose Rijo, Kevin Appier, and Bill Swift all had great seasons with a combined average 18 W, 1.09 WHIP, 2.62 ERA.
FBHOF'er catcher Mike Piazza made his first in a string of ten consecutive All-Star appearances in 1993, beginning a stretch of greatness unparalleled in fantasy baseball. No player has dominated his position like Piazza. The only catcher elected to the FBHOF, Piazza has the best three year positional score in the history of fantasy baseball. The official FBHOF score is comprised of two data points – scoring against the peers at a player's position, and a scoring against all players. Looking solely at the positional component: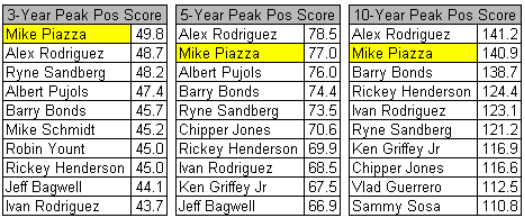 Piazza ranks first in 3-year peak and second in 5 and 10 year peak scores.
The 1993 World Series featured the famous Joe Carter walk-off home run to lead the Blue Jays past the Phillies in 6 games.  Roberto Alomar and Paul Molitor represented Toronto, and Darren Daulton Philadelphia.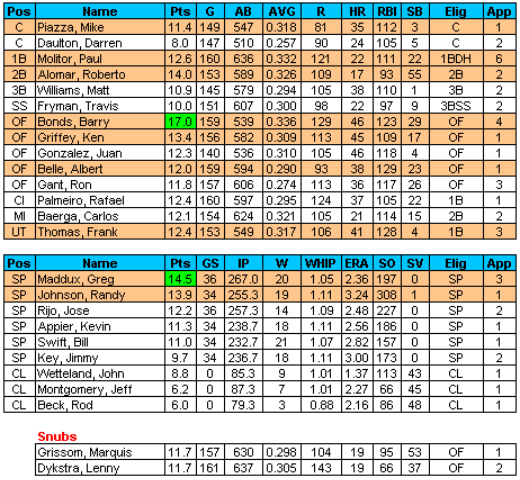 Positional Ranking Among the 28 Teams
C: 14th
IF: 20th
OF: 13th
SP: 11th
RP: 7th
Overall: 11th
Year: 1994
First Time All Stars: 6 – Jeff Bagwell, Dante Bichette, Jeff Brantley, Trevor Hoffman, Kenny Lofton, Ivan Rodriguez
3 Time All Stars: 7 – Carlos Baerga, David Cone, Doug Drabek, Greg Maddux, Frank Thomas, Bret Saberhagen, Matt Williams
5 Time All Stars: 3 – Barry Bonds, Roger Clemens, Cal Ripken
10 Time All Stars: None
Future FBHOF'ers: 13 – Bagwell, Craig Biggio, Bonds, Albert Belle, Clemens, Cone, Ken Griffey Jr, Randy Jonson, Maddux, Mike Piazza, Saberhagen, Thomas, Ripken,
Snubs: Jose Canseco (11.3, 2nd Snub), Paul Molitor (11.2), Kirby Puckett (11.1, 2nd Snub)
16 Pt Season: Maddux (18.8), Bagwell (17.6)
Two aspects of the 1994 team stand out – no other season featured two players to reach 17+ FBHOF points, and this was one hell of an outfield. The outfielders collectively rank second, behind only the 1981 team which featured four players with 14 or more points. Three players reached 14 this year – Albert Belle (36 HR, .357 AVG, 101 RBI), Ken Griffey Jr (40 HR), and Barry Bonds (37 HR, 29 SB). Keeping in mind that nearly 30% of the season was lost due to the strike, these numbers are impressive.
The best offensive player of the season was Jeff Bagwell. He batted .368 with 104 R, 39 HR, 116 RBI, and 15 SB en route to 17.6 FBHOF points – 5th best all time and tops among first basemen. It was his first year as an all star and he would eventually be elected to three more All-Star squads.
The premier player of 1994, regardless of position, was Greg Maddux who turned in the best season in fantasy history, recording 18.8 points. Using funny math and adding back the missing 30% of the season due to the strike, we arrive at a line of 21 W, 0.90 WHIP, 1.56 ERA, and 203 K. Complete domination.
Unlike the great seasons of Pedro Martinez and Randy Johnson that would soon be upon the fantasy community, Maddux was the only pitcher of his time to be 50% better than his closest competition. This is reflected in the FBHOF scoring system. The table below depicts the elite pitching seasons of the fantasy era along with the scoring of the next best pitcher of the year: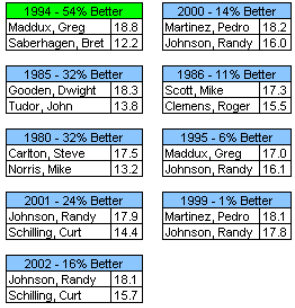 Maddux had no equals.  Later in the 1990s, it was a constant battle between Maddux, Randy Johnson, and Pedro Martinez.  In 1994 Maddux stood alone atop the pitching community.
Several new All-Stars of 1994 would go on to have great careers: Ivan Rodriguez (6 ASP), Trevor Hoffman (5 ASP), Craig Biggio (4 ASP), and Dante Bichette (3 ASP).  Three 3-time all stars made their last appearance this year as well – Carlos Baerga, Doug Drabek, and Matt Williams.
In one of the biggest mistakes in baseball history, the 1994 World Series was canceled due to labor strife.
Positional Ranking Among the 28 Teams
C: 15th
IF: 25th
OF: 2nd
SP: 10th
RP: 28th
Overall: 17th