The Fantasy Baseball Hall of Fame in conjunction with Razzball.com, are electing the All-Star teams of the Fantasy Era. For every season from 1980 to today full 23 man rosters will be created and analyzed. In the second installment the 1995 through 1997 seasons are identified.
Year: 1995
First Time All Stars: 11 – Edgar Martinez, Jose Mesa, Mike Mussina, Hideo Nomo, Tim Salmon, Pete Schourek, Sammy Sosa, Mike Stanley, Jon Valentin, Mo Vaughn, Mark Wohlers
5 Time All Stars: 4 – Barry Bonds, David Cone, Greg Maddux, Frank Thomas
10 Time All Stars: None
Future FBHOF'ers: 9 – Albert Belle, Craig Biggio, Bonds, Cone, Randy Johnson, Maddux, Mike Piazza, Sosa, Thomas,
Snubs: 2 – Chuck Knoblauch (11.9), Reggie Sanders (11.7)
16 Pt Season: 1 – Maddux (17.3)
1995 was the calm before the storm. This team was ranked 14th overall and the All-Stars would soon head into a stretch of four consecutive Top 10 teams, finishing with the best three of all time.
With the exception of relief pitching, all other positions were ranked between 8th and 16th making the team about average in total. For every Mike Piazza (12.6 FBHOF points) there seemed to be a Mike Stanley (5.9 FBHOF points) to counterbalance the team more towards mediocrity. Greg Maddux had an incredible year (17 FBHOF Points, 19 W, 0.81 WHIP, 1.63 ERA) but his All-Star teammate David Cone managed just 9.2 FBHOF points.
One important aspect of 1995 stands out though. Not only was Maddux great, but for the first time in the fantasy era there were two 16 point pitchers in the same year. Joining Maddux is #2 starter Randy Johnson who tossed 214 innings with a 1.05 WHIP and 2.48 ERA, winning 18 and striking out 294.
On offense, Albert Belle and Dante Bichette led the way with 15+ FBHOF point seasons and hitting 90 HR and 254 RBI combined.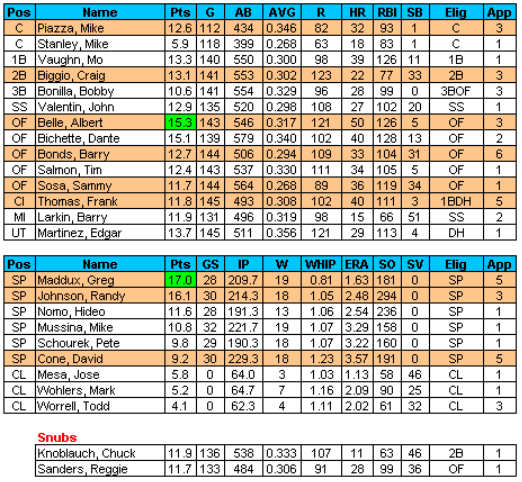 Positional Ranking Among the 28 Teams
C: 16th
IF: 12th
OF: 11th
SP: 8th
RP: 27th
Overall: 14th
Year: 1996
First Time All Stars: 11 – Kevin Brown, Ellis Burks, Ken Caminiti, Jeff Fassero, Pat Hentgen, Chipper Jones, Chuck Knoblauch, Robb Nen, Alex Rodriguez, Mel Rojas, John Smoltz
3 Time All Stars: 4 – Albert Belle, Dante Bichette, Ken Griffey Jr, Mike Piazza
5 Time All Stars: 2 – Barry Bonds, Greg Maddux
10 Time All Stars: None
Future FBHOF'ers: 9 – Belle, Bonds, Brown, Griffey Jr, Jones, Maddux, Piazza, Rodriguez, Smoltz
Snubs: 3 – Brady Anderson (11.7), Gary Sheffield (11.6), Frank Thomas (11.5)
16 Pt Season: 2 – John Smoltz (16.8), Ellis Burks (16.2)
Due to the strength of their potent offense, the 1996 All Stars rank 7th overall. The infield was very good (7th) with only the 2nd catcher Ivan Rodriguez failing to score 10 FBHOF points. First Basemen Andres Galarraga hit 47 HR and drove in 150; Second Basemen Chuck Knoblauch batted .341 with 140 R; Third Basemen Ken Caminiti hit 40 HR; and future FBHOF'er Alex Rodriguez made his first All-Star appearance batting .358 with 141 R, 36 HR, 123 RBI, and 15 SB as the starting shortstop. Other FBHOF'ers making their first all star appearances were Chipper Jones, John Smoltz, and Kevin Brown.
Smoltz was the best player on the team with 16.8 FBHOF points after putting up career highs in Wins, WHIP, ERA, and strikeouts. Ellis Burks' season was the best ever for a non Fantasy Baseball Hall of Famer, he went: .344 AVG, 142 R, 40 HR, 128 RBI, 32 SB for 16.2 FBHOF points.
The outfield, led by Burks, was stellar, finishing 5th overall. Barry Bonds had a 40/40 season and a .300 batting average; Albert Belle hit 48 HR and almost reached 150 RBI; Kenny Lofton stole 75 bases with 132 runs and a batting average well over .300; and Ken Griffey Jr. had one of his best years going 125 / 49 / 140.
Multiple time All Stars Bichette, Lofton, Hideo Nomo, Mo Vaughn made their last All Star appearances in 1996.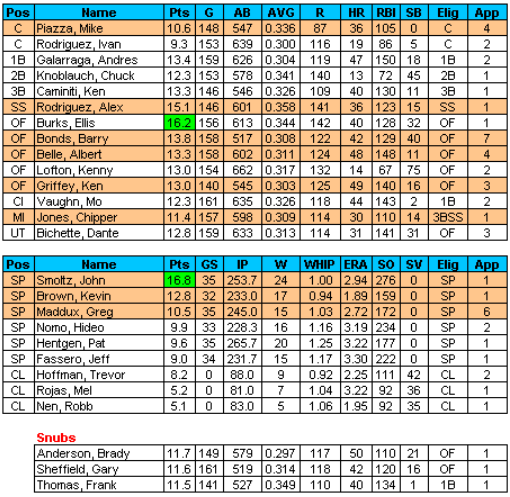 Positional Ranking Among the 28 Teams
C: 12th
IF: 7th
OF: 5th
SP: 18th
RP: 18th
Overall: 7th
Year: 1997
First Time All Stars: 6 – Nomar Garciaparra, Darryl Kile, Pedro Martinez, Raul Mondesi, Jeff Shaw, Larry Walker
3 Time All Stars: 6 – Craig Biggio, Andres Galarraga, Ken Griffey Jr, Trevor Hoffman, Ivan Rodriguez, Randy Jonson
5 Time All Stars: 5 – Barry Bonds, Roger Clemens, Greg Maddux, Mike Piazza, Frank Thomas
10 Time All Stars: None
Future FBHOF'ers: 14 – Jeff Bagwell, Biggio, Bonds, Clemens, Griffey, Johnson, Chipper Jones, Maddux, Martinez, Piazza, Alex Rodriguez, Curt Schilling, Thomas, Walker
Snubs: Vinny Castilla (11.2), Tino Martinez (10.2)
16 Pt Season: 2 – Larry Walker (19.4), Roger Clemens (16.2)
Never in the history of fantasy baseball has such a collection of talent been assembled. This team has it all:
.350+ AVG: Tony Gwynn, Mike Piazza, Larry Walker
50+ HR: Ken Griffey Jr
140+ R: Craig Biggio, Walker
140+ RBI: Andres Galarraga, Griffey
20+ W: Roger Clemens, Randy Johnson
Sub-1.00 WHIP: Greg Maddux, Pedro Martinez
Sub-2.00 ERA: Martinez
300+ K: Curt Schilling, Martinez
40+ S: Jeff Shaw
The only missing attribute was a preeminent base stealer, though six players did have 25 or more, capped off by Biggio's 47.
This team was also second to none in terms of elite seasons. A record five players recorded FBHOF scores of 15 or better:

The crown jewel of the '97 All Stars is Walker, who amassed more FBHOF points in a single season than any other batter in fantasy history. Walker was good enough to lead the league in On Base percentage, Slugging Percentage, OPS, Total Bases, Home Runs, Runs Created, Extra Base Hits and several other Sabermetric minded stats like Offensive Winning Percentage and Adjusted Batting Runs. He was also Top-Three in Runs, Hits, Doubles, and RBI. It was an all around masterful season and I for one can't wait to see how it stacks up against the greats of earlier decades (hint hint about future FBHOF developments).
Frank Thomas and Galarraga appeared on their last All Star roster and welcomed newcomers Nomar Garciaparra, Darryl Kile, Martinez, and Walker.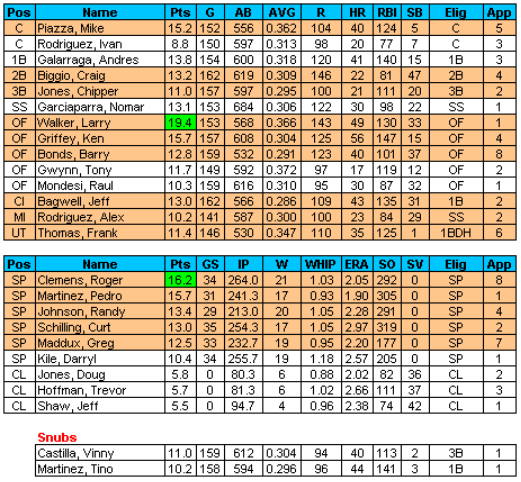 Positional Ranking Among the 28 Teams
C: 2nd
IF: 14th
OF: 4th
SP: 1st
RP: 22nd
Overall: 1st