The inaugural inductions to the Fantasy Baseball Hall of Fame are now complete.  In all, 43 players were enshrined and many of them, no doubt, were childhood heroes for a good percentage of the Razzball.com readership.  Fantasy baseball is largely about having a good time and it makes sense to take a step back from time to time and make sure we aren't taking ourselves too seriously.  Remembering great players and great seasons should be about memories above all else.  I hope it has been.
At the end of each year FBHOF.com will scour through the latest batch of stats to see if any others deserve to be remembered in this manner as well.  However, one may view the actual inductions as a relatively minor part of what FBHOF is all about.  Anything 'great' is eligible for discussion and if there is anything you would like to see, please drop me a line.
In this vein, the next topic to explore is the Fantasy All Stars from each season.  In the coming weeks we'll construct the best 23 players from each season and elect them to an "All Star" team – keeping track of trends, snubs, and eyeing the great seasons of each year.  When we through with each of the 28 teams I hope to crown a champion based upon the results of an extremely popular online historical baseball simulation.  More on this later as the details are ironed out.
All Star roster construction will be determined by FBHOF Score with a keen eye towards positional requirements.  The standard Fantasy team requires:
2 Catchers,
1 First Basemen,
1 Second Basemen,
1 Third Basemen
1 Shortstop
5 Outfielders
1 Middle Infielder
1 Corner Infielder
1 Utility
6 Starting Pitchers
3 Closers
Our All-Star squads will strictly adhere to the above.  This means each year several players, batters mostly, will be in among the top scorers but not elected due to positional requirements.   Interestingly, one player has been snubbed more than any other and his FBHOF situation parallels his real life career where he may find himself on the outside looking to the Cooperstown Hall of Fame.
Year: 1980
First Time All Stars: All
3 Time All Stars: N/A
5 Time All Stars: N/A
10 Time All Stars: N/A
Future FBHOF'ers: 5 – Steve Carlton, Rickey Henderson, Eddie Murray, Mike Schmidt, Robin Yount
Snubs: Tony Armas Jr. (10.4), Al Bumbry (10.2), Andre Dawson (10.4), Keith Hernandez (11.2)
16 Pt Seasons: 1 – Carlton (17.5)
The inaugural season of the Fantasy Era wasn't exactly a banner year for the few die hard Rotisserie players of the day.  Sure, with Mike Schmidt, Robin Yount, Reggie Jackson, Rickey Henderson, George Brett, Eddie Murray, and Steve Carlton on the roster there was plenty of superstar talent to spread around, but what was lacking in 1980 was superstar statistics.
I tabulated team points for each season based upon the All Star's FBHOF Score, and further delineated each team into Catchers, Infielders, Outfielders, Starting Pitchers, and Relief Pitchers.   For the 1980 team only catchers scored above average, and just barely, with a ranking of 13th out of 28 teams.  The balance ranked between 18th and 24th, with an overall ranking of just 26th.
Among batters, first basemen Cecil Cooper scored the most points (14.5) by batting .352 with 96 R, 25 HR, 122 RBI, and 17 SB.  This was good, but by no means great even when considering the low offensive era of the early 1980's.  Schmidt and Brett scored over 14 themselves but infielders Willie Randolph and Alan Trammel were black holes totaling just 16 points between them.
Perhaps the lone bright spot was a gem of season by Steve Carlton who won 24 games, struck out 286 batters, and held his ERA under 2.50.  #2 starter Mike Norris had his career year as well (22 W, 1.05 WHIP, 2.53 ERA, 180 K) scoring 13.2 points.
The Philadelphia Phillies took home the World Series title in 1980, besting the Kansas City Royals in 6 games.  FBHOF'ers Schmidt and Carlton were the Phillies representatives to this All Star team.
Positional Ranking Among the 28 Teams
C: 13th
IF: 18th
OF: 24th
SP: 24th
RP: 20th
Overall: 26th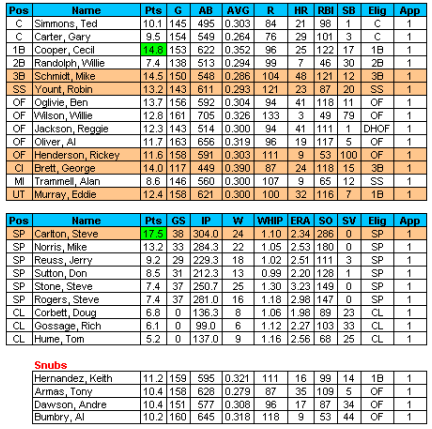 Year: 1981
First Time All Stars: 11.  It is just the second year where there was an all star game, so we'll not list all 11.
3 Time All Stars: N/A
5 Time All Stars: N/A
10 Time All Stars: N/A
Future FBHOF'ers: 7 – Carlton, Andre Dawson, Henderson, Murray, Tim Raines, Schmidt, Yount, Fernando Valenzuela
Snubs: Tony Armas (2nd time, 10.7), George Hendrick (11.1), Carney Lansford (11.2), Gary Mathews (10.7), Mario Soto (8.8)
16 Pt Season: 1 – Schmidt (18.8)
This was a great team, though a caveat needs to be made since it was a strike season.  Is it likely that Schmidt would have finished with 18.8 FBHOF Points given another 60 games to work with?  No probably not, and the same can be said for any player enjoying a great 1st half – the odds of a hot start continuing diminish each day as season progresses.  At the same time though, I am sure many a great 2nd half never saw the light of day which could be argued held scoring down, at least in some instances.
The key to the 1981 squad was its outfield, a truly superb group of starting five, three of which were future FBHOF'ers.  In addition, Dwight Evans, George Foster, and Tom Paciorek were all excellent and provided enough points to rank this outfield first overall thanks to an average score of 14.3, best of all time among not just outfielders, but any positional grouping.
In the infield, Schmidt's historic season made up for mediocre (by All Star standards) years from middle infielders Robin Yount and Dave Concepcion.  Starting pitching was a bit top heavy though Fernando Valenzuela and Carlton made a formidable #1 and #2.
Rollie Fingers led a dominant relief corps, enjoying one of the few double digit seasons recorded by a reliever.  The 1981 team ranks 5th overall, a vast improvement from their predecessors.
Only 1 player, future FBHOF'er Fernando Venezuela, came from the World Champion Los Angeles Dodgers.  Valenzuela, a 20 year old rookie won 13 of 25 starts and led the league in strikeouts, Innings, Shutouts, and Complete Games.  For fantasy purposes, his 1.05 WHIP was 2nd in the league.
Positional Ranking Among the 28 Teams
C: 23rd
IF: 16th
OF: 1st
SP: 15th
RP: 3rd
Overall: 5th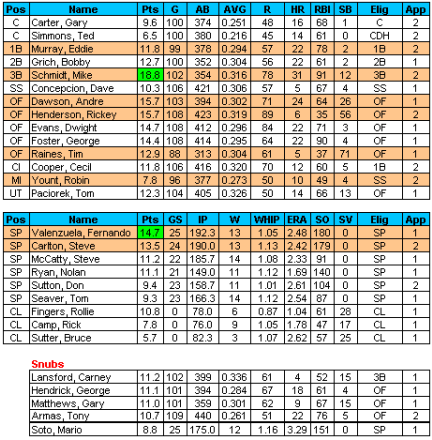 Year: 1982
First Time All Stars: 10 – Joaquin Andujar, Bill Caudill, Damaso Garcia, Hal McRae, Greg Minton, Joe Niekro, Lance Parrish, Dan Quisenberry, Cal Ripken, Lonnie Smith, Mario Soto,
3 Time All Stars: 6 – Carlton, Cooper, Gary Carter, Henderson, Murray, Yount.
5 Time All Stars: N/A
10 Time All Stars: N/A
Future FBHOF'ers: Carlton, Dawson, Henderson, Paul Molitor, Dale Murphy, Murray, Cal Ripken, Yount, Valenzuela.
Snubs: Bill Buckner (10.9), Pedro Guerrero (11.8) Al Oliver (11.9)
16 Pt Season: 1 – Yount
Two aspects of this team stand out – the starting pitching was very strong and the outfield was deep, perhaps too deep.  Here we find the first instance where all 6 starting pitchers scored 10 or more points, a feat matched only 5 other times.  They rank just 9th since Steve Carlton was the only elite pitcher during the year, but Rogers and Soto more then held their own, combining for a 33 wins and an ERA of 2.63.
Al Oliver and Guerrero combined for 23.7 points giving them the dubious record for the best jilted players in a single season.  Very little separated these two from most of the other outfield crew – Lonnie Smith, Andre Dawson, Dwight Evans, and Hal McRae averaged 12.2 points to the snubs 11.9.  This wasn't a positive though, collectively the All Star outfielders rank 23rd mostly due to a lack of a dominant season.
The best season of the year belonged to the shortstop, Robin Yount, who was appearing on his 3rd consecutive All-Star team.  Yount was an all around stud in 1982 – .331 AVG, 129 R, 29 HR, 114 RBI, 14 SB.  Damaso Garcia and future FBHOF'er Cal Ripken made their All-Star debuts with relatively low scores to round out he middle infielders.  FBHOF'ers Paul Molitor and Dale Murphy also made their first All Star appearances in 1982.
Joaquin Andujar (15 W, 2.47 ERA) and Smith were the two elections from the St. Louis Cardinals, who bested the American League's Milwaukee Brewers 4 games to 3 in the World Classic.
Positional Ranking Among the 28 Teams
C: 8th
IF: 19th
OF: 23rd
SP: 9th
RP: 4th
Overall: 12th