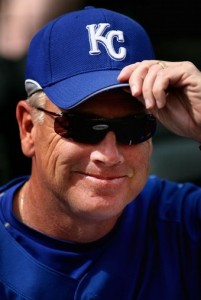 Fantasy baseball fans and bloggers (ourselves included) sometimes fail to appreciate the human toll that baseball takes on its participants.  They are not just statistics, commodities, and tabloid stories.  They are flesh and blood.
Joe Torre and SI's Tom Verducci recently penned 'The Yankee Years', a book that provided a glimpse into the challenges that a manager on a high-profile team must endure – the pressure to succeed, the delicate balance of egos, the difficulties in finding relievers that can pitch 120 games a year and still perform in the postseason, etc.
The career paths of Buddy Bell and Joe Torre had many parallels.  Both followed up 18-year playing careers with some unsuccessful coaching stints (Torre @ NYM + ATL + STL, Buddy @ DET + COL, ) before surprisingly being tapped for the coaching job in which they are most synonymous:  Torre with the Yankees and Bell with the Royals.
Perhaps, then, it is only fitting that Buddy Bell is releasing his first book only a couple months after Joe Torre released his book.  We enjoy learning from coaches – see Tony LaRussa – and were overjoyed to receive an advanced copy of Bell's memoir on his time with the Kansas City Royals (2005-2007).
Following are excerpts from 'The Royal Years' By Buddy Bell and SI (and formerly Kansas City Star) journalist Joe Posnanski:
Dealing with player egos:
Every player on the roster has a different personality and a manager needs to be able to push the right buttons.  In 2006 Spring Training, our star outfielder Emil Brown was coming off a monster season (17 HR / 86 RBI ) and felt a sense of entitlement over some of the other players.  I brought him into my office and told him, "You may be the best outfielder on the Royals but I can think of 29 major league teams and several AAA squads that wouldn't sign you off waivers if we dropped you."  He found his edge and had another blockbuster season for us (15 HR / 81 RBI)…….We had a tight squad in 2005.  A team that wasn't built around stars.  But everything changed when ownership made a big splash in the free agent market and signed Doug Mientkiewicz and Reggie Sanders.  Mientkiewicz, in particular, created a strain in the clubhouse with his 2004 championship ring (from the Red Sox) and expectation of winning.  He just rubbed guys the wrong way and it became progressively worse as he tried to ingratiate himself.  The guys in the clubhouse started calling him 'Make-a-Wish' because he always insisted on buying rounds of drinks or paying for dinners and the players felt he was doing it out of pity…
Battling with GMs/front office:
I had been hired by Allard Baird and I always knew where he stood.  If we had a blue-chip outfielder that we weren't sure we could afford to sign, I knew Billy Beane would take him out for ribs and get him to accept a crappy shortstop in return (see Damon and Dye trades).  But I never had that same chemistry with Dayton Moore.  From the first time we met and I accidentally called him Dinty, I felt he never trusted me.  He'd send me notes throughout games like "Is Mike Sweeney sitting on the specially designed ergonomic clubhouse seat?" or "Can you go to the bullpen and see if Zack is okay?"….I remember in June 2007 when we were already out of the playoff race and ticket sales were down so the board decided on a 5% layoff in every division.  Next thing I know, our '25-man roster' was cut to 24 men and Dayton came down to the clubhouse and was giving a pep talk about "doing more with less" and "try to use less pitchers per game so we can keep the water bill down".
Managing relationship with a difficult owner (ex-Walmart CEO David Glass):
I had our training staff take a look at a sore neck I developed from watching our pitching staff in action and they wrote me a bill saying that I wasn't covered under the team's health insurance plan.  I marched into The Boss's office and asked whether this was a mistake and he told me, "Buddy, I think you're a great manager but I've managed plenty of managers over at Wal*Mart.  These guys worked 60 hours a week, 52 weeks a year.  You work only a little more than 6 months a year.  If I start giving you health insurance, all the part-time employees are going to want health insurance.  You know how much it would cost to provide health insurance to all the peanut slingers and grounds crew we employ?"  Sometimes there was no getting through to him……When I went in at the end of 2007, I told Dayton, "Look, this was a tough year.  This isn't about the money.  I can't go through another year as a lame duck.  Just tell David to give me a two year contract but I'll probably be committed to a psyche ward after the first year."  But when I got into the meeting, they came back with a 1 year offer at minimum wage with incentives based on overtime and time-and-a-half on weekends.  I was flabbergasted.  I mentioned how demeaning it would be for a major league coach to accept an hourly wage – let alone minimum wage – and David replied, "You said it wasn't about the money."  I suppose he had me there but at least they could've offered the 2nd year!