I believe an overlooked part of draft/auction strategy is finding pools of players that are consistently undervalued. This fits best with a "maximize value" draft strategy, the goal being to add the maximum value onto your team as possible. It can be combined with a "get your guys" strategy, but this analysis is player agnostic.
To do this, I've taken to preparing for drafts by analyzing how the market (ADP) prices various fantasy assets as compared to projections. The process:
Take the last 3 year's worth of  data

ADP data from NFBC
Projected $ value from my home league
Translate ADP to $ value by assigning the top player my top $ value, descending (this removes bias from my valuation methodology)

Break the pool up into various buckets of players
Graph the descending values against each other
These value curves provide us a look into how the market prices pools of players, and help us plan how to allocate resources.
Starting Pitchers
An example will help clarify – here's the value curve for Starting Pitchers:
Places on the curve where the Projected $ line (purple) lands above the ADP $ line (green) indicate a bargain – you can acquire these pitchers for cheaper than their projected $ value. On the flip side, when the green/ADP line sits on top, the market forces you to pay a premium. A few takeaways:
The SP market has very few "weak" spots to get deals
By this measure, the top 5 SP, on average, are the the best bargains you'll find in the entire draft

Top SP always project out highly. For arguments not to draft these pitchers, read any article Grey writes

The entire 2nd/3rd tier of SP are overvalued by this methodology

If you're buying in the SP6-SP36 range, you should be happy just to break even with projected value – don't expect any big bargains

Everything in the SP4+ range is appropriately priced
This doesn't mean individual players won't break the mold above, but in general, you should expect bargains at the top, an overpriced middle, and to break-even at the back end of your rotation.
Relief Pitchers
What about the other pitchers we deal with – Relievers?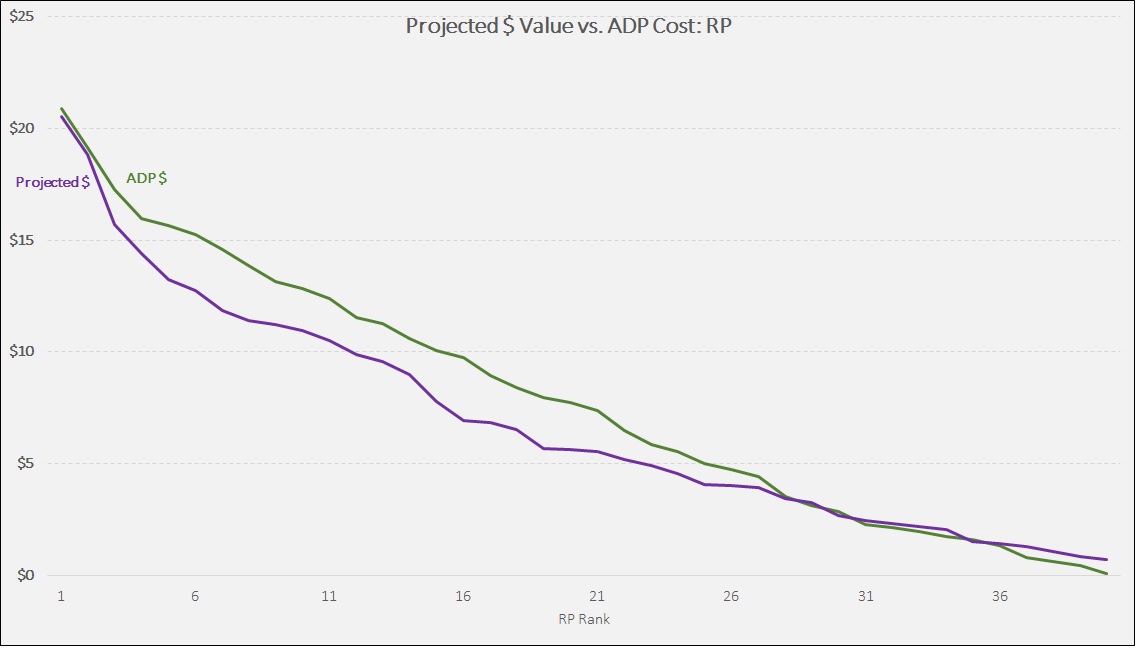 No big surprises here. Generally speaking, we know that closers are "overvalued" compared to projections. Any smart projection discounts saves totals to balance the odds of losing the role; but, all fantasy owners are trying to grab 2-3 of the guys who have the job today.
You may be able to break even in value by grabbing a top 2 closer; ask Edwin Diaz owners how that worked out last year
Pretty much everyone else with a solid hold of the job is going to cost an extra $2-4 than they "should"
Taking fliers on cheap closers/setup men is usually a good value strategy…
But in a shortened season, there's minimal time available for jobs to turn over. I would expect even MORE of a premium here in July
Hitters
We know that overpricing needs to be balanced out by bargains (fixed total $ value in the pool). If SP & RP have significant premiums through much of the curves, where are the corresponding bargains? Here's the Hitter Value Curve: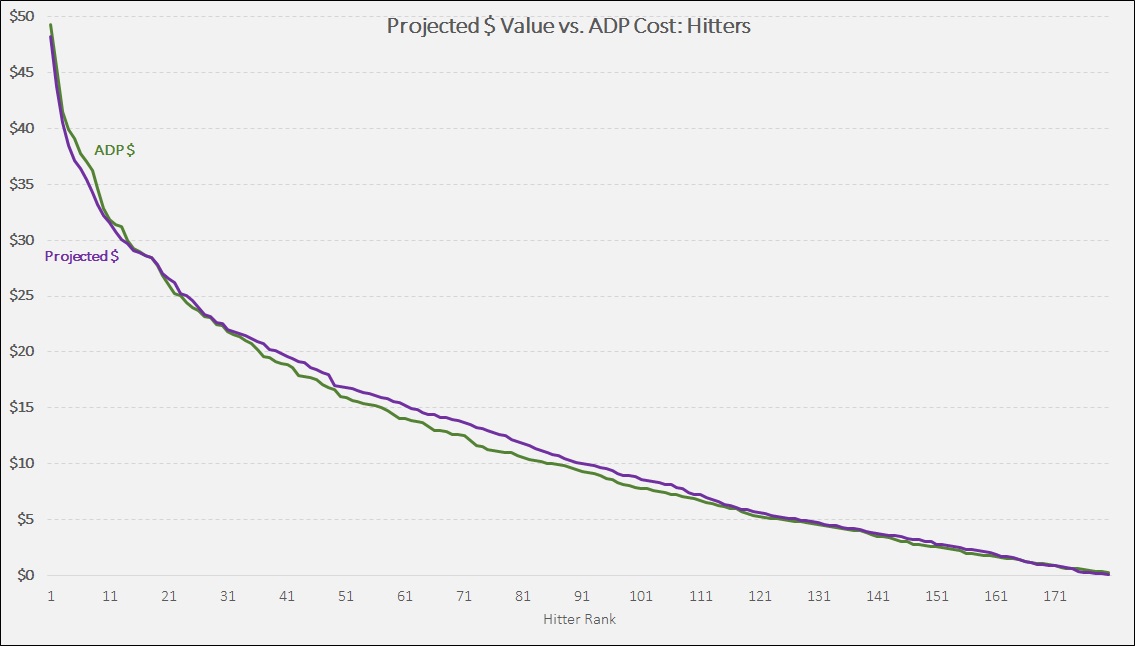 And there's our bargains.
The close mapping at the very top just indicates that there's consensus between projected $ value & ADP – the top players are the top players
From about #5-#30, few deals should be expected. Be happy paying full price for a few studs.
Starting at hitter #30, and through ~110, you should expect to find some bargains

In general, this is the middle class of hitters, roughly the $8-$22 range
If you like to draft with a "spread the risk" strategy, you'll be maximizing value through this portion

Late hitters map pretty closely to value
Summary
This approach helps you know what to expect going into your draft/auction. In general, the 2nd/3rd tier of SP will cost more than they are "worth", and you can get bargains on middle-tier hitters. Don't take this as prescriptive for every player in your draft this month; Do use these value curves to get a sense for how the market will price the various pools of players available.