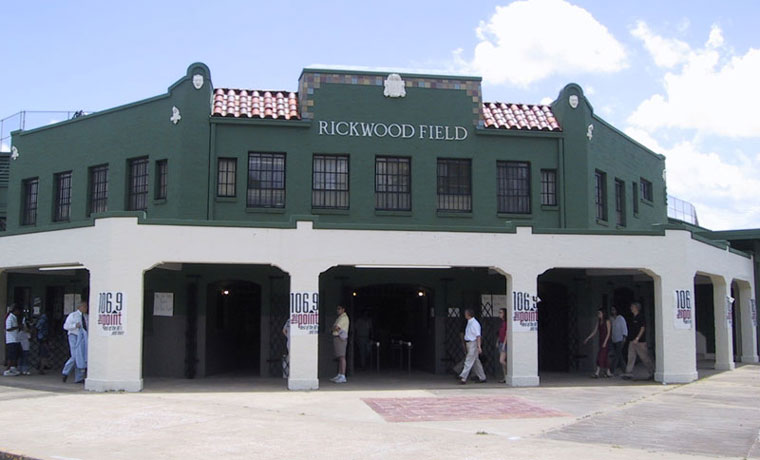 Sports play a sizable role in my life – in some ways healthy (excuse to talk and hang out with friends and family) and unhealthy (excuse to pore over stats and pundit POVs at the expense of talking and hanging out with friends and family).
Perhaps that's why the sports books and documentaries that resonate most with me are ones that show the healthy and unhealthy societal aspects of sports fandom.  Like how high school football can dominate small town life in the various media formats of Friday Night Lights (imho, TV show and book are awesome, movie okay).  Or how soccer (or fútbol) intersects with crime, politics, patriotism, and family in ESPN's 30-for-30 documentary The Two Escobars.
It's the intersection of baseball with the rich history of Birmingham, Alabama that made 'Rickwood Field' by Allen Barra such a memorable read for me.
Rickwood Field is the oldest active professional ballpark, celebrating 100 years on August 18th of this year.  The park was patterned after Shibe Park – the first 'steel and concrete' baseball stadium which was built in 1909 to house Connie Mack's Philadelphia A's.  The most fascinating part of the book for me was the beginning chapters and getting a glimpse of the early 20th century when America and MLB was less settled.  At that time, St. Louis was both the western and southern outpost for baseball.  Birmingham was rivaling Atlanta and other cities to become the industrial capital of the South.  (Note:  The 'South' didn't have a team until the Braves moved from Milwaukee in 1966.).  The major/minor league delineation was less defined than today.  All teams competed for players and the biggest divide between MLB and organizations like the Southern Association was money and geography.
Besides being home to the Birmingham Barons, Rickwood Field was also home to the Negro League's Birmingham Black Barons (this uncreative naming of Negro League teams led to the New York Black Yankees and the wonderfully oxymoronic Atlanta Black Crackers).  Author Allen Barra paints the history of both franchises against the inevitable collision of race and baseball – providing a picture of Birmingham that's much less black-and-white (pun intended and apologized for) than you'd expect for a city infamous for being home of the Martin Luther King-led demonstration and racial strife in the 1960's.
I'm not sure how widely available the book is across our nation's fine bookstores but I provided an Amazon link below if you're interested in purchasing it online.  Enjoy and feel free to comment if you read the book!