Note: Besides providing advice and news on fantasy baseball, we at Razzball created and now sponsor a game where the goal is to manage a team and compile the worst stats. These Historical Spotlights honor those players who would've excelled in such a format. See here for more info. See here for the summary of the inaugural 2008 season.
For a man and a woman to produce a great baseball player, it takes an ovum with a very good eye to spot a 5-tool sperm out of the pack. While there is more room for error if the father is a former player like Bobby Bonds or Ken Griffey Sr., it's extremely rare that the same pitcher/catcher combination produces more than one HOF caliber player. (Note: Ms. Koufax's eagle-eyed ova managed to find the one athletic specimen of the 180 million nebbish sperm provided by her husband. Jonas Salk purported that if he had access to Ms. Koufax's womb, he could have cured blindness. Then again, Jonas would say anything to get into a girl's womb…)
There are some exceptions to this rule:
1) Paul "Big Poison" and Lloyd "Little Poison" Waner amassed 5,611 hits for the pre-WWII Pirates (back when they were good).
2) The Alou triumvirate of Felipe, Matty, and Jesus amassed more than 5,000 hits. Ms. Alou was so fertile that her vagina was used for agricultural purposes during fallow reproduction periods.
3) The DiMaggio trio of Joe, Dom, and Vince may have been the best set of brothers but their combined stats seem less impressive because of time lost in service (Joe and Dom both served 3 years during WWII) and that the DiMaggio's were 3 of about 40 DiMaggio children (as was de riguer among Italians of the era).
The more common scenario among baseball playing progeny is at most one heavyweight (say, Sly Stallone) and one lightweight (say, Frank Stallone). Could the lightweight brothers ever have been contenders (aka contendas) or did they just ride their brother's coattails? Tough to say. But here are some examples:
1) Tommie Aaron. Brother Hank hit 755 HRs. Tommie hit 13. He got hate letters…from African-Americans.
2) Ozzie Canseco. Jose and his twin combined for 462 HRs and stole 200 SBs in the majors. Ozzie was responsible for 0 HRs and 0 SBs as he managed just 13 hits (6 doubles!) and 4 RBIs in his 65 career ABs. Thus, Ozzie had about the same impact on their brotherly combined statistics as, say, Lizzie McGwire would if you combined her stats with those of Mark McGwire.
3) Steve Larkin. Brother Barry played 19 seasons in Cincinnati and starred in 12 All-Star games. Steve played one game for the Reds in 1998 going 1 for 3. I wonder if Steve rubs it in that he has the higher career batting average
4) Chris Gwynn. Brother Tony hit 3,141 hits and won 8 batting titles. Chris managed 263 hits in 10 years. Based on the below photo, it's no coincidence they both ended up on the team owned by the founder of McDonald's.
That takes us to Billy Ripken. Billy shot through the minor leagues on a wave of mediocrity and nepotism – making it to the majors in 1987 at the young age of 22 (then again, you never know the true age of Oriole infielders). He soon beat out Alan Wiggins for the Oriole 2B spot as Wiggins, much like Robert Downey Jr., couldn't choose between speed (66 and 70 SB in 1983/84) and cocaine.
Ripken's surprising .308/.363/.372 over 234 ABs in 1987 didn't dupe Oriole fans and brass into thinking that they had another Cal Ripken, but it did have them thinking they had their starting second baseman for 1988 and a #2 hitter to hit in front of his brother and Eddie Murray.
In retrospect, they could not have chosen a better 2nd baseman for their Razztastic 1988 Baltimore Orioles. The season started ominously with a 6 game losing streak. It wasn't all Billy's fault – he hit 6-for-24, a respectable .250 clip. But Cal and Eddie were riding the US highways (.091 and .130 respectively) and the axe fell on Cal Ripken Sr. The firing after 6 days shattered Yogi Berra's unofficial 'quickest firing' record of 16 days by the Yanks in 1985 and it broke Cal Sr's streak of 168 straight games managed. One wonders how Cal Sr. reacted to it given he was 'wiry, blunt, quick-tempered and given to salty language'.
Baltimore legend and HOFer Frank Robinson came in and got the team into the W column….on April 29th in their 22nd game of the season. Yes, much like a senior undergrad at Oral Roberts University, the team went 0 for their first 21.
Hitting primarily out of the #2 slot (right in front of his brother), Billy had a tough April and May, finishing the two months with a .173 AVG in 162 ABs. Students at nearby Johns Hopkins Medical School ironically mused, "How could Billy's stats be so anemic given his brother is known as the 'Iron Man'?" and debated whether to nickname him Anemia Man or Irony Man.
On June 14th, Billy Ripken hit his first HR of the year off of the Tigers' Doyle Alexander – the sole hitting highlight of a first half that, in 287 ABs, amassed a .199 AVG. Given the Orioles finished the first half at 28-59, it's not as if he was the only dead weight in the lineup.
During the All-Star Break, Frank Robinson had some thinking to do. Do I send Ripken back down to AAA and potentially anger Cal Jr.? Can I really spoil a Razzterful season in the spirit of meritocracy and honoring the game when our season is already in the shitter? Frank compromised – he kept Ripken in the lineup every day but stashed him in the 9th slot to minimize the impact. To make sure Ripken didn't lose momentum during the All-Star break, Frank scheduled some extra hitting sessions with former Baltimore SS Mark Belanger.
The 2nd half basically played out like the 1st half – 1 HR and a few more hits to put him over the Mendoza line.
The final line:
512 AB / 52 R / 2 HR / 34 RBI/ 8 SB / .207 AVG / .260 OBP / .258 SLG
Among AL batters with 300+ ABs, Billy Ripken finished last in AVG, OBP, and SLG. His 2 HR did place him ahead of 13 AL hitters including a power-deprived Ozzie Guillen (0 HR in 566 AB), a coke-deprived Willie Wilson (1), and a steroid-deprived Brady Anderson (1 in 325 AB).
That said, Billy felt positive going into the 1989 season. Yes, my 1988 was Razztastic but I'm a Ripken, damnit! I'm only going to get better. It really can't get any worse than being the worst hitter in the league on the worst team in the league and my father being axed in the first 6 days of the season, could it?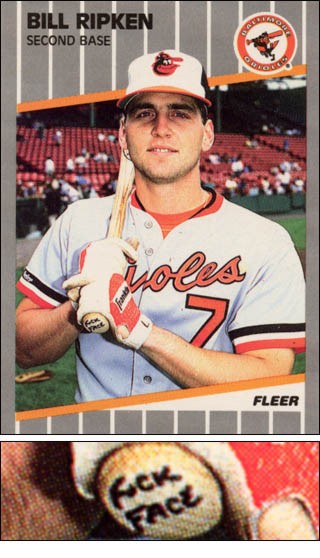 Billy's optimism, however, stood no chance against the naked ambition of Fleer Corporation which was, at the time, in a fight with Donruss for #2 in the baseball card market. In what is on record as an honest mistake, Billy Ripken's 1989 baseball card came out with the nickname 'Fuck Face' on the knob of his bat. Traumatized, Billy missed the first 15 games of 1989 on the DL with a bruised ego and ended the season with only slightly better results (.239 AVG w/ no power).
During 1990, a reinvigorated Billy blocked out his 1988-1989 mistakes like Fleer blocked out the 'Fuck Face' in subsequent printings of the card. He had his best season as a pro when, in 406 AB, he led the Orioles in hitting at .291 – stomping his .250 hitting brother. Granted, Cal out-HRed him 21 to 3 but still…
While Billy's glove (and surname?) kept him in the league another 8 years, a mix of injuries and responsible coaching kept him from ever topping 330 ABs again. He recently represented Ripken Baseball on a US government-sponsored envoy to China to help build support for baseball. You know Lenn Sakata HAD to be pissed that he wasn't invited.
Let Cooperstown have Cal. Razzball will take Fuck Face any day of the week (twice on Sundays!)