The Fantasy Baseball Hall of Fame (in conjunction with Razzball.com) is a new website dedicated to recognizing the accomplishments of Major League ballplayers during the "fantasy era" (1980-present). The greatest of these players will be elected to the Fantasy Baseball Hall of Fame.

In a continuation from last week, Part II of the starting pitcher class is enshrined today.

I have a confession to make – chick's may dig the long ball, but I dig a sub-2.00 ERA.  I have always been a sucker for starting pitching and would take 1994 Greg Maddux over 2001 Barry Bonds every day of the week.  I weep openly when reviewing the 1906 Chicago Cubs rotation and pine for the next Walter Johnson.  An elite starter is the most potent weapon a team can field as he alone has the singular ability to render every other player at the park virtually meaningless.  It didn't matter who Bob Gibson or Randy Johnson faced when they were at their best because making contact was a fruitless exercise.
Five starting pitchers are to be enshrined today, four of which are immortals that separated themselves from the rest of baseball like no quartet has done before.  Randy Johnson, Gregg Maddux, Roger Clemens, and Pedro Martinez are all first ballot Hall of Famers when considering skill and skill alone.  They are elite Fantasy Hall of Famers as well.  No players, at any position, improved their team's chances at winning more than these four.
But first we pay our respects to #5 all time, Curt Schilling, a starter who battled himself and injuries for 9 years before becoming a fantasy star.  Schilling's best season came as a 35 year old with the Diamondbacks in 2002.  He won 23 games, held his WHIP down to 0.97, and struck out a whopping 316 batters.  The year before he won 22 with a 1.08 WHIP and had 293 strikeouts.  In 1997 and 1998 he also struck out an extreme number of batters, giving him three 300+ strikeout seasons.  Since 1990 Schilling is one of just three pitchers to strike out this many; has the second most such season seasons since 1980; and third most since the deadball era ended.  Yet, Schilling never finished any season as the best fantasy pitcher, with good reason though – his competition was fierce.
The Top 25-Fantasy Pitchers: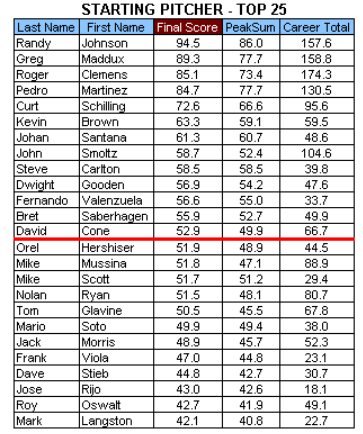 Schilling was superb, scoring over 72 points while contributing in just 4 categories, but had no where near the impact of the "Big Four".  Martinez, ranked 4th, scores full 17% better than Schilling, who himself scores 15% better than Kevin Brown.
Holding fantasy value aside for the moment, one can make a convincing argument that no pitcher in the history of the game was more dominant over a two year stretch than Pedro Martinez in 1999 and 2000, the latter year being the single greatest pitching performance in the history of the sport in my opinion.
I think we are all now familiar with Baseball-Reference.com at this point, and likely all familiar with ERA+, but in case you are not, ERA+ is a statistic that shows how much better than average a pitchers ERA is, when considering ballparks (it is more difficult to pitch at the Ballpark in Arlington than it is at Shea).  Holding aside the 1800's where the game was vastly different than it is today (9 balls, batters get to call their own pitch, etc) here is the Top 10 list of best seasonal ERA+ scores:
291 – Pedro Martinez, 2000
279 – Dutch Leonard, 1914
271 – Greg Maddux, 1994
262 – Greg Maddux, 1995
259 – Walter Johnson, 1913
258 – Bob Gibson, 1968
253 – 3-Finger Brown, 1906
243 – Pedro Martinez, 1999
242 – Walter Johnson, 1912
As impressive as it is to have an era 191% better than league average, it is probably more impressive to be this much better than the next best.  Further, in 2000, Martinez had an unheard of WHIP of 0.74.  That figure is so good it's unjust, perhaps even Wiffle Ball good, and is best mark all time 1800's be damned.
Martinez had more to his career than 2000 of course.  He also finished first among pitchers in 1999 and recorded 4 other Top-5 seasons, giving him a stellar record of performance during his peak:  19 W, 0.92 WHIP, 2.18 ERA, 278 K during his best 5 years.
It's odd thinking about this now, and it isn't just a reaction to the recent criticism Roger Clemens has brought upon himself, but somehow the greatest pitcher likely since the 1930's has gone underrated.  Make no mistake, Clemens was awesome over a period of almost 20 years.  In 1986, his third year in the bigs, and in his first season as a full time starter, the Rocket won 24 games, struck out 238 batters (in 254 innings), recorded a WHIP of 0.97 and an ERA of 2.48.  In his 22nd season as a major league starter, Clemens came through a 1.87 ERA and 1.01 WHIP in just over 211 innings of work.  In between he won 17+ games eleven times; had ERA's well below league average thirteen times; and struck out 185+ batters 14 times.
As a fantasy player Clemens was at his best in 1997 when tossing for the Blue Jays:  21 W, 1.03 WHIP, 2.05 ERA, 292 K's and the #1 pitcher ranking in the game, a feat he achieved on three earlier occasions as well in 1987, 1990 and 1991.  His 5 year peak average looks like this:  21 W, 1.06 WHIP, 2.56 ERA, 260K with finishes of 1st, 1st, 1st, 2nd, 3rd.
What separates Clemens from Greg Maddux for fantasy purposes is an utterly dominant season.  At his best, Clemens scored 16.2 FBHOF points.  Maddux finished both his 1994 and 1995 seasons with more points, and more points by far.  In 1994, a strike year of course, Maddux won 16 games mostly because of his off the chart rate stats – 0.90 WHIP and 1.56 ERA.  He also struck out 156 batters, which seems low, but is quite good when considering he lost as many as 10 starts, perhaps 60-65 total K's.  This line of thinking is instructive – prorating for the whole season his stat line becomes:  22 W, 0.90 WHIP, 1.56 ERA, 221 K which just happens to be the single most dominating performance in fantasy history – 18.8 FBHOF points.
The following year he bested Clemens top performance again, this time with 17 points due to a 0.81 WHIP and 1.63 ERA.  In all Maddux has four #1 finishes to his name and his peak 5 year average is masterful:  18 W, 0.96 WHIP, 2.03 ERA, 183 K.
Finally, we end with Randy Johnson, of whom it can be argued, for fantasy anyway, was Clemens and Maddux rolled into one.  Clemens was amazing for his longevity – 12 seasons of 8+ FBHOF points.  Maddux scored so high due to his tantalizing rate stats – eight seasons with a WHIP under 1.10 and seven with ERA's under 2.65.  Johnson himself is just shy of Clemens with eleven "Hall of Fame" worthy seasons and does indeed match Maddux for incredible ERA's and falls just one short on WHIP side of the ledger.
Remembering that pitchers can score in just four categories we also need to bring up Johnson's record of six seasons scoring 16+ FBHOF points.  How good is this?  In 2000 Johnson had 19 W, 347 K, 1.12 WHIP, a 2.64 ERA and it basically doesn't count towards his Fantasy Baseball Hall of Fame credentials since it wasn't good enough to count as part of his 5 year peak.
Further, Johnson struck out 300 or more batters twice as much Schilling and all told bested the 290 mark another nine times. Nine! What do you get when you combine the power of Schilling with the finesse of Maddux, and then mix in the sustained greatness of Clemens?  You get the best Fantasy Baseball player in history.
A chart of some key metrics for our last five inductees, because, yes, I love great pitchers: