The Fantasy Baseball Hall of Fame (in conjunction with Razzball.com) is a new website dedicated to recognizing the accomplishments of Major League ballplayers during the "fantasy era" (1980-present). The greatest of these players will be elected to the Fantasy Baseball Hall of Fame.

Only five pitchers of the fantasy era have attained the 65 point bogey the FBHOF uses as the baseline for batter inductions.  The reason for this is simple – the best pitchers contribute in just four categories while the best batters contribute in five.  The question then becomes – is it fair to hold this against those players who make their living 60 ft 6 inches from the batter?
I don't have a great answer.  One on hand I routinely thought back to the class of Catchers while formulating the pitcher induction process.  This class as you will recall enshrined just one lone inductee, Mike Piazza.  I tried to justify this way of thinking for use on the pitchers, if it's acceptable to have one catcher, is it not also acceptable to have a relative few pitchers?  On the other hand, a catcher has the potential to contribute in each of five categories but usually do not since the position is so specialized and demanding.  A starting pitcher however, can not accumulate saves due to the manner in which he used by the team – it's not for a lack of ability on his part, they simply aren't used in that fashion.
As a result, I decided the 65 point mark needs to be reduced and basic math skills make this a straightforward matter.  A batter must accumulate, on average, 13 points in each of the 5 offensive categories to reach 65.  A pitcher therefore, should need to accumulate 52 points (13 x 4 = 52) to be considered for the FBHOF.
Still, some issues arise for which I have no great answer.  For example, the best pitcher of the fantasy era, Randy Johnson, easily has the best FBHOF score and best Peak Score ever, even when adding batters to the mix.  While contributing in just 4 categories, Johnson outperforms Alex Rodriguez, Barry Bonds, Albert Pujols, etc.  That is impressive.  Almost as impressive is that three of the top four peak scores belong to pitchers as well, with Pedro Martinez and Greg Maddux coming in at 3rd and 4th.  Is it then fair to reduce the pitching overall requirements if pitchers have the 3 of the best 4 peak scores of all time?
In the end I think Johnson, Martinez, and Maddux were the exceptions that proved the rule.  Only a handful of starting pitchers over the past 28 years have been good enough hang with the batters and we therefore need to adjust.  By moving the minimum score down to 52, eight more starters are enshrined to give us a total of 13.
Since there are so many pitchers we'll break the inductions out into two articles.  Today we'll look at the 13th through 6th best fantasy pitchers of all time, saving the elite five for next week.
David Cone
One thing we are to find is only the rarest of pitchers don't have significant flaws when looking at the five year peak.  Take our 'worst' pitching Fantasy baseball Hall of Famer as an example. Cone was very good for a long time, but never great.  He was never the best overall pitcher in any one season, nor was he ever the 2nd best.  He did achieve 3rd twice, but on average, his rank was 4.8 in his five year peak.
What Cone has over his peers is the fact that he was very good for a long time (by pitcher standards anyways) as only 5 other pitchers have more "7 point FBHOF" seasons than Cone does.  Yet Cone's best season is ranked just 69th best of the Fantasy Era.
Bret Saberhagen
Without his hallmark season of 1989 Saberhagen likely falls just short of FBHOF requirements.  "Sabe's" easily won the Cy Young award this year garnering 27 of 28 possible first place votes.  It was warranted too.  With a line of 23 W, 0.96 WHIP, 2.16 ERA, and 193 K's he led the league in all but strikeouts.  He was also great in 1994 (2.74 ERA, 1.03 WHIP) but, like Cone before him, never had the 3rd elite fantasy season, even ranking a fairly low  20th best in his 5th best season.  And if 20th doesn't sound that bad, realize that it's also 89th overall when considering all positions.
Fernando Valenzuela
Raise your hand if you remembered Valenzuela's fantasy worthy season in 1996.  Mine is down, and I surmise most of yours are too.  We all know how good the man was in 1981 and 1982 (2.65 ERA, 1.10 WHIP if you forgot) but what strikes me the most interesting was his '96 season of 172 IP and 3.62 ERA.  It only fractionally helps his FBHOF case, but I had thought he was done in the late 1980's.  Overall, Valenzuela has four Top-5 seasons to his credit with a fifth season ranked 12th before he faded into mediocrity.
Dwight Gooden
Gooden's rookie campaign in 1984 (17 W, 1.07 WHIP, 2.60 ERA, 276 K) promised one of the brightest futures in memory.  One year later the assurance of greatness was all but guaranteed as the 20-year old New York Met pitched through the second most excellent fantasy season of all time.  "Doc" led all starters in Wins, ERA, and Strikeouts and placed a close second in WHIP behind John Tudor, who was having a career year of his own.  This gave Gooden back to back titles for fantasy pitcher of the year and a two year FBHOF point total of 32, a mark bested by only a select few.
Gooden was still Top-10 Quality the following year when 17 Wins, a 2.84 ERA, and 200 K's placed him 8th among pitchers.  His dominance was diminishing though.  The graph below charts Gooden's K/9 rate throughout his career and while it was perennially very good, there was also a world of difference between his rate of 11.4 in 1984 and 7.2 two years later.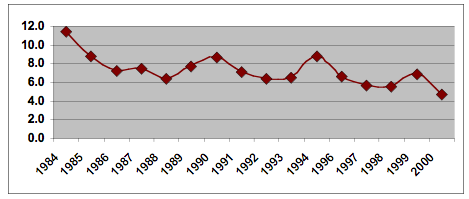 Still among the better class of pitchers for the remainder of his 5 year peak, Gooden turned in 3 more Top-25 quality seasons, amassing 61 wins and 647 K's between 1987 and 1990.
Steve Carlton
Carlton's FBHOF case is likely the most interesting one we're to come across.  His career started in 1965, eliminating a full 15 years of his career due to the 1980 cutoff.  During these 15 years, the real life HOF'er racked up 225 wins and over 2600 strikeouts, all of which have no bearing on enshrinement here.  Further, his fantasy career was effectively over in just his 6th year and worse, Carlton's career as a top-40 pitcher lasted only 4 seasons.  He makes the grade because he made the most of these four seasons between 1980 and 1984.
In '80 and '82 he was the best fantasy pitcher on the planet – averaging 24 Wins, 286 K, with a 1.12 WHIP and 2.72 ERA.  In 1981 he finished 2nd among pitchers and his three year peak score totaled 45.7 points, 5th highest on record.
Carlton was still very good in 1983 – 7th best thanks to 15 Wins and 275 K's, but was woefully close to average in 1984, which is all to understandable given the fact he was 39 years of age.  His career was over 3 years later and was a non-fantasy impact from 1985-1987, but for the early part of the 1980's Carlton left his mark on fantasy baseball as one of the inner circle elite.
John Smoltz
The lifetime Atlanta Brave has had two careers with the organization.  The first was as a starter from 1988 through early June of 2001 and then again between the years of 2005 and 2007.  During this time Smoltz pitched like a Hall of Famer, frequently finishing among the best pitchers in the game (he has ten Top-15 seasons) and ended 1996 as the best pitcher in fantasy baseball.  Between these periods he became one of the best closers in the game as well, compiling 154 saves, with a 2.65 ERA and 1.10 WHIP.
The saves end up not mattering all that much however, as his value to fantasy owners was almost entirely as a starting pitcher.  His best year as a closer came in 2002 when he reached the 55 save mark, yet this resulted in just 4.7 FBHOF points, just the 12th best season of his career.
This brings us to his FBHOF achievements.  Smoltz's five year peak score of 52.4 hails from a lone stellar season (1996) and 4 other very good ones (1992, 1997, 2006, and 2007).  Incredibly, this gives Smoltz quite a long tenure as a high end fantasy pitcher, with 15 years between his 'great' seasons.
Johan Santana
Santana hasn't had five full seasons in the majors yet is already ranked in the top half of the best pitchers of the fantasy era.  Sooner, rather than later, he will no doubt eventually move up to claim a top-5 position all to himself.
Interestingly enough, despite three great seasons from 2004-2006, Santana attained the #1 pitcher ranking just once in 2006.  During the three years, he averaged 18 Wins, 249 K's, a 0.96 WHIP, and 2.75 ERA but in 2004 was out shown by Rand Johnson and the following season, Chris Carpenter bested him too.  This is by no means a fault of Santana's, as after all, he was pitching in the Hitters League at the time.
Kevin Brown
Kevin Brown had some fantastic seasons that slipped my mind (likely after his dismal ALCS appearance with the Yankees in 2004) and frankly his name rarely enters a discussion when naming the great pitchers we've been blessed with over the past 15 years.  In truth, only Pedro Martinez was a better fantasy pitcher during Browns peak years of 1996-2000, and Martinez is a 1st ballot Hall of Famer most often compared to the immortal Sandy Koufax.
1988 was Brown's best season.  He struck out 257 batters in the same number of innings, won 18 games, and recorded a 2.38 ERA.  This provided him with 13.9 FBHOF points, 29th best all time.  In 1996 his rate stats were off the charts (0.94 WHIP, 1.89 ERA) but struck out just 159 batters in 233 innings, holding down his fantasy value considerably.  Most important to his FBHOF resume are his two other seasons where he achieved the oft sought 10 point season:  1999 (18 W, 1.07 WHIP, 221 K) and 2000 (0.99 WHIP,  2.58 ERA).  This is important because it marks Brown as is the first pitcher we have seen with four double digit FBHOF seasons plus a very good 5th best.
Next week we finish the starting pitchers with the Elite Five, the few that could have been inducted even if we left the requirements at 65 points.  For now, a summary of the peak scoring of today's honorees: