The Phillies had a ton of hype going into the 2018-19 season after the big Bryce Harper signing and they were rather disappointing. Expectations are usually too high when a big club adds a superstar player though and it makes them an interesting team this season. While they didn't make a ton of moves, this is a roster who's plenty capable of competing with anyone and they're certainly a team to keep an eye on. With that in mind, let's take a look at their numbers from last season.
If you have any comments or questions, reach me here on contact me on Twitter @Bartilottajoel
2019 Recap:
Record: 81-81
Runs Scored: 774 (14th) 
Runs Allowed: 794 (18th) 
Stolen Bases: 78 (13th) 
ERA: 4.53 (17th) 
WHIP: 1.37 (19th) 
Saves: 36 (19th) 
Strikeouts: 1,392 (19th) 
2020 Win Total Projection: 85.5 Wins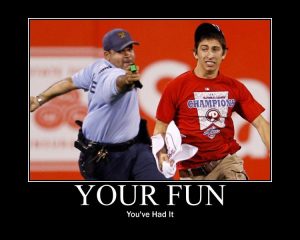 Strengths
Star Power
This is a weird thing to say because it's a subjective statement but it's hard to argue with the fact that the Phillies are full of powerful potential. It would be one thing to have Bryce Harper and Aaron Nola run the show but it doesn't even take into consideration potential All-Stars like J.T. Realmuto and Rhys Hoskins. That pairs beautifully with steady veterans like Andrew McCutchen, Jean Segura, Didi Gregorious and Jake Arrieta and we can't overlook the ace potential of a youngster like Zack Wheeler either. To say this is one of the most talented teams in the NL is a drastic understatement and they certainly have the capability to make a deep run if everything clicks the way Philly fans hope.
Weaknesses
Bullpen and Back of Rotation
While the Phillies are full of great players, they could find themselves in trouble late in games. Hector Neris certainly has the capability to be an elite closer but who knows if they can get the ball to him without blowing it. Seranthony Dominguez looked like a star in the making but he'll miss this season to grab some Tommy John surgery. That's a lengthy recovery and it's leaving guys like Jose Alvarez, Adam Morgan, Nick Pivetta and Victor Arano in big situations.
That means unproven pitchers who have a propensity to get blown up have to be slung into high-leverage situations and it could cost this team some games. That looks even worse with Zach Eflin and Vince Velasquez at the back of the rotation, with Velasquez struggling to go deep into games and Eflin posting a 1.35 WHIP and 7.1 K/9 last season. I would be less worried if Spencer Howard found his way into the rotation but he's an unknown commodity is his own right.
Phillies Starting Lineup
(2019 Stats)
Phillies Starting Rotation  
Phillies Bullpen
Phillies
Bench
Sleeper Pick
Rhy Hoskins
This is more of a bounce-back pick rather than a sleeper but Hoskins is quite the steal in fantasy drafts this season. The big first baseman is currently the 116th player off the board and that's silly for someone with this sort of potential. We're talking about a player who had 45 doubles, 52 homers and 144 RBI in his first 203 career games across 2017-18. That's the prospect stud we expected to see and a .226 average last season has the doubters running for the hills.
He still provided 33 doubles, 28 homers and 85 RBI though while posting a .364 OBP in that "down" season. That looks even better behind his 46.2 percent hard-hit rate from last year and a .255 career ISO. This dude literally has 40-homer, 120-RBI and a .400 OBP potential which would make him one of the best bargains out there.
I also think Andrew McCutchen is a nice value around pick 200 in fantasy drafts after a full year off. He has 25-15 capability atop this potent lineup and that alone makes him worth a shot at this dirt-cheap price tag.
Bust Pick
Zack Wheeler
I'm kind of sick of all the Wheeler hype. This is a guy who's had one good season and people are treating him like a borderline ace. Before posting a 3.31 ERA and 1.12 WHIP in 2017-18, Wheeler had a 3.90 ERA and 1.40 WHIP across his first three seasons. That's more on par with his 3.96 ERA and 1.26 WHIP last season and we can't overlook the fact that he did all of this in Citi Field. The Mets have the most pitcher-friendly park in baseball in that same span and it's scary to think that Wheeler won't get the benefit of that spacious ballpark anymore. His 112-ADP tells us that many people are overlooking his flaws and it's very possible that Wheeler could become waiver wire fodder if we see him perform as he did in four of his five seasons in the Majors.
Phillies 2020 Outlook
This Phillies team was slightly disappointing last season but they could be a sneaky contender this year. Whenever you see professional sports teams bring in a superstar player and then steadily build around them, it's usually the second year that the pie starts tasting better. That's where we are here with Philly and it's encouraging that they added guys like Gregorius and Wheeler while getting McCutchen's leadership back into the lineup. Adding Joe Girardi as their manager is an encouraging development too and nobody should count this team out in the NL with so much talent and potential. Not to mention, the Phillie Phanatic is the weirdest mascot in baseball and his silly antics will surely throw off at least one opposing pitcher.