There is a special day in mid-February where I can freely and shamelessly express my love. Appreciate my partner in life. Get lost in romance.
That is Valentine's Day. But the day before it was the 15-team LABR Mixed draft which is more fun and less expensive.
As always, thanks to Steve Gardner at USA Today for the invite. Can't believe this is the 5th year I've been in this league.
I was holed up in an NYC hotel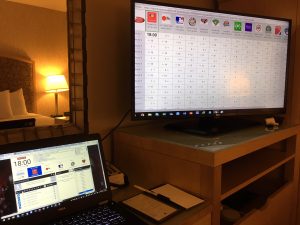 for the draft where luckily the wifi did not shit the bed (nor did I). No kids disrupting the draft. A background soundtrack of sporadic car horns and loud-talking pedestrians. I was able to grab the HDMI cord from the cable box so I could rock the two screens. If only I remembered to pick up a pastrami sandwich and a six pack, I could've been in Costanza heaven.
Quick Perspective On The Difference Between 15-Team Mixed w/ Weekly Roster Changes vs. 10/12-team Mixed Daily Roster Changes
I am going to share with you the only relevant difference between these two formats. If you are someone who plays shallow leagues with daily roster changes (and typically a high transaction cap), repeat this as a mantra in your head when drafting in this format (like in NFBC).
The 2018 Razzball Commenter Leagues are now open! Free to join with prizes! All the exclamation points!
More of our PAs/IP need to come from players you draft or get in trades.
Free agency is still very important for filling roster holes and you still need to churn out the underperforming parts of your roster. This does not mean you avoid all risky/upside players and only draft a team full of boring, safe players.  The roster management skills you learn playing daily (ideally using our tools like the Streamonator and Hittertron) will come in very handy.
You just do not have the same safety net in this format if you mess up your draft because there just isn't enough free agent talent or FAAB $ (especially LABR which is $100 vs NFBC and Tout which is $1000). Certain strategies like "Draft 3 Starters and stream the rest" is near impossible to pull off.
So think about the time you invest during the season in a daily format and invest some of it during draft prep to make sure you look back on your draft with no regrets.
Last Year Recap (here's my post-draft writeup)
I finished in 4th place in a tight group with winner Jake Ciely of Rotoexperts.com, Mike Podhorzer of FanGraphs, and Fred Zinkie of MLB.com. Congrats to Jake.
I had a great top 7 rounds of the draft picking from spot #15. Blackmon, Correa, Odor, Strasburg, Adam Jones, Hosmer, and Kimbrel was about as close to the 'nuts' as you are going to get in an expert draft. I also had arguably the best last 2 pick combo (28th/29th) in the history of the league (I'm too lazy to confirm this) with Joey Gallo and Corey Knebel. Add in Felipe Rivero for $1 in the first FAAB period and I had a great core.
The Achilles' heel of this team was SP3/SP4 with Steven Matz and Drew Smyly and some rough Win luck. My killer Strasburg/Shark/Kimbrel/Rivero/Knebel quintet and decent FAAB SP pickups ensured strong ratios and K's but I was starved for Wins all year. Seriously, look at the standings. What are the odds someone could total the most K's, the least BB's, and yet tie for last in Wins?
My speed bets (Odubel, Nunez) were mediocre and there was no speed available to trade. I thought I hit the lottery with Mallex Smith in FAAB (after Kevin Kiermeier went down) and the mediocre SBs were not worth his other sub-mediocre stats. I compounded my SB weakness by trading Merrifield (another $1 pickup) before he went on an SB tear for Jameson Taillon – a trade I would not have had to make with just 100 IP each from the 2016 versions of Matz and Smyly or finding one breakout in later rounds (e.g., Severino) or just some damn Wins. Ok done.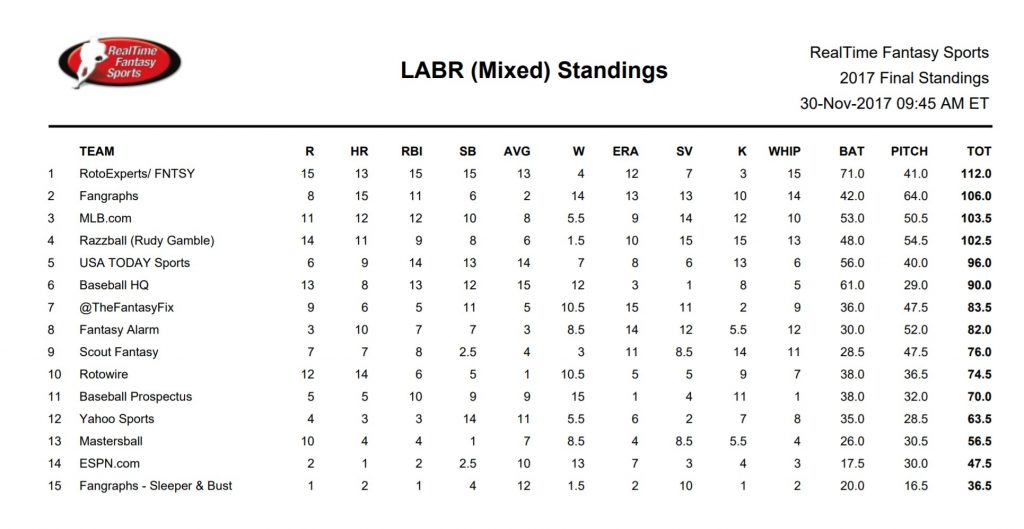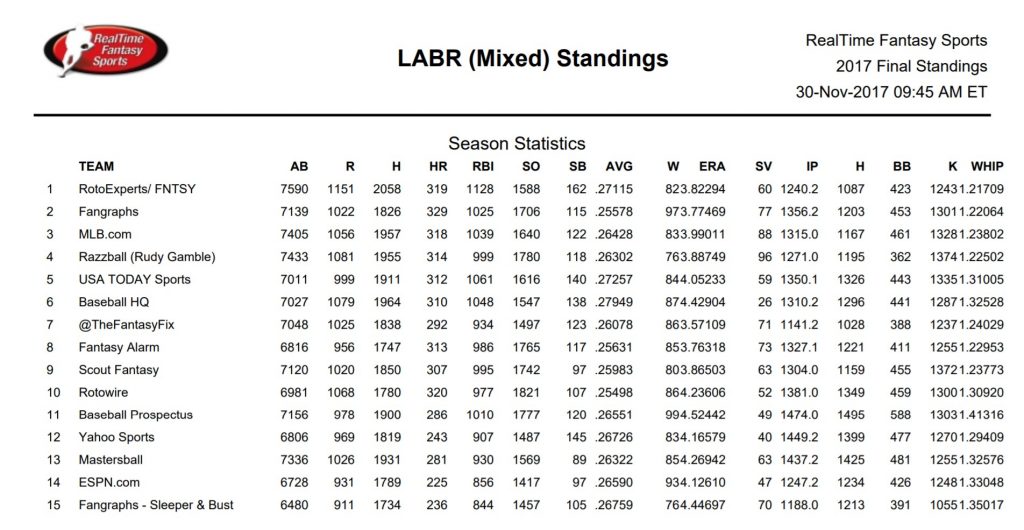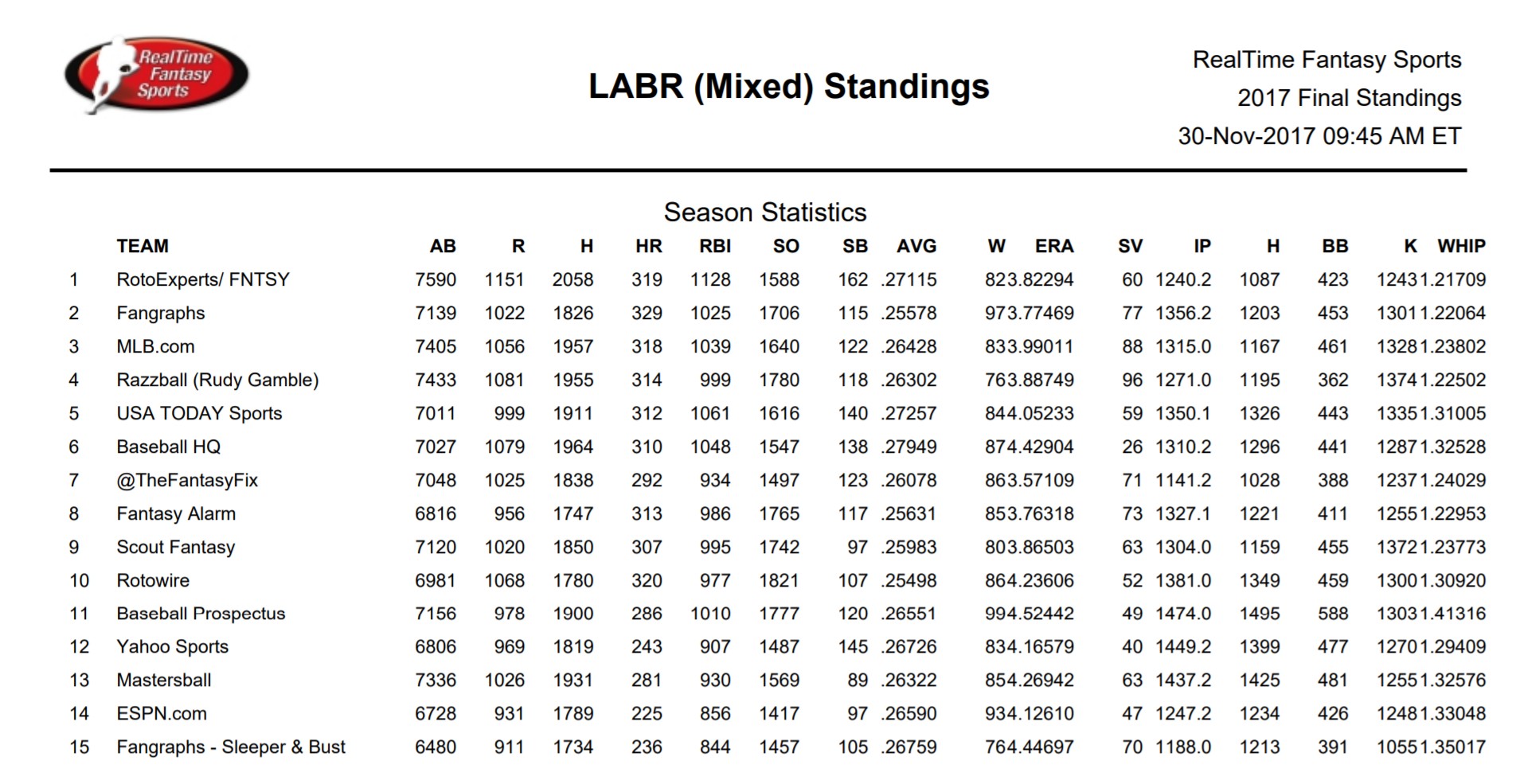 2018 Draft
I found a process in 2017 that I liked so I stuck with it this year. I build a War Room that allows me to mock draft against NFBC ADP and track my team $ totals per category. My goal is to anticipate the tough decisions and plan accordingly. The #1 thing I am looking to avoid is being in a position in the draft where I am chasing a category or position and I am dependent/desperate for a specific player to make my team whole. Those are the cases where you have to overdraft the player, get lucky, or scramble. The #2 thing I am looking to avoid is a panic pick when you just do not know whom to choose.
I do a handful of mocks and I end up with a general script for the first half of the draft. I try to have contingencies on every pick – e.g., Pick 3 is SP out of (Strasburg, Severino, Thor, DeGrom). This isn't set in stone. If a great value falls my way, I adapt. The goal is to minimize scrambling or realizing post-draft that my team has a major hole.
Here are the full results of the 2018 LABR Mixed League Draft. Below are my picks and my analysis:
Draft Strategy Overview
There were two areas in the draft where I just didn't like the value of certain players: a) Starting pitchers from the 6th-13th round (so 2nd-tier SP2 through top tier SP4) and b) Speed for just about the whole draft. To avoid those pitfalls, I wanted Trea Turner at #4 to secure speed early and 2 of the top 20 SPs using my 3rd and either 4th or 5th pick. I was prepared to avoid SPs through 6th-13th rounds unless a great value fell in my lap.
Aim for balance across categories – particularly on power/speed/AVG.
Hew close to 67/33 hit/pitch mix.
Get one very good closer and bargain-hunt in back half of draft for solid K RPs with some shot at saves.
Early Round Notes
General Notes/Strategy
I am going to re-use the same format from the previous three years as most readers seem to prefer it to just a pick-by-pick analysis. This format does mean I talk more about my competitors' teams than most post-draft write-ups. I do my best to be respectful yet honest.
Hopefully, you'll find some piece of strategy you can apply to your upcoming drafts. I have updated this to reflect changes in my philosophy since last year. Some of it incorporates learning. Some of it is driven by changes in the player pool.
You'll see me note a lot of percentages about pick values. I calculate pick values based on my auction dollar projections. The #1 pick gets the $ value of the 1st ranked player, etc. Generally, the last pick in the 22nd round is worth a dollar (13 hitters + 9 pitchers * 15 teams) as I budget $0 for the 2nd catcher. The 23rd to 29th rounds are valued at or around $0.
 Topic
In General
My Team
Observations on Other Teams
Upside vs Reliability
Sprinkle upside picks throughout draft, veer towards reliability in early rounds.
Does anyone disagree that Trea Turner has the most upside of any player in 2018? I think his floor (assuming health) is great so his upside is the icing.

So here is a 'take' on upside. Natural draft bias is to accept more risk later in the draft. This can create some 'upside' opportunities in the middle of the draft. I snagged two of the three best rookie hitters IMO in Ronald Acuna (9th) and Willie Calhoun (15th). That was a good round for HR/SB OFs as Margot and Polanco went after Acuna. I took on more risk for sure but Acuna is the best rookie bet since Kris Bryant (another guy I drafted around this time in the draft). He has 30 SB upside in a draft where SBs are going at a premium and he is solid in the other 4 categories. If he comes up before May 1st, I'm only looking at a month where I need to backfill with a 6th OF and lose a spot on the bench. As for Calhoun, he has power w/o massive K's (so good AVG) and I think he's a near lock for playing time as a corner OF/DH.

I found OF to be full of solid upside value as I also bet on the plus power of Hunter Renfroe (18th round) and the power/speed combo of Derek Fisher (28th round).

On pitching, I like the balance. Severino/Lamet bring the sexy. Darvish/Shark bring solid track records.

I don't think anyone went overboard on upside. Old pal Tim McLeod –  now at Prospect361 (prospecting every day but Christmas, Easter, July 4th, and Arbor Day) – unsurprisingly has a lot of young players. Trout makes for a helluva reliable foundation though and hard not to like guys such as Benintendi, Albies and Devers.

Also not surprising to me that both Fred Zinkie and Scott Pianowski skewed towards 'safer' veteran hitters.

Bouncebacks
I like them as long as health not a question mark, skills/age look positive, and properly discounted.
I have had little luck in past years on identifying strong bouncebacks in this draft. Last year's Carlos Gomez, Drew Smyly, Wei-Yin Chen, and Matt Duffy was a barrelful of useless.

I don't see any true bouncebacks on my roster. Maybe that's for the best.

David Dahl and Michael Brantley were the two major bounceback targets for me but, like with Yelich, this group thought more like me than the NFBCers do.

Bret Sayre of Baseball Prospectus looks like the king bouncebacker with Hendricks, Schwarber, Brantley, Joc, and Matz. I like Brantley and Matz. Rotowire's DVR gave him a run with Polanco in the 9th and Villar/Dahl in 13/14 – the risk/reward on those makes sense to me but it also adds more risk to an offense with below-average investment (58% of draft pick value)

Category Balance vs Best Player Available
In a weekly league with FAAB, I prefer to come out of drafts without glaring weaknesses. So I do monitor this during draft so, everything equal, I am taking the player who provides better balance.
Mission accomplished (I project as above average in all stats based on my values) but whereas last year I did it through a lot of balanced bats, this year there was more mixing/matching – mainly with strong AVG/decent HR players and mediocre AVG/strong HR players. In fact, the only player on my opening day roster that I have as below average in power is Gerardo Parra.
We have a repeat of last year where Alan Harrison of The Fantasy Fix and Scott Pianowski both look weak on SBs (as does Jake Ciely). Several teams seem weak on Saves but I share the general feeling amongst those owners that the bottom half of closers are subpar bets. Bret Sayre and Tim McLeod both have strong SB / weak HR squads IMO.
ADP vs "Get Your Guys!"
I prefer to wait as long as possible for guys I like but adjust based on draft room dynamics.
The NFBC ADP skews more SP-friendly which makes more hitters picks feel like reaches. That said, I went above ADP on several players.

For Smoak (+33), W. Calhoun (+47) and Renfroe (+30), it was because I really wanted them. The only justification for Maikel Franco (+50) is that Zinkie and Ray Murphy drafted 7 3Bs combined in their first 11 rounds and Franco was near the top of my board. I still see the upside but not my plan.

For pitchers, my patience was rewarded with Shark, Morton, and Lamet all at 1-2 round discounts. I reached on Musgrove in the 21st round…if you believe that there is such thing as a reach in the 21st round.

Scott Pianowski 'got his guys' as Matt Carpenter (+102) and Adam Jones (+45) were two of the top 3 reaches based on ADP in the top 100 picks (Ozzie Albies by Tim McLeod was the other). I have a huge amount of respect for Scott and know he's less hung up than me on ADP.

Fred Zinkie and the FG duo of Collette/Sporer both had 2 of the top 7 best first 100 picks vs ADP with Upton/Knebel and deGrom/Chapman.

Anticipate Other Teams' Picks When Prioritizing
Get ahead of player runs to minimized getting snaked.
I loved getting the 4th slot but was not psyched to see Zinkie to the left of me and Ray Murphy to the right. Amazingly, though, I was not snaked once all draft. Sure, guys I wanted got drafted but never right near my pick. There wasn't a Rudy tilt all draft.

I do think planning helped here. I correctly guessed pre-draft that there'd be a major RP run b/w my 7th and 8th pick so got Rivero at 7 (5 RPs went in next 23 picks). I erred on aggressive with Smoak and Bour because I didn't think they'd make it back to me. And I jumped in a little early for C2 with Flowers in the 19th anticipating a catcher run (7 catchers in next 25 picks)

Hard to judge other teams on this but it did feel like other owners maybe got stuck in those SB and SP traps and either overpaid or punted.
Hit/Pitch Mix
I'm typically looking to stay about league average which is roughly 67/24/9 for Hit/SP/RP.

For this year, I wanted to spend a little less on Closers.

The room went 67/25/8 and I went 66.5/27/6.5.
Last year, two drafters invested 40+% in pitching. This year there were 4 teams and they were also, not coindentally, the quartet to draft an SP in the first round. Alan Harrison had the largest pitching investment with a 57.5/42.5 split after investing a 1st, 4th, and 6th on pitchers.

Just like last year, Pianowski and Podhorzer invested the most in hitting at 87% (?!) and 76% respectively.

Closers
My position on Closers changes every year. This year – I wanted a very good RP in the 7th round and then wait until at least the 18th round before buying two high K-guys in the mix.
I really like Rivero as my RP1. Boxberger (20th) and Bedrosian (22nd) have flashed closer talent when healthy. I don't think the D-backs really want Archie Bradley locked into a 1 inning role and Blake Parker seems like a placeholder. Took Sam Dyson with my last pick as he pitched well last year and Melancon has injury and performance risk as the closer favorite.
I am not a fan of DVR (Jansen) and Stephania Bell (Kimbrel) picking closers at the tail end of the third round. I would've preferred Ozuna or Marte.

Despite those picks, the room still spent a little less in draft capital on Closers than previous years. I think it was just one of those years where the back half of closers are uninspiring.

Middle Infielders
Pay no premiums for 'scarce' positions. Stay patient. Adjust player choices based on offensive category balance. (Note: I've been crapping on 'position scarcity' for years but suddenly all I keep reading are announcements that position scarcity is dead.)
And yet I draft three MIs in the first 10 rounds!

I would have taken Trea Turner if he wasn't a middle infielder.

I was looking for power bats between rounds 6-10 and Roughned Odor (6th) and Paul DeJong (10th) were solid values at those draft slots. I currently have 9 MIs projected at 25+ HRs. Odor and DeJong are two. The only other one not drafted in first 5 rounds was Trevor Story.

No major MI inflation in the room. The top 30 MIs only went about $1 higher in value than my estimates and almost of that is based on people jumping to secure speedsters like Dee Gordon, Moncada, and Segura.
Catchers
I typically like to punt Catchers. The demands of the position lead to greater injury risk and more volatile offensive numbers IMO. But would prefer this year to target catchers that aren't AVG sieves.
There is typically one catcher a year whom I value around ADP and, this year, it was Buster Posey. He's not as great as he was but I liked how his .300 AVG with solid counting stats set up the rest of my draft.

I reached a bit for Tyler Flowers at 19.4 but no catchers in that range match his power + contact rate. Plus, I think he could sneak into the 4th or 5th lineup spots and goose up his R/RBI.

No major change in 'room' behavior versus past years.
Starting Pitchers
Draft quality and quantity. Mix upside and consistency. Aim for about 9 SPs.

I really like my collection of SPs, especially at their price (27% of draft capital). 

Severino/Darvish/Samardzija are a rock solid core IMO. Morton, Lamet, Musgrove, Ryu, Heaney, and Stratton should provide solid matchup options when healthy and unlimited DL and persistent FAABing should address this group's biggest weakness.

This is one area where investment and expected return are about equal across thee teams.

I was surprised to see pal Dr. Roto only drafted 5 SPs (6 RPs!). It usually takes 8 healthy SPs to find 6 good starters for a week. It will be tough to keep up with W/K going 4-5 RPs/week and everyone should be competing for emerging SPs in early FAAB rounds. (Note: Pianowski also drafted 5 SPs).

Steve Gardner, on the other hand, drafted 11 SPs, 2 more than me and 4 others at 9 SPs. One is a DL stash (Nelson) and one is a prospect who'll sit on the bench (Honeywell). Should be interesting to see how he deploys them (or trades one to Pianowski or Dr Roto)

Speed
SBs are in such short supply that it is more important than ever to have a plan for where you can draft speed at value
Drafting Trea Turner (or Jose Altuve) in the 1st round takes a lot of pressure off drafting speed (Trout/Betts certainly help too).

I could have used Turner to build up a huge strength in SBs…but that only makes sense in a market that is undervaluing SBs and that was not the case.

My other top 25 SB pick was Ronald Acuna whom I feel I got at slightly above value.

Best part of having this twosome is that they can contribute in all 5 categories versus sacrificing HR/RBI.

Worst part is I have no safety net for SBs on this team. 3rd best SB guy is Roughned Odor and Derek Fisher is just a 20 SB type. If Turner gets hurt or Acuna gets delayed, I could see struggling in SBs. These are the reasons why I'm always FAABing.

The room spent about $1.50 in draft capital (1-2 rounds) above ADP to secure speed. The best value in my eyes was Starlin Marte at 3.15 by Dr. Roto. I liked Inciarte (Podhorzer) and Peraza (Gardner) as well. Had been taking Peraza as my 2nd speed play in mocks but shifted to Acuna/OF. If I didn't get Acuna, may have been on him and shied away from DeJong.

Worst value for me was Billy Hamilton and Yoan Moncada.

As noted earlier, there are a couple teams that are low in SBs whether by design or perhaps not wanting to pay a premium.
Last notes (I swear):
Almost no regrets with this draft but…

Looking at the draft a week later, I think I would have taken Devers with the 8th pick and hoped Smoak came back. If not, take two of Bour, Gurriel and Zimmerman between the 10th and 12th rounds.
Also not sure why I drafted Hunter Renfroe over Randall Grichuk. Now with Myers moving to the OF because of the Hosmer pickup, Grichuk might actually have more job security.

Based on my total $, the three most valuable drafts besides mine happened to be the three guys that finished ahead of me last year (Ciely, Zinkie, Podhorzer). Not going to be a d**k and tell you who I have as having the least valuable drafts but feel free to guess in the comments (i won't confirm/deny).