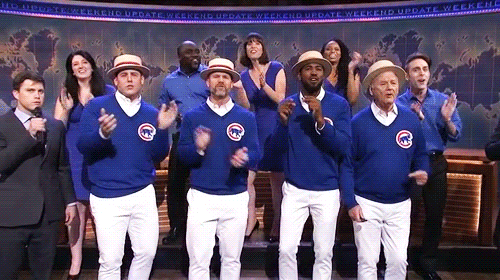 Welcome to the 2017 Razzball Team Previews! You'll find everything you need to know about each team to get yourself ready for the upcoming fantasy baseball season. And I do mean everything, everybody. We've got line-ups, charts, numbers, projections, questionable questions, smarter answer, potent potables and well, that's a lie. No potables here, but plenty of potent fantasy names brimming with potential. Now's the time to be an eternal optimist for the next six weeks. So, we've got a team to preview and questions to ask. Let's get after it!
A quick note on the format. Each preview will feature six questions to a team's blog writer. Are there only six great fantasy questions for each team? Of course not, but THAT'S WHAT THE COMMENTS ARE FOR! So, enjoy the thoughts of another writer, the dialogue on each team, and then continue the conversation in the comments!
We have a very special guest for this post, Doug Saye, to provide his take on what the team has in store this season. Now enough rambling, let's see what 2017 holds for the Chicago Cubs!
2017 Chicago Cubs Depth Chart & Projections
Starting Lineup
Bench
Starting Rotation
Bullpen
Note: Projections provided by Steamer.
And now we specifically want to get to the specifics. So, let's bring in Doug Saye from View from the Bleachers to give us the low down on the Cubs in 2017. Let's see what he has to…say. Ahaha! Dad jokes galore! Too funny. (Sorry Doug)
[email protected]: The Cubs roster is loaded with fantasy assets. Clearly. Their lineup is a huge reason why they were able to take the crown last season as they just don't have many outs up and down. When you consider they weren't even full strength the entire year and 2017 could be even scarier for opposing pitchers. And somehow, at the top of the lineup, rumors are we may see the piece they missed all year, Kyle Schwarber. His power through the minors was unreal, and he's essentially a lock for a .200+ ISO with strong OBP numbers. I could gush about him for paragraphs, yet when I look around there's a slight hesitancy towards being all in on his comeback campaign. Set the record straight for me. What's a realistic expectation of his final stat line if he gets 550 ABs?
Doug Saye: You sure are right about a loaded lineup. Fantasy wise, every player in the projected lineup will probably be drafted with the possible exception of the center field platoon group and the fifth starter.

Cub fans and baseball fans in general all know the story of how Schwarber basically missed the entire regular season due to a significant knee injury that happened in the first series of the year. Hard work through rehab and the Cubs playoff success allowed Schwarber to made it back in time to get 20 plate appearances and make a dramatic difference in the World Series.

I'm assuming that you're asking what happens if Schwarber gets 550 plate appearance, because there's no way he gets 550 official at-bats, that would be 600+ plate appearances. With the depth of the lineup plus Coach Maddon's desire to keep the players more rested, that's just not going to happen. If Kyle is healthy all year I would think he has more in the range of 500 plate appearances but if he can get 550 plate appearances you're looking at a traditional fantasy line somewhere in the neighborhood of .255/83/29/77/5. If your league uses more advanced stats, Schwarber adds even more value as his OBP/SLG/OPS could be in the range of .350/.505/.840. If Schwarber has catcher eligibility like he does in the Yahoo! leagues, you're looking at a late 5th, early 6th rounder and one of the top three catchers along with Buster Posey and Gary Sanchez.

As an FYI, the consensus for the number of homers that Schwarber hits in 2017 by the commenters of viewfromthebleachers.com is 83.
[email protected]: Sweet plug. Now, to think that some people were hesitant to buy all the shares of Kris Bryant last season is hilarious now (and maybe that will be the story of Schwarber after this season). I mean, .292/121/39/102/8 while cutting down his K% by 8 points is just silly. But is he done? Based on what he produced last year, can Kris Bryant improve upon last year and end this season as the #1 overall fantasy player?
Doug Saye: Last year the message from the "experts" was that the pitchers were going to figure Bryant out and that his strikeout percentage certainly wouldn't improve and may actually get worse. As we now know, the "experts" missed that one pretty badly.

I still don't think 2016 was peak Bryant. He has so much pride in his craft that he won't be happy "just" being the MVP. He was back in the cage working with his father soon after the World Series victory and I think he intends to improve on driving the ball to the opposite field in 2017. He definitely has a 50 homer season in him if he chooses to go that way but I think that would hurt his OPB a bit. The 100+ runs and 100+ RBIs should be a gimme, it's the average that will decide how great 2017 is for fantasy Bryant.

I think Bryant knows he has a chance to make his mark in MLB and he's going to work as hard as he can to do just that. With that said, even as the biggest Cub homer there is, I can't talk myself into taking anyone but Mike Trout with the first pick. I can be talked into taking Bryant second, especially with the roster flexibility he can give you in some leagues at 1B/3B/OF. Sitting at #2 you're looking at Mookie Betts or Bryant unless you are trying the pitching strategy and go with Clayton Kershaw.
[email protected]: Dominant yet again, the starting rotation led the NL. By a lot. Their 3.15 staff ERA lapped the next best Nationals by 0.36. They were 1st in K, QS, ER, BAA and SHO. Oh, and just .2 innings from the most IP. Kyle Hendricks emergence is matched by the other two aces of Jake Arrieta and Jon Lester, making it not only impossible to beat them in the playoffs, but incredibly hard to ever sweep them. So, if the Cy Young lands in Chicago this year (and it should have last year with Kyle Hendricks), which SP takes the trophy home?
Doug Saye: If you talk to any of the Cubs pitchers, they will immediately credit their success to the Cub defense (and rightfully so). The good news for the pitching staff is the defense will continue to be strong in 2017, especially on the infield. The comfort a player like Kyle Hendricks has in knowing that he can throw the pitch that he wants to get a ground ball out makes a huge difference.

You mention that the 2016 staff was the tops in the league, by a wide margin. One interesting stat to me is that the Cubs allowed 2 runs or less 76 times in 2016 while they scored 2 runs or less only 36 times. The Cubs should continue to be one of the top three starting staffs in the league, assuming relatively good health (knocking on wood). Jon Lester, Jake Arrieta, and Hendricks are as daunting as a first three as you'll find. Add the workhorse ability of John Lackey and the potential of Mike Montgomery and Brett Anderson in the fifth spot and you have a staff that prevents long losing streaks.

Annually, the Cy Young is Clayton Kershaw's to win if he is healthy unless you throw up a historic, Bob Gibson-esque season like Arrieta did in 2015. Kershaw showed his first chink in the injury armor last year so that's something that will have to be monitored. If the Cy Young goes through Chicago again in 2017, I wouldn't vote against Arrieta. Knowing that he will be a free agent will have two effects; he will want to potentially leave Chicago as one of the best to ever pitch at Wrigley and he will also want to get PAID. The best way to ensure both of these things is to go out and be close to 2015 Jake. One thing Arrieta has over Hendricks is that he can put up the counting stats (wins and strikeouts) that some voters are looking for from their Cy Young. Another thing that Arrieta has shown is the ability to throw a no-hitter which is something else that gets the voter's attention as well.
[email protected]: Everyone loves getting an edge. As an expert on this team, give us some insider trading. Who is someone flying under the radar that will surprise us in 2017, making them an underrated option from da Cubbies?
Doug Saye: The defending champs rarely have any under the radar players, especially so with a young team like the Cubs who have very few openings for anyone to surprise.

The jury is still out on Jason Heyward. He has been working on simplifying his swing this offseason and any improvements that he makes would cause him to be a surprise for many people. I would be hesitant to spend a top 20 pick on him without monitoring his spring training progress, but if you can afford to take him in the 21st + round, your risk/reward is potentially pretty high.

If you play in a league that values holds, the Cubs have a strong trifecta of pitchers that should wrack up the holds in Hector Rondon, Carl Edwards Jr., and Pedro Strop. This group will also be first in line if injuries come in to play for closer Wade Davis. The Cubs gave up their most runs in the eighth inning last year (81). With this group, look for that to change favorably in 2017.

In keeper/dynasty leagues, grab some shares of Eloy Jimenez and Ian Happ this year and monitor the progress of pitcher Dylan Cease to stash in 2018.
[email protected]: Now on the flip side, who is someone on this roster that everyone may be targeting but is an overrated option just waiting to disappoint us?
Doug Saye: I don't think there will be any overrated Cubs in terms of poor performance against expectations. But many players will come in at a premium simply because they did put up some incredible numbers and won the World Series last year.

Wade Davis is going pretty early in some leagues (9th and 10th round). With his recent injury history, some declining numbers on his fastball, and the other closer options discussed above, this is a risky pick.

I don't want to say anything bad about Hendricks but 2016 has to be a peak year for him. Drafting him in the 8th or 9th round may be a bit early.

Catcher Willson Contreras may be drafted a few rounds too high simply because he won't get as many at-bats as is needed to justify a pick in the 10th-12th round.

Shortstop Addison Russell may always be a better real life player than fantasy star because of his contact rate but if he has 2B eligibility in your league, a mid-round pick is more than satisfactory.
[email protected]: Let's time travel. At the end of 2017 what will this team's final record be, and how will we remember their year?
Doug Saye: The Cubs win the Central Division again with 95 wins. Coach Maddon works hard to get players some more rest coming off their World Series title so that will keep them from winning 100 again. Depending on the health of Max Scherzer, the NL Championship should be Cubs vs. Nationals with the winner squaring off against the winner of the Indians vs. Red Sox. I can't give further predictions at this time, need to keep people interested in content later. The 2017 Cubs will be remembered as the defending World Series champs and they won't disappoint with their play in 2017.
NOW DROP THOSE COMMENTS! Thanks, Doug, for the conversation about the Cubs in 2017! Make sure to catch more of Doug's writings at View from the Bleachers, and keep checking back. More 2017 Team Previews to come!