We've just put another MLB All Star game in the books, and heading towards Major League Baseball's proverbial trade deadline. As with years past, there is a whole bunch of conjecture out there.
We could dust off our magic crystal ball and attempt to foretell who will change jerseys and what new city might be stitched across the front. However, let's instead look at a couple interesting futures bets where reading the tea leaves might net us a few bucks.
The Divisions
As with most seasons, there are no less than a handful of MLB teams hovering around the edges of wildcard consideration. Not that any of the divisions are locks by any means, but we have to appreciate that the Dodgers, Yankees, Astros, and maybe even the Braves, look like the cream of the crop in their divisions.
Those four almost seem like locks for a futures bet on making the playoffs. Logically, we're not going to get-rich-quick writing out a bet slip with all or any combination of these teams. The Dodgers odds of winning the NL West are something akin to whether a boat will float. Unless it springs an unforeseen leak, the answer is yes.
The New York Yankees starting lineup is one of the most feared in baseball.  However, the Yankees and Yankees don't have the same lockdown odds as the Dodgers, but close. Even Minnesota was distancing themselves from the weak pack of chasers in the AL Central. Well, one of those dogs is starting to pick up a little head of steam.
The NL Central has the most intrigue when it comes to who will take the pennant, and whomever doesn't have an inside edge on a wildcard. If the St. Louis Cardinals can figure out some on-the-field issues and rediscover their formula for winning, they are certainly a viable candidate for a wildcard berth.
Division Odds from DraftKings Sportsbook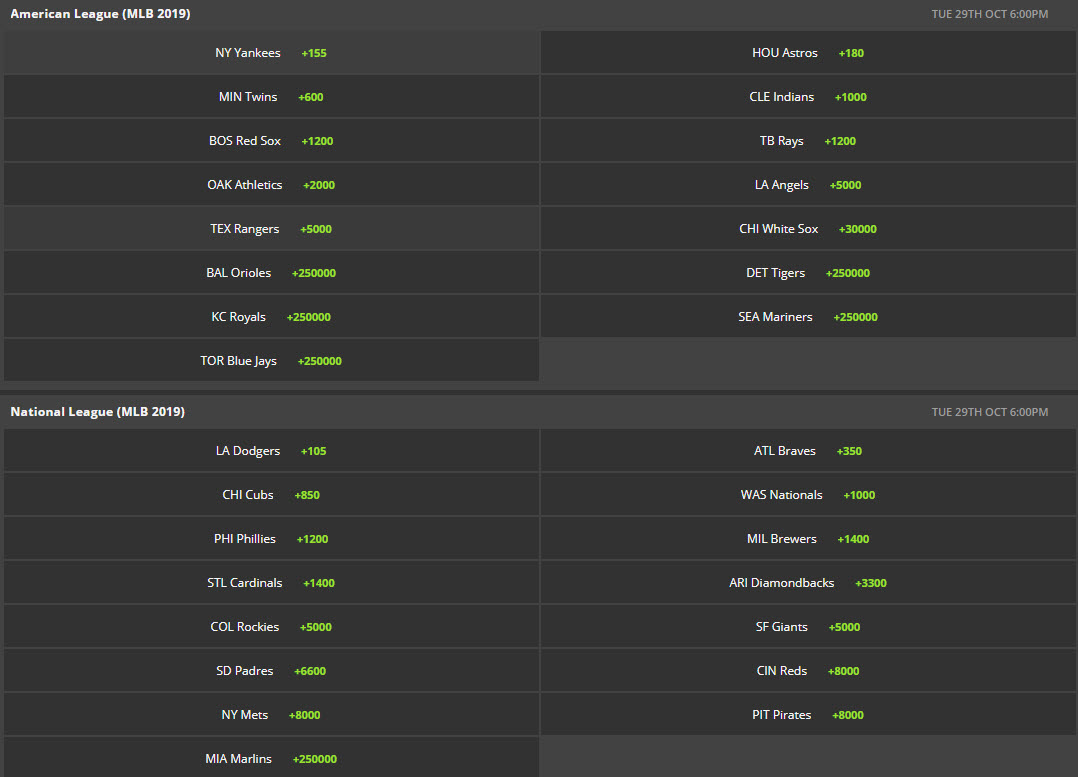 Take a Walk on the Wildcard
Now, we can take any number of bets on divisional winners, league champs, or even who will hoist the final trophy. The same four MLB rosters with the highest futures odds of winning it all have low payouts to win their division.
The Chicago Cubs and Milwaukee Brewers will most likely bounce in and out of the top spot in their division; with the Cardinals having a bettor's chance of turning that into a three dog race. There are two divisions with the biggest question marks, the NL East and AL Central.
Now, stepping away from the futures odds for winning these divisions, each has a single team that appears to be the reason behind the questions. Another interesting piece of this puzzle is that both of these teams have occupied a spot at or near the top World Series contenders in very recent seasons.
Both the Cleveland Indians and Washington Nationals have been pushing for a trip to the Fall Classic for about the last three years. Neither has been able to get over the hump and win their league pennant. But, that doesn't mean they're not still talented enough to make a run.
The Indians and Nationals both did some rearranging of their bats. Cleveland went small and defensive, and Washington stepped away from the Bryce Harper era. One thing that did not leave either of these towns was pitching.
Cleveland and Washington have ace arms on their staff. Both have a former or current Cy Young winner at, or soon to be back at the top of their rotations. If all their arms are healthy, both warrant discussion as owning the best pitching staff in baseball.
Wildcard Odds from DraftKings Sportsbook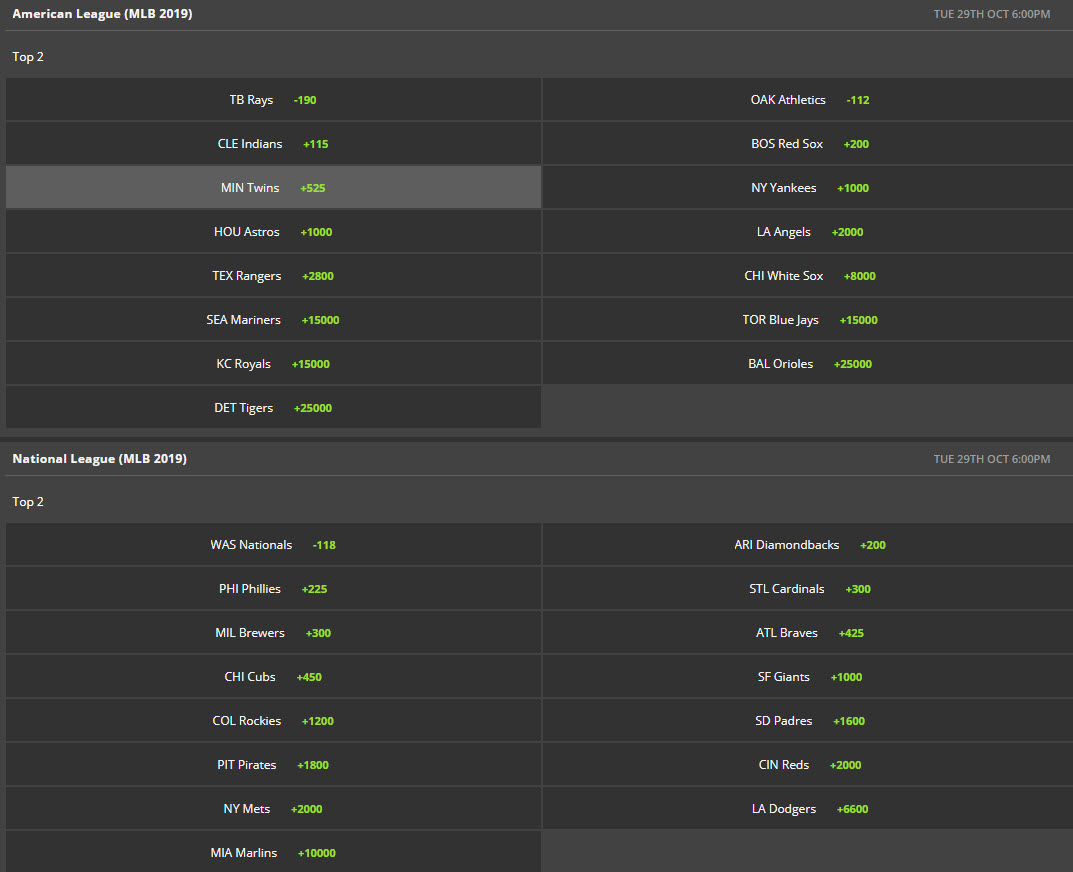 October Baseball
When we navigate our way to October baseball, putting three shutdown starters in a playoff battle, back-to-back-to-back, is a prescription for upset. What this all means for betting on the current odds for winning a division, or making the playoffs is simple.
Of all the possibilities for wildcard honors, Washington and Cleveland still have players on the roster who have been to the playoffs. As we push through August into September, there will be an inherent thirst to get back there.
Beyond the fact there are playoff experienced players on both the Nationals' and Indians' rosters, each team is armed to make a run at the playoffs. They could prove to be a problem for the current leader in each of their divisions as well, if either Minnesota or Atlanta skips a beat.
The arms Cleveland and Washington each has are three top-level starters. If you're looking for a little value in the futures odds, think Kluber, Clevenger and Bieber. Then turn to our Nation's Capitol and mull over a three-man rotation that includes the names Scherzer, Strasburg and Corbin.
As the dog days of August begin, and the trade deadline passes again, watch how Cleveland and Washington position themselves. Each is worthy of their current odds as one of the two wildcards. If either team improves health wise, they are equally as dangerous to go deep in the playoffs.
A nice combo bet would be to take both Washington and Cleveland as wildcard teams. If you like to live a little closer to the edge, take them each to win the division as well. For the really adventuresome, take them to win their respective league pennants.
One wildcard should almost cover the four-bet block. Both of them as wildcards will put you in the money. Now, just figure out the sweet odds both have currently to win their divisions blended with the futures odds for facing each other in the Fall Classic.
Yes, certainly a whole lot of conjecture and a perfect storm might be required to get an Indians vs. Nationals World Series. But, imagine the deposit slip you'll get handed back from your bank teller, if you were wise enough to take advantage of the late-July odds on that event.
World Series Odds from DraftKings Sportsbook