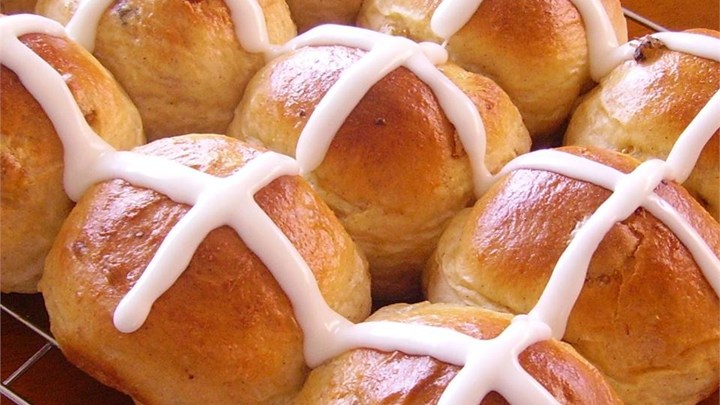 In college my roommate would, for no reason at all, walk in our living room and yell, 'Hot Cross BUNS (emphasis on the word 'buns')!' I had no idea what this was, and presumably figured he was referring to something have to do with a ba-donk-a-donk. And yep…you're welcome for using ba-donk-a-donk in an article. Now twice.
When I cautiously researched what my Van Wilder of a roommate was talking about my it all made sense. And no…there were no body parts involved. Instead I found these warm, pillowy, sugary bread rolls. That's essentially what a Hot Cross Bun is: sugary bread. My initial hesitations were eradicated when he made them for us a few weeks later and I partook in the riches of those carb machines. Does any of this justify why in the balls he came in shooting those three words, most likely taken from a nursery rhyme? Um, no. He was strange. One of the smartest and strongest dudes I knew, but like a master level warlock or something in World of Warcraft. He was unique.
I recently had a similar experience. Not with a shirtless 21-year-old roommate, but with the sensation of joyous revelation when I realized Dylan Bundy was good. Really good. Again. For the first time.
If you take his most recent start away (8/17) he only surrendered 10 ER since the end of June, albeit through some long relief outings. But once the former #1 prospect in baseball stepped into the rotation he hasn't slowed down. To start the year Bundy was relegated to sporadic relief with no real structure to his usage, and even when he took the mound he wasn't spectacular. However, since the beginning of June opponents are hitting <.220 against him, and he's striking out batters at rates close to what we saw in the minors currently 8.40 K/9 on the season). Injuries derailed his opportunity to shine before now, but 23 he's still an incredible prospect that is flashing signs of becoming an ace. And soon. Mike Podhozer at FanGraphs lays out an remarkable case for Bundy's elite stuff. In short, batters have a hard time not swinging at his pitchers, and when they do they have a hard time making contact. That's what we call a good combination. Like sugar and bread. Mmm…thank you British bakers for providing that delicious treat. And thank you Dylan Bundy for finally ascending into the elite stratosphere. It's about time.
Now I'm gonna go stuff my face in some pastries. Here's how the rest of Week 21 stacks up!
Want to take on myself and other Razzball contributors and readers in a Fantasy Football League for prizes? Join here!
—
Pitchers are listed in order by rank. Colors represent worst 8 or best 8 opponents according to team wOBA for last 14 days.
THE BEST
THE REPLICAS
THE STANDARDS
THE KNOCKOFFS
THE 

Player
 Team
Opponents
ERA/FIP
K9/BB9
Ross Stripling
LAD
SF,

CHC

4.04/3.77
6.69/2.90
Tyler Skaggs
LAA
@TOR,

@DET

5.19/3.73
9.35/3.12
Chad Bettis
COL
@MIL, @WAS
5.29/4.23
6.75/2.67
Jimmy Nelson
MIL

COL

, PIT
4.31/5.07
7.10/4.25
Andrew Triggs
OAK

CLE

, @STL
4.98/3.54
8.31/2.49
Ivan Nova
PIT
HOU, @MIL
4.83/4.84
6.89/1.98
Kyle Gibson
MIN

DET

, @TOR
4.90/4.65
6.33/3.12
Archie Bradley
ARI

ATL

,

CIN

5.04/4.68
8.46/4.59
Clay Buchholz
BOS

@TB

,

KC

5.42/5.41
5.51/3.64
Anibal Sanchez
DET
@MIN,

LAA

5.94/5.06
8.27/3.61
Rob Whalen
ATL

@ARI

, @SF
5.72/4.79
9.41/3.27
Jon Niese
NYM
@STL, PHI
5.30/5.58
6.56/3.36
Edwin Jackson
SD

CHC

,

@MIA

5.36/4.72
5.74/4.21
Joe Wieland
SEA

NYY

, @CHW
10.80/4.55
5.40/0.00
Nick Martinez
TEX

@CIN

,

CLE

7.18/8.12
3.42/5.47
Anthony Ranaudo
CHW
PHI, SEA
9.42/9.43
4.40/8.16
All pitchers are projected for two-starts as of Friday night.
DROP A COMMENT, good luck in Week 21, and go engorge yourself on some Hot Cross BUNS!