Al Reyes finally got his shot to close games last year after 11 years of middle relief. His 4.90 ERA is proof he wasn't the best closer in the league but he got 26 saves and wasn't as bad as Todd Jones or Joe Borowski.

But the Rays decided that the 37-year old Reyes wasn't the future of this team on the rise and instead went with the 38-year old Troy Percival who had formally retired in 2006 and informally retired in 2005 with the Tigers back when they were collecting washed up closers like Ugueth Urbina and, um, Todd Jones.
So it appears that on the day he turned as old as Percival, Al Reyes had a little too much to drink and had to be Tased (capitalized b/c it's a trademark!) from sprinkling a Florida bar with his hot-tempered Latin blood.
You can take the Devil out of the Devil Rays but you can't take it out of Al Reyes' soul….
Razzball puts all the blame on Troy Percival. This isn't the first time his herky-jerky motion has unnerved a teammate. How can we forget when he deposed Lee Smith in 1995 as the Angels closer? Lee Smith got so drunk in spring training 1996 that he took a girl home and made love to her on what he thought was a bearskin rug but was really Jeff Reardon's beard.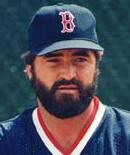 (Thanks to Rotoworld for the scoop and for your admirable constraint in retelling the story. Made it easier not to retread on any jokes)