We realize that not everyone can handle a daily commitment to Razzball. So here's the condensed brilliance from our site over the past week.
TWIR Notes

Khalil Greene – Rudy seems convinced the phonetically irrelevant "h" is throwing off his timing. I think it's karma for being the only ugly mulatto person in the world. His early season struggles may just be one of the universe's many unanswered questions along with, "Does God poop?" Either way, I think Greene's overdue to turn it around.
Homer Bailey – Maybe Ankiel can show him how to swing the bat.
Victor Martinez – Will undergo MRI on his inflamed elbow. I think if you're going to concoct an injury because you haven't hit a home run in two months, you'd take the lie a little further than an inflamed elbow. Can't he cook up a conspiracy that Jim Leyland passed around small pox infested blankets to all the Indians? That would explain Pronk's year as well….
Andy LaRoche – My James Loney has a first name — it's P-L-A-T-O-O-N. LaRoche's here and he hit a home run. The Dodgers are only starting him against lefties for now. Add him to the marginal 3B pile.
Dodgers – Furcal's now rumored to be out until the All-Star Break. Schmidt smells like sourdough toast. Andruw would be shot if he was a horse. Nomar is more fragile than Alanis Morisette after a breakup. That's 4 of your top 5 in Dodger salary. Hell, Juan Pierre is a relative bargain at $8MM/per….
Rocco Baldelli – Is playing in extended spring training. What is extended spring training? Is this like after hours clubs that always have the "most slammin' music" and the "most bangin' ladies" then when you show up it's 30,000 Asian dudes with glow sticks drinking energy drinks.
Jonathan Broxton – Saw him bat yesterday. Member the show Mama's Family? Imagine Mama with a bat.
Ryan Zimmerman – Says he thinks he can play through his shoulder tear. I think he says this all the way up to next April, then he reinjures it next year and finds himself having surgery that has him out until 2010. Ryan, "I'm completely operational, and all my circuits are functioning perfect!"
Kyle Lohse – 7-2. The "h" in his name is like a precarious Jenga piece. At some point it will be pulled out, his success will collapse, and all he'll do for your team is Lose.
Jason Giambi – 14th home run. Much like Ron Jeremy, Giambi sports a 'stache, swings a big bat, and appears out of shape and over the hill.
Jose Guillen – Just in case you missed it, he hit 3 HR and 9 RBI over the weekend at Yankee Stadium. That's now 9 HR and 45 RBI for the year (albeit with 25 R and .262 AVG). Between this and Milton Bradley's triple crown run, 2008 is shaping up as the year of the crazy. Jose had a incredibly silent 23/99/.290 last year in Seattle after some troubles in Washington, but he's worth taking a flier on if he's hanging around on the FA wire. BTW, how incredibly dull is Carlos Guillen in comparison to Jose and Ozzie Guillen? Jose and Ozzie Canseco were pretty nutty too.
Comment O' The Week
Compelling written and visual arguments from pOrk burn that Jamie Moyer is a Galapagos tortoise:
…the Tortiose lacks the force of the mighty Mississippi and instead relies on a slow, methodical approach to life and crusty outer shell to get him through times. With an expected lifespan of 150-200 years, the Tortoise will still be pitching his 73 MPH changeup when our kids are putting in waiver claims for Volquez II…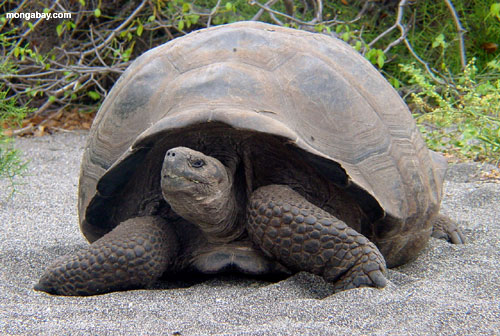 New Glossary Entries
Click here for the full glossary.
Fucking Your Stepsister – Rooting for your fantasy player when he faces your favorite team. While it may be tempting and you can try all you want to justify it, you know its incestuous. (assist to Razzball commenter PWNightmare)
Fumethrower – One-time flamethrowing reliever that continue to pitch after they can no longer throw the gas. Some have been known to coast downhill for years. See Trevor Hoffman, Troy Percival, Jose Mesa. (assist to Razzball commenter Get Figgy With It)
Leftosaurus – A lefty pitcher over 40 years old that gets by on craftiness and 8 variations of changeup. Prone to the homer ball and hitting the showers before the 7th inning. See Jamie Moyer, Tom Glavine. (assist to Razzball commenter pOrk burn)
MR. B (Middle Reliever Believer) – A fantasy baseball player that loves middle relievers to a borderline unhealthy degree for speculative saves and ERA/WHIP help. "Hey Mr. B – how long you going to waste bench spots on Zumaya and Rodney?" (full credit to Razzball commenter IowaCubs)
Sonavabench! – Exclamation when one sees that a player on their bench has had a monster day. Can also be used as a noun or adjective. "David Murphy just hit 2 HR but I didn't start him today – sonavabench!" "It doesn't matter what I do – my team is a spiteful sonavabench". "Shoot me now – my fantasy team just had a killer sonavabench day." (assist to Razzball commenter pOrk burn)
Tootise'd – Jinxed so bad the guy might die. Origin, In honor of Sidney Pollack, who Grey mentioned in a post then he died the next day.
Extended Riffs

Grey pontificating on his 'stache and Pujols' injury

I don't el-oh-el. It's kinda girly. I don't emoticon. It's seriously not how a man with a 'stache rolls. A man with a 'stache rocks tight white shorts with his balls hanging out and does not care. That's how a man with a 'stache rolls. A man with a 'stache doesn't listen to Jack Johnson. A man with a 'stache drafts Ryan Zimmerman and then drops him just after the draft — Just. To. Prove. A. Point. That's what a man with a 'stache does. A man with a 'stache cries when his vinyl collection falls out of his El Dorado on the way to his DJ gig. A man with a 'stache also cries when he loses Pujols to the DL. I am so effin' effed in the effin' Poo-hole. I'm praying he returns in three weeks like the Cards are saying. I'm hoping he doesn't make a two column list with Pros and Cons on why he should just have elbow surgery while this other setback mends, because I know if I were making that two column Pro/Con list, I'd probably opt for surgery. I really think he might be gone for the year.
Inspiring Jake Peavy on his first start off the DL (btw, it worked!)

Jake Peavy is scheduled to start on Thursday. Despite the fact that Peavy's been on the DL for much of the year and the whole offense blows except for A-Gonz and Brian Giles' OBP, San Diego is only 7 games back of Arizona. But just in case Jake was feeling nervous, we thought we'd calm him down with some inspiration from claymation canine Goliath (if this doesn't ring a bell, watch the YouTube video first.)
Jake Peavy plaintively looking around the San Diego locker room at his teammates.

Goliath: Whatcha looking for, Peeeaveeey?
Jake: Goliath, do you see any hitters in this locker room?
Goliath: It matters what you mean by a hitter, Peeaveeey.
Jake: These people keep telling me that we have an offense but I look around and they all suck except for Adrian Gonzalez.
Goliath: That's not a nice thing to say.
Jake: I know, Goliath. I guess I'm just nervous.
Goliath: Why is that, Peeeaveeey?
Jake: It's just…I'm coming off a fairly long DL stint and my only practice was against my teammates. I'm afraid I'll give up more than 1 run and then I won't have a chance to get a win.
Goliath: Oh Peeeaveeey. Well I know a lot of fantasy baseball teams count on you and they realize you probably won't win because the Padres offense is damned on account of Khalil Greene believing in a cockamamie religion.
Jake: Cocka-what?
Goliath: But if you give them 10 Ks and 3 runs or less in 7 IP, they'll be very happy.
Jake: You really think so, Goliath.
Goliath: I know so, Peeeaveey. Now get off my DL and earn me some stats.
Jake: You got it, Goliath!