The Fantasy Baseball Hall of Fame (in conjunction with Razzball.com) is a new website dedicated to recognizing the accomplishments of Major League ballplayers during the "fantasy era" (1980-present). The greatest of these players will be elected to the Fantasy Baseball Hall of Fame.

The catchers are enshrined today, a position that is the weakest in the history of fantasy baseball.

I have dreaded writing this article for about six weeks now.  By my methodology only one catcher since 1980 deserves induction into the Fantasy Baseball Hall of Fame and I haven't been able to convince myself I am being too harsh.  If we went position by position we find the following number of inductees:
15 – Outfield
6 – First Base
3 – Second Base
3 – Third Base
2 – Shortstop
1 – Catcher
This actually makes a bit of sense.  Outfielders take 5 of 14 offensive roster slots in standard leagues, and as we have seen first basemen have perennially been the power house position.  Further, if only two shortstops are worthy of enshrinement, maybe one catcher is too.
And isn't this what fantasy baseball is mostly about?  The debate on positional scarcity is still around, and for those not familiar with it, it basically states that owners should put a premium on good players at weak positions.  I agree to a degree, but still would never draft a catcher first, no matter how much better he is than his peers.  In truth, whenever there are weak positions drafted first (See Hanley Ramirez, circa 2008) it's almost entirely because their statistics back it up.  Ramirez could hit 35 HR and steal 60 bases while batting .300.  That's elite for a shortstop, first basemen, or outfielder.
This same phenomenon was seen with catchers.  A few years ago the trend seemed to move towards drafting catchers early – Joe Mauer and Brian McCann were sometimes taken in Round 2. While this may have worked for a single season, in terms of career value, it's a bust. McCann was ranked 89th last year, Mauer 107th.  Catcher is a demanding position, and while there have certainly been instances of greatness over the course of a single season, and perhaps greatness enough to demand a spot high draft pick – the excellence required for FBHOF induction just hasn't proved sustainable at the catcher position.
To be clear on my methodology, I do take positional scarcity into consideration.  Each FBHOF score is calculated by first looking at the player among the entire batting pool (or pitcher pool) and then only against a player peers who were eligible at the same position.  The two scores are then weighted – 60% for the straight score and the remaining a product of the positional score.  This is nothing to sneeze at, as 40% of the players score is solely a function of how good he is at a position.
With this out of the way, we are still left searching for recurring brilliance.  You likely already realize that Mike Piazza is the lone inductee.  And why is this?  Because his batting line reads like that of any other inducted player.  His FBHOF points by year are 15.2, 12.6, 11.5, 11.4, 10.8 giving him 61.4 peak score.  This is 27th best among batters and ahead of three fellow Hall of Famer's – Cal Ripken, Craig Biggio, and Frank Thomas.
We'll get back to Piazza's accomplishments in a moment. First, I wanted to finish the answer as to why only one catcher.  Before I answer, ask yourself the following question – does a player have to have five great seasons to be considered for the Hall of Fame?  My answer is a resounding yes.  Five years in awfully short period of time, and no Baseball Hall of Famer is ever inducted based upon such a short career.  If we are focusing on such a short time at the FBHOF, those years had better be great.  From what we have seen since we started inductions in late April, not one inductee has had less than five great seasons.  With that said, here are the 5th best seasons for each of the Top 5 Catchers (as determined by FBHOF score):

This illustrates two things to me.  First, Piazza was really, really good if that was his 5th best season.  Second, the rest of those scores don't impress me all that much (though keep in mind 1981 was a shortened season).  Over the past 20 years there most certainly have been numerous 'Hall of Fame seasons', but not careers:
In 1985 Carlton Fisk hit 37 home runs, driving in 107 runners and scoring 85 himself.  He even stole 17 bases.  But he batted .238 and averaged just 74 R and 71 RBI in his next three best years.
We all have love Darren Daulton's 1992 season right?  .270 AVG, 80 R, 27 HR, 109 RBI, and 11 SB in low offense year, marks good enough for 7th overall.  But you could hardly consider the rest of his career fantasy worthy – an average of 63 R, 70 RB, and a .265 BA over his remaining 4 best years.
Javy Lopez sure was impressive in 1998 and 2003-2004, hitting 100 HR and 301 RBI while maintaining a .310 batting average.  But he was ranked just 84th and 85th in years four and five.
One more for you – Jorge Posada.  He's likely going to the Baseball Hall of Fame at this rate but outside of last season his average for his "next best 4 years" is .275 / 80 / 25 / 94 / 2, with a rank 52nd overall and 4th among catchers.  Do I want him on my fantasy team?  Yes, of course.  Is he going to make or break my season?  No, and he therefore passes the red face test as to whether or not he's HOF worthy.
Finally, the case of Piazza proves that it is possible to make the FBHOF as a catcher.  Love him or loathe him, he could hit with the best of them.   His 5 best years: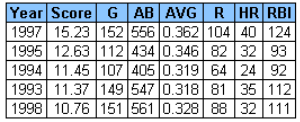 What truly separates Piazza from his catcher brethren, and every other baseball player of the fantasy era for that matter, is the fact he had more seasons ranked number 1 at his position than any other.   From 1993 to 2002 he finished 1st at catcher nine times – more than Alex Rodriguez (8), Albert Pujols (6), Paul Molitor (5), Ryne Sandberg (5), Cal Ripken (4), or Barry Bonds (3).  This is an incredible accomplishment.
Note:  Earlier I mentioned positional scarcity score.  Thought it might be interesting to list the top 5 seasons at each position based solely on positional scarcity: