The Fantasy Baseball Hall of Fame (in conjunction with Razzball.com) is a new website dedicated to recognizing the accomplishments of Major League ballplayers during the "fantasy era" (1980-present). The greatest of these players will be elected to the Fantasy Baseball Hall of Fame.
Six first basemen are enshrined today, a position that is arguably the strongest in the history of fantasy baseball.

First base is the power position of fantasy baseball.  Each spot around the diamond has had their fair share of power hitting players, but year in and year out, fantasy owners rely on first basemen more than any other for their main source of home runs. In fact, since the fantasy era, first basemen have the led fantasy leagues in the long ball each year except 1982 and 1983, when Mike Schmidt skewed the numbers enough to vault third basemen into first overall.
A few weeks ago, I ran a chart in the shortstop induction article, showing the number of times each position finished, on average, first overall.  I found a flaw however, by counting all the players at a position, and not just the ones who would have been "fantasy worthy", I overestimated the impact of certain positions.  Re-running the data it is clear there is no argument as to which positions have been the best since 1980 – it's either first base or outfield.    The chart below depicts the average score for "fantasy worthy" players who were eligible at these two positions: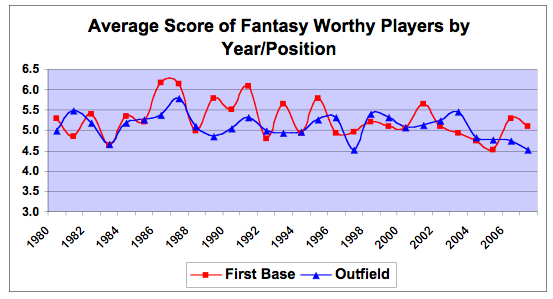 In the first half of the 1980s both positions were relatively equal, with one season, 1981, easily going to the outfielders.  In the period of 1986 through 1991 however, the first base crew easily outpaced their counterparts in four of the five years.  Through 1995 the two positions were either equal or first base was winning handily.  This gives them a 10 year stretch were first basemen were the class of fantasy baseball.  Since 1995 the positions have been relatively equivalent, with 5 years going to the outfield, 4 to the first basemen, and three with finishes close enough to call a tie.
Finally, below is the average score of 'fantasy worthy' players by position, broken down by decade: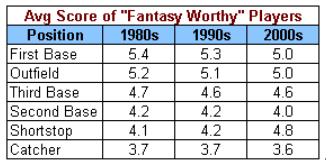 Just further proof that first base gets it done.  On to the inductees.
Albert Pujols
In his current trend, Pujols will be the only player of the fantasy era to never go below the 10 FBHOF point threshold until the downturn of his career.  Think about this for a minute.  At the end of his 2007 season, Pujols was ranked 4th among batters in overall FBHOF Score and 3rd in Peak score.  The players ahead of him are Barry Bonds, Alex Rodriguez, and Rickey Henderson in terms of overall score, and just Rodriguez and Bonds in peak score.  The three of these are inner circle Hall of Famers and none of them has accomplished what Pujols has done so far, in fantasy baseball terms anyway.
Since his rookie season, Pujols has put up FBHOF worthy statistics each year.  It took Bonds five years to reach 10 FBHOF points and both Henderson and Rodriguez reached the mark in their second eligible years.  While most of this is academic in the long run (does it really matter that Rodriguez appeared in just 65 games his first two years?), it is still an amazing accomplishment.
Pujols' best year was in 2003 when he batted .359 with 137 R, 43 HR, 124 RBI, and 5 SB.  This scored him 17.2 FBHOF Points, 6th best all time for a batter.  "King Albert" has been eligible at First Base, Third Base, and in the Outfield; and is the only player to finish as the best overall at more than two positions.
Jeff Bagwell
In 1994 Bagwell was the best player on the planet.  In 110 games (strike season) he hit 39 HR, 116 RBI, 104 R, and 15 SB.  Prorated over 162 games the numbers look like something Lou Gehrig might have put up – .368 AVG, 153 R, 57 HR, 170 RBI, 22 SB.  His 17.6 FBHOF points is 5th all time.
He also had 3 more seasons of 40+ HR, 125+ RBI, and a .300+ batting average.  Between 1999 and 2000 he scored almost 300 runs.  He was fast too – stealing at least 30 bases in 1997 & 1999.
Eddie Murray
I almost scratched my scoring system when I saw Murray come out as the 3rd best fantasy first basemen.  After all, he was a 'compiler' right?  How could a compiler score so high in a system that rewards peak 5 year value over everything else?
While he was a compiler, he was extraordinarily good at it.  We aren't talking about a compiler who is routinely 20th best in the league, we're talking about one was routinely Top 5 at their position.
Murray was fantasy worthy in 17 seasons which brings his overall score up from a solid 21st to a very good 16th.  But, he also hit a ton between 1980 and 1985, routinely finishing among the leaders each year in all fantasy categories except stolen bases.  In his peak years of 1980 and 1983-1985 Murray finished in the Top 10 fifteen times:  twice in AVG, four times in Runs, and five times in both Home runs and RBI.
Finally, let's take a look at the number of times in their 5-year peak that each of our first basemen finished 1st or 2nd at their position:
5 – Pujols
5 – Bagwell
5 – Murray
4 – Helton
4 – Mattingly
4 – Thomas
Murray also did it twice more, besting all but Pujols who has seven right along with him.
Todd Helton
Don Mattingly
Alright, I have to be palms up about something.  I idolized Don Mattingly growing up, still do in fact.  That said, no funky business was needed to elect him to this Hall of Fame, as he is most certainly deserving.
As with all of the 1980's players, we have to put Mattingly's accomplishments in context of the lower offensive era.  One way to do that is to stack him up against an eerily similar player of today's era – Todd Helton.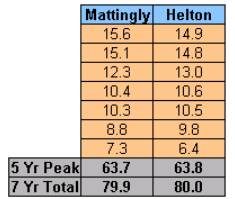 The scores are almost identical – Mattingly has a higher peak (he's one of just 8 batters to have multiple 15+ point seasons), but Helton's 3rd through 5th best seasons were slightly better thus evening out the scores.  The 7 year view is close as well, and after that, Mattingly suffered a rather quick fall to irrelevancy.
Getting back to era's, remembering how close the scoring was, take a gander at their actual 5 year peak stats:
Helton    – .349 AVG, 125 R, 37 HR, 123 RBI, 4 SB
Mattingly – .330 AVG,  97 R, 28 HR, 119 RBI, 1 SB
Times sure have changed if these two are on the same footing.
Frank Thomas
Thomas is another case that really challenges the FBHOF scoring system.  Thomas is regarded, within some circles anyway, as the best hitter of his time.  Here is a player that hit .340 or better three times; reached 125 RBI's four times; and had 7 seasons of 35 or more home runs.  He was simply a monster at the plate.
If this is true, how can he be rated below both Mattingly and Helton?  Two reasons – peak vs. longevity, and the late 90's.  Whether you like it or not, Thomas simply did not have the peak that either Mattingly or Helton enjoyed.  He was markedly better over a longer period of time, but Mattingly's two best years were better than any of Thomas', and Helton had three better years.  If you look at an 8 year stretch instead of a peak-5 year though, Thomas easily bests the two:  94.6 Pts for Thomas vs. 86.0 for Helton and 83.8 for Mattingly.
Fantasy baseball has a "what have you done for me lately" mentality.  Even looking at the best 5 years of player is stretching the limits of how far in advance a fantasy owner thinks.  Even in the most robust of keeper leagues, rarely would a player remain on a single team for 3 years, let alone 5, and this is reflected in how the FBHOF scores.
The late 1990's also hurt Thomas.  Looking at his statistics subjectively, one might come to the conclusion that 2000 was his best year:  .328 AVG, 115 R, 43 HR, and 143 RBI.  After all, those figures are all career highs with the exception of his batting average, which was great nonetheless.  But in 2000, this wasn't even good enough to be the best first basemen, let alone the best overall batter.  He finished 3rd among first basemen behind Helton and Bagwell and 14th overall.  His batting average was 19th in the league, Runs were 15th, HR's were 7th, and RBI 4th.  Of course, his 1 stolen base was also quite low, even for a first basemen.  It was 25th among his peers, and 283rd overall.
As a result of all the above, 2000 isn't even considered part of his 5 year peak score.  Which brings us back to the first point – he was great for so many years, but never was 'the best'.  In fact, he and Murray are the only two First Base inductees to never finish a season #1 overall among batters.
This has been a long post, and I'll spare you some time by just mentioning a few of the near misses:
– Cecil Cooper was closest with 63 FBHOF Points.  Really an underrated player.
– Andres Galarraga had great years in 1988, 1996, and 1997 but was just 'very good' the rest of the time.
– Rafael Palmeiro, aka., Eddie Murray Lite.
– Which brings us to Mark McGwire.  Before complaining he's not in the FBHOF please remember the following:  He hit .300 once.  Scored 100 runs just thrice.  And of course was possibly the slowest player in the game, amassing less than 15 stolen bases throughout his career.  Those facts aren't kind to fantasy batters.